According to the AP:
Pre-holiday news dump: APNewsAlert: OLYMPIA, Wash. (AP) _ Washington Supreme Court rules voter-approved charter school law unconstitutional.
— Rachel La Corte (@RachelAPOly) September 4, 2015
The court's opinion is
here
. The state supremes were reviewing a King County Superior court decision that found certain segments of Initiative 1240 (I-1240) were unconstitutional.
"We hold that the provisions of I-1240," writes Chief Justice Barbara Madsen, "that designate and treat charter schools as common schools violate article IX, section 2 of our state constitution and are void. This includes the Act's funding provisions, which attempt to tap into and shift a portion of moneys allocated for common schools to the new charter schools authorized by the Act. Because the provisions designating and funding charter schools as common schools are integral to the Act, such void provisions are not severable, and that determination is dispositive of the present case."
Friday news dump of the year so far goes to WA Supreme Court.
— Jim Brunner (@Jim_Brunner) September 4, 2015
Sponsored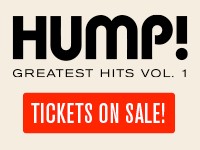 What are YOUR favorite HUMP! films? Start with HUMP! Greatest Hits, Volume One! Relive the memories!