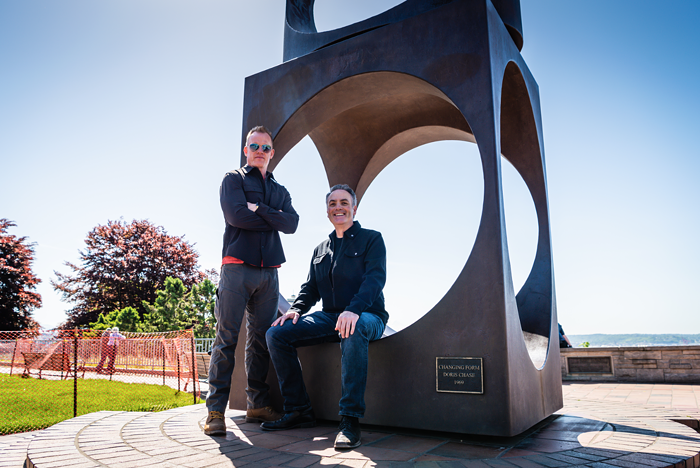 After being abruptly canceled earlier this year, former KIRO Radio hosts Ron Upshaw and Don O'Neill are back on the air—or at least on the internet—with a new
podcast
. The Seattle-based personalities, who have been friends since childhood and colleagues since the mid-1990s, hosted the
Ron & Don Show
on KIRO for nearly 15 years. But in January, just 11 minutes after wrapping up an episode, they were informed that their show had been canceled, effective immediately.
This came as a shock to both Ron and Don and to their audience, a devoted group of fans who call themselves the Ron & Don Nation. And while KIRO Radio declined to comment on the cause of the cancellation (or anything else), Ron and Don speculate on their new podcast that their firing may have been connected to a lawsuit they'd filed against a member of the Seattle City Council.
The suit, which was settled earlier this year with a $35,000 payment from the City of Seattle, goes back to the spring of 2016, when the citizens, pundits, and politicians of Seattle were hotly debating whether or not to build a new NBA stadium in Sodo. Seattle hasn't had an NBA team since 2008, when the SuperSonics were relocated to Oklahoma, and many local basketball fans—as well as Chris Hansen, the hedge-fund manager spearheading the new stadium effort—hoped that a brand-new, state-of-the art facility would lure the Sonics back or draw some other team to the city. If you build it, the thinking was, they will come.
It didn't happen.
A lot of groups opposed this plan, including the Port of Seattle and the longshoremen unions, but the final decision came down to the city council, which voted five to four not to vacate the part of Occidental Avenue that was required to build the new stadium. The vote was evenly divided by sex: The five female council members voted against it, the four male council members voted for it, and the proposal was dead in the water. There would no NBA team in Seattle.
The aftermath of this vote was not pretty. The female city council members were on the receiving end of vicious hate mail, tweets, and phone calls, much of it sexist in nature. A local lawyer, for instance, sent them the following: "As women, I understand that you spend a lot of your time trying to please others (mostly on your knees) but I can only hope that you each find ways to quickly and painfully end yourselves." There was much more of this type of rhetoric, so much so that the women wrote about it in a Seattle Times editorial. "The misogynistic backlash to our vote is an attempt to communicate a dangerous message: Elected women in Seattle do not deserve the respect necessary to make tough decisions without the fear of violence and racially and sexually charged retaliation," they wrote.
This story was covered everywhere, from the New York Times to Full Frontal with Samantha Bee. It was also covered by independent journalist and former Stranger staffer Erica C. Barnett, who wrote a piece about the response that was published online by the Atlantic. The piece was called "What Happens When Female Politicians Try to Stand Up to Sports Fans," and in it, Barnett wrote:
Sally Bagshaw, a soft-spoken 65-year-old council veteran who voted in 2012 for an agreement to use public bonds to finance a future arena but opposed the street-use change last week, has been hit particularly hard by the misogyny firehose. After Bagshaw cast an initial committee vote against the change in April, two local FM radio shock jocks known on air as Ron and Don started giving out Bagshaw's number on the air and relentlessly urging listeners to call her office. They complied, leaving messages Bagshaw summarizes as "You cunt, you whore, you bitch, you don't know anything. You're just having an emotional response. That's why we need to have guys making these decisions." For now, she says, her office no longer takes calls during drive time.
Bagshaw told Barnett she was so shaken by these messages that for the first time in her tenure on the council, she was afraid for her safety walking downtown at night. But while her fear may have been justified, the council member, and later Barnett, got one thing very wrong about the harassment: Ron and Don didn't have anything to do with it. This was an error that would end up costing the City of Seattle.
* * *
In the Atlantic article, Barnett portrayed Ron and Don as "shock jocks," a term that evokes radio loudmouths like Bubba the Love Sponge and Howard Stern. Shock jocks tend to be offensive just to offend, but the Ron & Don Show was decidedly less provocative—and more civic-minded. The show billed itself as bringing "the human stories behind the news," and while they frequently covered sports, entertainment, and local politics, they also used their platform to raise money in times of emergency, from the Hurricane Katrina fallout to the deadly landslide in Oso, Washington. They call what they do "cause radio." And while the two had complaints about the Seattle City Council, when it came to the arena, they hadn't urged their listeners to call Bagshaw at all. In fact, they agreed with the female city council members: Until there was an NBA team to house, it didn't make sense to build a new stadium.
Immediately after Barnett's article was published, Ron and Don say they started getting hate mail and angry calls of their own. People were mad about what was happening to the women, and some of them blamed Ron and Don for triggering the harassment.
KIRO management, according to Ron and Don's attorney, quickly reached out to the Atlantic, which updated Barnett's article with five corrections. The first two were minor details, including a typo. The third was more significant ("This article has been updated to clarify that the two female Seattle City Council members who accepted illegally bundled campaign contributions in 2003 were not charged with committing illegal activity"). And the fourth was the big one. "This article originally stated that the hosts of the 'Ron and Don' show gave listeners Bagshaw's number in response to her preliminary vote on the arena in April," it read. "In fact, the hosts urged listeners to call her during an unrelated debate over homelessness in February. After the May 2 vote, Don O'Neill actually stated his opposition to the deal, saying, 'I agree with the ladies.' To be clear, at no time did either host encourage listeners to use the sort of abusive language that Bagshaw reports receiving. We regret the errors." (The fifth correction concerned misidentifying the name of a pro-stadium advocacy organization.)
Barnett posted a response on her website as well. That response has since been taken offline (there is an archived version here), but she placed the blame for the error on Sally Bagshaw:
"I wrote this anecdote based on Bagshaw's recollection, in which she told me the story I described in the piece," Barnett wrote. "In retrospect, although this was an anecdote (and not, as many seem to think, the subject of the story), I should have asked Ron and Don to verify or deny Bagshaw's account. I did not do so because I consider Bagshaw, whom I have covered for many years on other subjects, a reliable source, and still do." She also accused KIRO listeners and stadium proponents of engaging in conspiracy theories and ignoring the real story. "As when I wrote about this story in the past, arena supporters seem desperately eager to avoid discussing the misogynistic attacks that are the actual subject of the story, and the very real and troubling questions it raises about what female leaders are and aren't allowed to have opinions about in this city."
As with Barnett's response, the Atlantic article has since been taken offline, but the story didn't end with the corrections. Citing the magazine's "woefully inadequate" response, Ron and Don later filed suit against Sally Bagshaw, Erica C. Barnett, and the Atlantic for defamation. "It would be difficult, if not impossible, to gauge the full impact of the piece among the various communities—civic, professional, or otherwise—in which the hosts have built a positive brand and respected reputation," their complaint against Bagshaw reads.
The hosts recounted what happened next in one of the first episodes of their new podcast. They said that they filed their suits with the blessing of both KIRO Radio and Bonneville International, KIRO's corporate parent. But as the suits quietly proceeded, KIRO management went through some turnover, and Ron and Don never informed the new boss of the lawsuit. It hadn't occurred to them that the people in charge wouldn't know they were suing a member of the city council. And then, in December 2018, as Don was traveling to help his mother put her husband in hospice, he says he got a text from a manager at KIRO asking him why he was suing Sally Bagshaw.
"I get off the plane and I get these text messages," he said on the podcast. "It's from the current programmer at KIRO Radio […] and he wants to know why he is getting phone calls from the City of Seattle and the city attorneys concerning suing Sally Bagshaw, and it is very apparent to me that he didn't know anything about us suing Sally Bagshaw." Several weeks later, they were informed that the radio show had been canceled. "Some people think [the lawsuit] might be the reason," Don said on the podcast.
When asked about this, Dan Nolte, a spokesperson for the Seattle City Attorney's Office, said, "In the course of defending the lawsuit, our office conducted basic discovery with respect to the plaintiff's damages claim, contacting the parent company after the plaintiffs told us the parent company had possession of the relevant documents. That bosses at Ron and Don's media company weren't made aware of the existence of their employees' publicly filed lawsuit is… surprising."
It is, of course, totally possible that the show was canceled for other reasons—say, a slip in ratings, a measurement that radio shows live and die by. That seems unlikely, however. Michael Harrison, the editor and publisher of an industry trade publication, told the Seattle Times that there was no evidence that the show's ratings had tanked. And, according to Inside Radio, their show was third-ranked during afternoon drive time in December, the month before they were canceled. Through their lawyer, Ron and Don said their show was always in the top five across all demographics, and their audience certainly seems to be devoted: The announcement of the show's cancellation garnered more than 1,000 comments on Facebook, and Ron and Don told the Seattle Times that they heard from more than 50,000 listeners after they were taken off the air.
* * *
Whatever the reason for their cancellation, the lawsuits are now settled. In January, the City of Seattle, which represented Bagshaw at her request, agreed to pay $35,000 for the hosts' legal fees. While the terms of the settlement with the Atlantic are confidential (and the publisher of the magazine did not return a request for comment), according to Ron and Don's lawyer, they are "very pleased" with the agreement.
Barnett was dropped from the suit against Bagshaw but named in the suit against the Atlantic. She declined to comment on whether or not she personally had to pay any money as part of the Atlantic settlement. She did say, however, that she was personally impacted by Ron and Don's response to the article, which included naming her on the air. She says she offered to go on the show, but an invitation was never extended.
"I found out that there was an issue not from Ron, Don, or their producers, but from an acquaintance, who contacted me while I was on vacation to tell me she had heard them talking about me on their radio show," Barnett told The Stranger in an e-mail. "I pulled my rental car over immediately and contacted my editor as well as Bagshaw and a producer at the station to figure out what had happened and make it right, which we did in a timely fashion and with an appropriate editor's note that identified and expressed regret for the error. I also offered to go on their show and talk to them and their listeners directly about what had happened and to clear up the record in collaboration with them. Unfortunately, I was not given that opportunity."
Barnett continued: "Of course it is always damaging to me personally, as an independent freelance journalist whose reputation is my primary asset, when one of the big heavy hitters in local media suggests without evidence that I am a malicious actor with no journalistic credibility to thousands of readers, viewers, or listeners. As reporters, it's an unfortunate fact that we all make errors (see also: the New York Times' daily corrections), and our responsibility to correct those errors as soon as possible and, where appropriate, apologize. I made an error; I corrected it in collaboration with my editors, and I apologized."
While Barnett apologized, Council Member Bagshaw was not required to apologize or admit wrongdoing, according to the terms of the settlement. But during her deposition, she did admit to telling Barnett that Ron and Don were the source of the harassment, even though she'd never actually listened to their show. Her staffers, she said, gave her the bad information. Barnett, in her now-removed blog post acknowledging the errors, wrote that she'd never listened to the Ron & Don Show, either.
Ron and Don declined to comment directly for this piece, but through their lawyer they said they harbor no ill-will toward Sally Bagshaw or the Atlantic. On their podcast, they reiterated that they believe Bagshaw and the other council members were harassed, and that someone on another radio show, on another station, may have given out Bagshaw's number and urged their listeners to call and harass her. They don't doubt that Bagshaw's fear for her safety was real. And, despite it all, they still think Bagshaw is a good member of the city council. "Council Member Bagshaw is someone who had done a lot of good things in the community, my community, and I appreciate her service," Don, a constituent of Bagshaw's, said on his new podcast. They'd still like an apology, or at least some kind of acknowledgment of her error, but in the meantime, they're just glad to be back on the mic.
Council Member Sally Bagshaw declined to comment for this story.