Pacific Northwest Ballet kicked off its 51st season with a bang, as it were. The title for the big fall opener, Petite Mort, is French for "little death," which serves as one of the classier euphemisms for an orgasm—or, more precisely, that calm, bereft, post-orgasm feeling that makes you want to have a Godard film and a cigarette for breakfast. At least until you're ready for round two. 
ANYWAY, the show runs through Oct 1 at McCaw Hall, and it features a trio of contemporary ballets—a hot one and a funny one from Czech legend Jiří Kylián, and a parodic one from Swedish dancer/choreographer Alexander Ekman. When I wasn't enthralled by the raw physicality of the performances, I was laughing my ass off at all the stunts, the high-level slap-stick, and the visual trickery that united all three of these works. 
The evening began with the title ballet, Kylián's Petite Mort, set to a couple of famous Mozart concertos. Male dancers in nude costumes stood onstage with their hands on their rapiers—wink, wink—before partners joined them. The alarmingly bendy phallic symbol emboldened the men, stabbed them in the back, supported them, slipped from their grasps (sometimes accidentally), and suffocated them. With this extended simile, Kylián presented sex as a third dancer in a duet, a force external to the couples but necessary to make them one.
The choreographer played with variations on this theme throughout the rest of the ballet, showing sex as a game of airplane (with the dancers trading off playing the supporting role), a mantis-like tango, and a gorgeous, challenging balancing act. Wonderfully absurd moments offset the heat—I nearly lost it when the dancers wheeled out giant dresses and did a little dance with them. 
Jaw-dropping duets on opening night came courtesy of soloist Dammiel Cruz-Garrido and corps de ballet dancer Clara Ruf Maldonado, who seems due for a promotion!!! Corps dancers Mark Cuddihee and Ashton Edwards also wowed me, with Edwards displaying unmatched speed and alacrity; it's impossible not to watch them. Principals Angelica Generosa and Lucien Postlewaite also paired well, with Postlewaite doing his princely thing and Generosa elegantly exploding all over the stage. I let out an audible "damn" when principal Elizabeth Murphy put her hand on Dylan Wald's shoulder and just sort of casually did a backflip. Nutso stuff.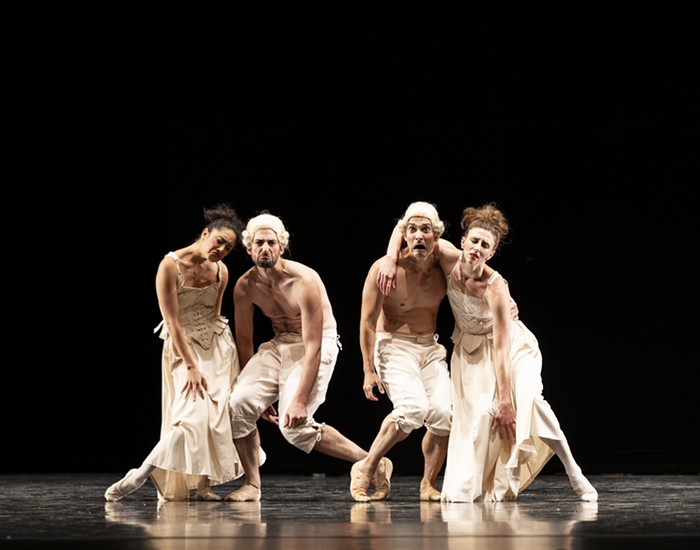 Kylián's Sechs Tänze (Six Dances) kept the laughs coming. It was a funny fever dream where men in extremely powdery George Washington wigs and women in tunics ran through a series of dances with the exaggerated vigor of Groucho Marx.
Of course, great comedic dancing takes as much if not more skill, talent, and athleticism to pull off as the other stuff, and PNB's crew rose to the challenge. They rightly leaned on principals Leta Biasucci and Elle Macy, who were more than up to the task. Miles Pertle and James Yoichi Moore also turned in great (and exhausting-looking) performances.
But the belle of the ball was corps Zsilas Michael Hughes, who strutted onstage on someone else's legs. (A giant black dress concealed the other dancer.) All they did was stand there and eat a green apple, but they—as the kids say—ate. Literally. Figuratively. Emotionally. Spiritually. Hysterically. The scene will live with me for the rest of my days. 
After all that fun, I welcomed Ekman's ballet parody. In an otherwise positive review of this dance that I wrote back in 2018, I said I'd probably never need to see it again because you kinda "get it" after a while, but this second showing for me really worked. In the piece, Ekman skewers dance critics for forever trying to find "meaning" in dance rather than simply letting the dance speak for itself. As the dancers do a bunch of weird-but-still-difficult moves on square tiles, a disembodied voice dripping with irony riffed on the performance in an arch, didactic way. At one point, they all start dancing with a cactus. (Get it?) 
I loved the piece, but, in defense of the profession (such as it is), artists who ask us to "let the dance speak for itself" in this way always reveal a guilty conscience. No dance speaks for itself. Historical and cultural contexts make the dance legible as such in the first place, and reviewers (can) helpfully point out that information while offering new ways of understanding, both for the uninitiated and for the people who take this stuff seriously. Gut-level, context-free engagement with the art can produce a nice feeling, sure, but diving deeper gives audiences the opportunity for a more profound connection with the work, which is kinda nice even if some writers use annoying language!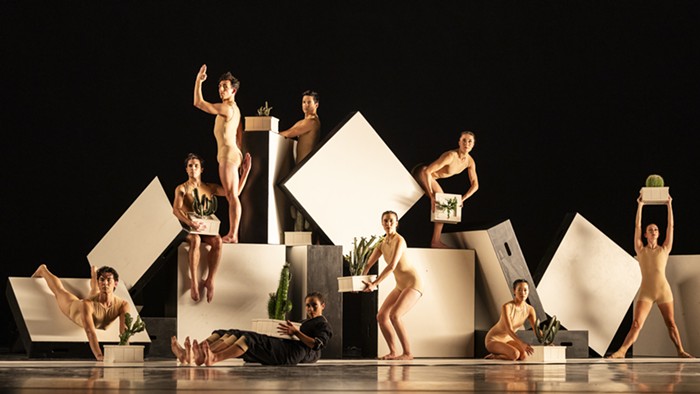 In my view, the artist who thinks this way simply attaches too much meaning to meaning. It's okay if the dance really is just about the particular sadness of your last break-up, the funny way people walk around cities, or the feelings of frustration that boil up when dance critics strap your choreography to a chair and beat the meaning out of it. Those are all fine things to say!! There's nothing beyond that sort of thing, no grand Meaning. We just have a bunch of little meanings that make a life, or an Arby's order, or a ballet
Anyway, none of that matters. What matters is that Cacti does contain the funniest few minutes of dance I've ever seen. In one section, two dancers run through a routine as voice-overs amplify the humorous little thoughts going on in their heads. Soloists Sarah-Gabrielle Ryan and Christian Poppe reprised their roles in this duet, and they smashed it. 
If you've never been to a ballet before—or if you've only ever seen The Nutcracker—then this is the one to see. Think you can't afford it? Wrong. On Thursdays, PNB sets aside a bunch of pay-what-you-can tickets. Show up to the box office 90 minutes before the show starts, drop $5 on the counter, and then go do a little happy hour or something and come back. Go enjoy your one precious life!!