📌
Good evening and happy Election Day, Seattle!!! 
If you are reading this before 8 pm and you have not voted, stop what you're doing, read this, and act accordingly. 
For everyone else: Welcome to the party.
Once again and as ever, we here at The Stranger have dispatched our trusty, tenacious, and charmingly stoned Stranger Election Control Board to election night parties all across town. We'll be shaking down candidates, judging snack tables, getting trapped in conversations with parents, dodging political operatives, and reporting back on every last festivity we can possibly find so that YOU don't miss a beat.
Oh yeah, and at 8:15 pm we will all FINALLY learn the answers to several burning mysteries: 
Will Seattle City Council incumbents survive, and what will be left of them?
Will primary voters favor candidates who want to solve problems with evidence-based solutions or those who want to solve problems with vibes?
Will Teresa Mosqueda and Jorge Barón be on track to become the first Latina/o King County Council members?
Does Seattle still care about seniors, veterans, and poor people?
Do voters want a functional school board or nah? 
And finally, perhaps most importantly, will two-term Port Commissioner Fred Felleman retain his title against less-than-qualified candidates???? 
STRAP IN AND KEEP YOUR EYES GLUED TO SLOG. 
---
CHRISTIANA OBEYSUMNER HAS A NEW BUDDHA
9:34 PM
ChrisTiana ObeySumner "got out of tara medication later than I thought" and kept their phone on airplane mode all the way back home. When they got to their lawn at around 9:15 pm, their team revealed their close second-place finish: only 300 votes ahead of neighborhood advocate Nilu Jenks and 1,400 votes behind Seattle Times-endorsed retired judge Cathy Moore.
"Oh my god. Ohhhhh. Hahahahahaahah!?" ObeySumner said of the initial count.
They feel "confident" the votes will keep trending their way throughout the week as King County Elections continues to tally the results, especially now that they're in possession of a brand new Buddha. (The people at the temple knew they were running, and so gave it to them this evening as a gift.)
They attribute their strong showing to their "small little spot of a team," who gave up their weekends and nights, door-knocked in wheelchairs, and hustled for vouchers after a rough start to a campaign. (ObeySumner switched consultants in the middle of the campaign.) They also tipped their hat to The Stranger for the endorsement, which they said "helped put us over the edge."
If they end up coming in second, the campaign plans to "reach out in good faith and in good will" to other candidates who were aligned with their views. "We all ran because we care about this district, and I've always said we're taking multiple pathways toward shared goals," they said.
But tonight, the plan is to listen to "some Y2K emo rock song" and go nuts. As if on cue, their fundraiser, Matt, busted into the room and yelled, "WHERE'S THE DANCE MUSIC?"
---
MAREN COSTA IS "A LITTLE SHOCKED" SHE'S IN THE LEAD FOR DISTRICT 1
9:10 PM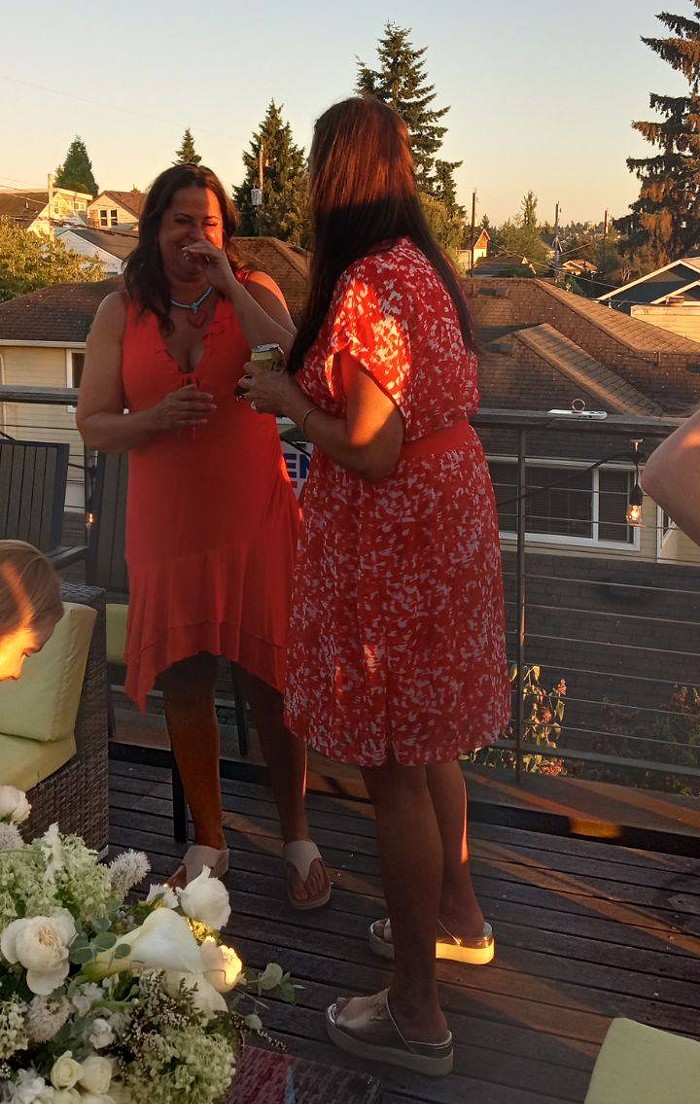 As the sun set on Maren Costa's sister's patio, things were just getting started for the progressive District 1 candidate and SECB's favorite Maren Costa who had a solid 29% lead in the first ballot drop. Costa led Seattle Times' minion Rob Saka, who pulled in 25% of the vote, and administrative judge Phil Tavel, who eked out 21%.
Campaign manager Kyler Parris read out the numbers, and Costa's supporters gave out jubilant cheers when they heard their candidate was in the lead, clearly thankful (as is the SECB) that the folks in West Seattle seem to want more housing, a stop to homeless sweeps, and actual alternatives to policing. Costa thanked her volunteers, who she said had knocked on some 11,000 doors (are there that many homes and apartments in West Seattle? Apparently so!).
"I'm a little shocked," Costa admitted to us after champagne had been handed all around. "Some of the candidates had an earlier start, so this is a big deal."
Costa said she looked forward to making housing a priority if she succeeds in the general. When asked if this former Amazon employee who once challenged Jeff Bezos to make his company more environmentally friendly was looking forward to taxing all those billionaires once she's on the council, Costa replied, "They need to pay their fair share." 
Campaign manager Parris, who was beginning to see SECB's presence at his campaigns as a good luck charm, was happy with the results, especially since the share of votes still to be counted over the next will likely tip progressive. "This is definitely not unreachable," he said of Costa's chances in the general.
But with two pro-business candidates taking more than 40% of the total that might be a big ask.
---
OH YEAH, THE JELL-O!
8:56 PM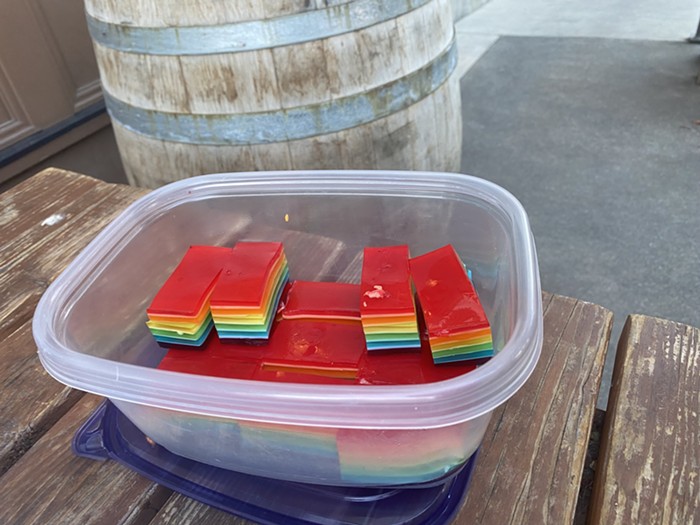 Can we please take a moment to appreciate the patience required to make these rainbow-layered Jell-O treats at Ron Davis's party? 
---
OH YEAH, THE LEVY!
8:55 PM
As we suspected, King County really likes Veterans, Seniors, and Human Services, because "approve" is winning by 70%. Tax fatigued our tipsy little asses!!!!!
---
ANDREW LEWIS FINDS THE PROMISED LAND
8:47 PM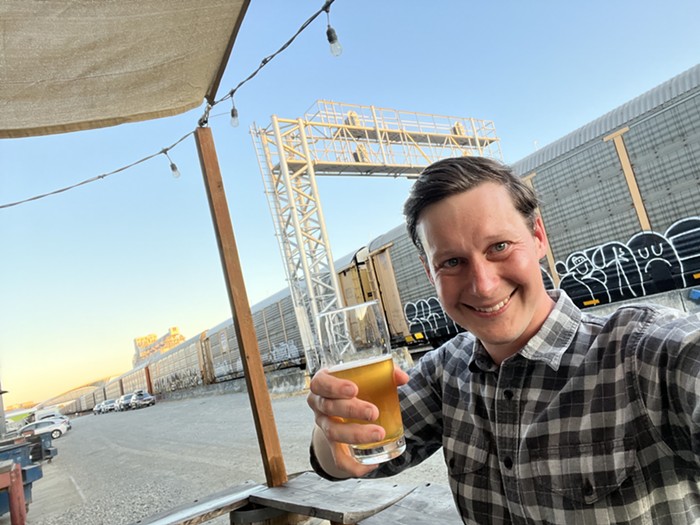 After breaking his promise to drink only District 7 beers this evening, incumbent council member Andrew Lewis celebrated his 8-point lead over Bob Kettle at Holy Mountain Brewing in Interbay.
He seemed unbothered not to crack 50%. With The Stranger's endorsement, he predicted being on track to "trend above 45%."
As a freight train rumbled by, he kicked back in the last of the summer sun with Mariner (the brewery's Kolsch), and looked forward to a pizza somewhere on Capitol Hill later. At least he's getting his steps in.
---
LIKE NO ONE AT DAVIS'S PARTY LIVES IN HIS DISTRICT
8:45 PM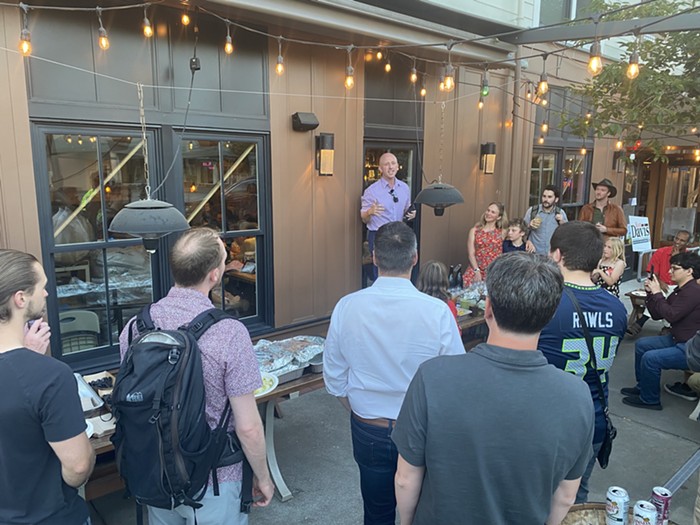 Ron Davis clearly felt pretty good as he told the crowd he'd hit the sweet spot with his 41% lead in District 4. Maritza Rivera trailed behind with 34%. The crowd seemed unsure how to react, though a few wooed and clapped just at the fact Davis led the pack.
Davis acknowledged he'd hoped to face Ken Wilson, who placed third in the primary with 22%, because Wilson ran as a more outright conservative. Davis said he'd gotten into the race to oppose the policies of Donald Trump, and he also didn't mind replacing the man who currently held the district seat, Council Member Alex Pedersen. People in the crowd started doing some of the math for what Davis needed to win the general election, including one of Davis's young sons who started quoting some percentages about conservatives voting early (what a star).
Ann Barnard, a District 5 resident who had to check the SECB endorsement page to remember who she'd voted for, said she didn't know much about Rivera, but she liked Davis and planned to keep spreading the word about him. Switchback ultimate frisbee team member Brendan Wallace* also admitted to not living in the district but planned to double down on volunteering to get Davis elected. One SECB appreciated that Davis passed out free champagne.
*Frisbee Boy made us put his team's name in the story, he's very serious about ultimate becoming a player in city politics.
---
DAN STRAUSS CRACKS 50%
8:37 PM
Hanging out among friends, family, and neighbors at Reuben's The Barrel House, incumbent City Council Member Dan Strauss said he felt "very good" after taking a commanding lead in the District 6 race, which was an understatement. Initial results showed him heading the pack with 51% of the vote—the only incumbent council member to crack 50% on election night—followed by Fremont Chamber of Commerce dude Pete Hanning at around 30% of the vote. Since Strauss scored the coveted Stranger endorsement, his lead will likely grow.
The council member said he felt this win at the doors, but you just never know with these low-turnout primaries. "You can never been be sure until you sure. The numbers don't lie."
His plans now? Find him a Reuben's brew.
---
ALEX HUDSON IS HAPPY AND FULL OF HUGS
8:36 PM
When the results dropped, District 3 candidate Alex Hudson, climbed halfway through a window to hug her 14-year-old kid outside the bar. She held the teen for a few seconds, muttering something that we couldn't hear without totally killing the sweet moment. Her supporters chanted her name, willing her to speak. She approached the projector screen, gave her 32.4% a look, and said, "This is really good."
She's right. As the left-leaning candidate, it's only up from here for Hudson. Late voters, who tend to be more progressive, will add to her lead in the coming days as King County Elections tally the ballots. Will she overcome Joy Hollingsworth, who leads with 40%? Probably not! But she lives to fight another few months. She managed to out-hustle candidate Alex Cooley, who despite his hustle, only earned 658 votes in the initial drop.
---
MORALE IS STILL HIGH AT MORALES'S PARTY
8:30 pm
District 2 Seattle City Council Member Tammy Morales didn't crack 50% of the vote—she's leading with 48.14% over Woo's 45.41%—but that didn't keep the crowd from wooing when the ballot drop came in.
Morales grabbed a megaphone and thanked her team, the volunteers, and her supporters for all the work and all the phone calls. She reminded them it's just the first drop, and they'll continue getting progressive votes.
"And she's winning!" one man called out, getting a laugh.
Morales gathered with the partygoers for a photo.
"When I say 'Let's go,' you go 'Tammy,'" she said. "Let's go!"
The smiling crowd enthusiastically cried out "Tammy!"
One woman could not stop woop-ing.
As the excitement settled down, the good vibes remained at Taco City. Tom Tom Club was playing on the bass-y stereo. Mescal shots were drunk. Morales, dancing by our table, said she needed another taco. It was a summer night.
During the endorsement meeting with the SECB Morales said she's "the only candidate in this race."
We asked if she still felt that way, and Morales laughed. She said she's the only candidate in this race who has the experience and the training to deal with Seattle's big issues and craft policy that helps it grow. Morales said she's confident the subsequent drops will widen the gap between her and Woo.
"For me, this race is about offering real solutions to the crisis we have, offering real suggestions about how we fund things and focus on prevention, or treatment, or things that can move people into the stability they need," she said. "The answer is not to push them to the next neighborhood—the answer to that is to give them treatment options and give them housing."
Volunteer Nathan Wall plopped into the chair next to us with a slanted grin. He knocked on 90 doors for Maren Costa today, and 50 more for Ron Davis. They're both leading tonight. Walking by, Morales's campaign manager Kelsey Hamlin talked up his volunteer skills. Wall would have liked to see Morales in the lead with 55% of the vote ("But that's not realistic"). He feels good about Seattle's progressive candidates.
"Everything is gonna get better," he said.
---
MAREN COSTA'S PARTY IS A FAMILY AFFAIR 
8:14 PM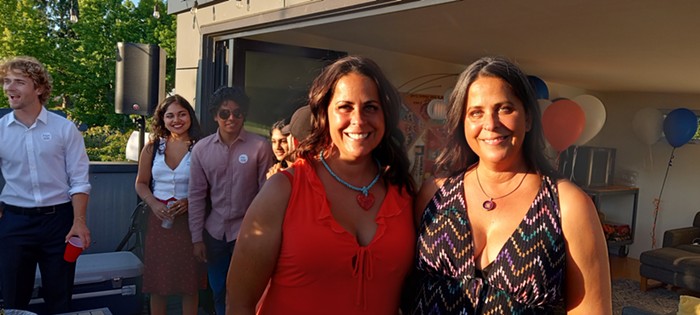 On a sunny balcony in a West Seattle home, with a lovely spread of appetizers and pizza, District 1 candidate Maren Costa's election night is a low-key, family affair. The home is owned by Costa's twin sister, Maia, who could very easily be mistaken for her politically-minded sibling. Maren Costa lives across the street and has been a denizen of West Seattle for many years.
I asked Maia if she had any deep dark secrets to reveal from her sister's childhood, but alas there were none. She says they grew up in a fairly conservative family in a small Minnesota college town known for "corn, Christians, and conformity." They did occasionally kiss boys in rebellion, she said.
Maia says she's occasionally been mistaken for her sister on the campaign trail and anticipates that will no doubt happen increasingly if her sister ends up working at City Hall. As a twin, she says she's committed to serving as Maren's fall guy if there's some scandal. "I'll be her Jeb Bush, definitely!"
Costa (the Maren variety) was cheery and optimistic and when asked how she'd get to work if she got the job at City Hall, she said without missing a beat, "The C-Line." Transit nerds rejoice!
In a moment of deja vu, we chatted with Costa's campaign manager Kyler Parris, who it turns out was also campaign manager for Nicole Thomas-Kennedy's ultimately unsuccessful run for city attorney against Ann "Jail Will Get You Off Fentanyl" Davison, which we covered in 2021. Parris says he's hopeful his candidate this time will emerge even more successful from the field of eight candidates. "We're hopeful about winning in the general," he said with the sun shining behind him… 
---
THE RESULTS ARE IN!!!!!!!!
8:11 PM
The King County results are live!
Stand by for more analysis and party coverage.
---
AND IN THE BEGINNING, THERE WAS THE SECB (AND ONLY THE SECB)
8:07 PM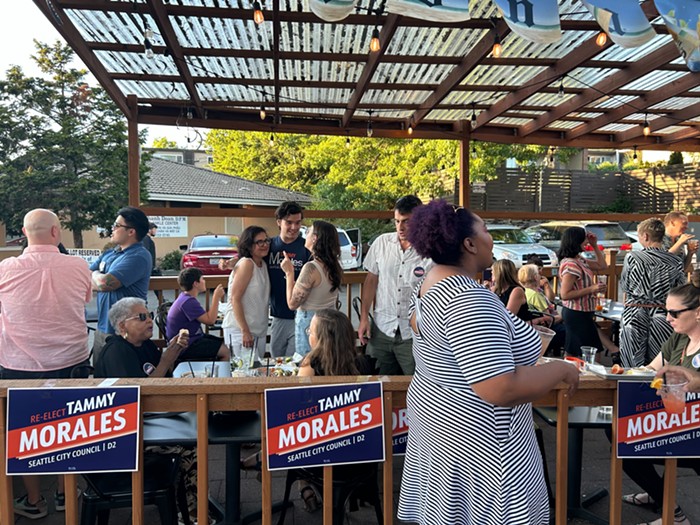 We were the first to arrive at Tammy Morales' election party at Taco City Taqueria, arriving before the candidate, even. We were early enough for a lone angry yellowjacket to have no other target under the hot plastic patio roof. So early that the hostess asked if we knew how the tab was divided. We said no.
We told two unsuspecting couples the empty reserved patio section was reserved for the Tammy Morales party, and to have a good night.
"They actually have this whole section," we said. The server said the event was supposed to start at 6 pm. We laughed. She knew the wifi and brought a cool glass of water. Thank god. It is hot. There was no food, but a QR code and a key to the Taco City menu, unusually tasty for an election soiree.
Morales's staff trickled in 10 minutes after the party started. Everyone got caught in traffic, supposedly. The small crowd cheered with Morales arrived. We went in for the handshake. She went in for the hug. Very personable! It was not awkward.
The campaign ran out of literature yesterday, and she'd been working the phones all day. Her field director was still working the phones. Her big opponent, Tanya Woo, has been raising money fast, so we asked if she's nervous. She is a little nervous, she said, but she believed she'll get through the primary. It's just a matter of how much. 
Morales's stepson, Josh Teicher, liked her chances. Andrew Hong liked them too. Hong first volunteered for Morales's campaign in 2019, when he was a 17-year-old student at Cleveland High School. Tonight, he's just a 21-year-old supporter with a busy college schedule who didn't have the time for campaigning. Hong is still as enthusiastic about Morales and her commitment to addressing racial disparities without big business help.
Hong doesn't like Woo's politics, including her opposition to the shelter expansion in the Chinatown-International District. Hong respected her place as an Asian American community leader fighting for the district but said the city has to stand up for unhoused people and those on the fringes of society. "Tanya has demonstrated that she's not going to do that," he said.
Woo's reaction to the shelter expansion disturbed Alouise Urness. She said Morales has consistently been on the right side of homelessness in Seattle, and the city needed all the progressives on the council it can get. "She's a dependable one," she said.
---
RON DAVIS MANAGED TO BOOK GIRMAY (BUT NOT HIS OWN PARENTS)
7:50 PM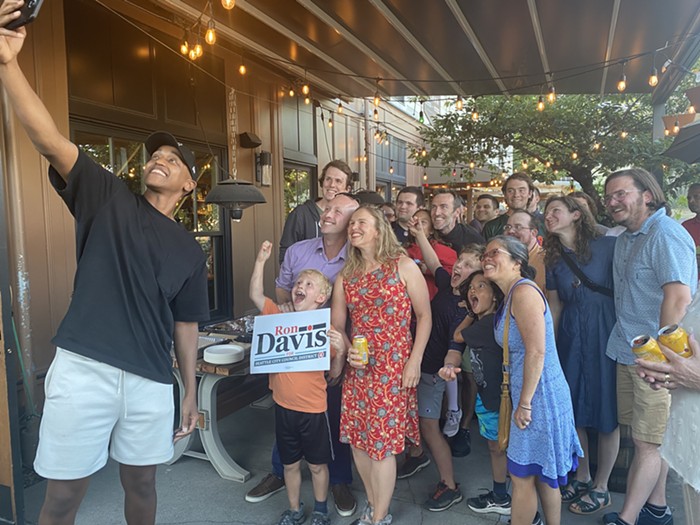 Ron Davis captured the hearts of the ultimate frisbee-loving voting block, according to a couple of his attendees. At Davis's party, Brendan Wallace told us he'd seen Davis's platform and Matthew Mitnick's and couldn't see a major difference between the two candidates, so he put the question out to Twitter. Chronically online Davis responded quickly, snaking Wallace's vote. Wallace has the potential to be a powerful ally for Davis, as he seeks to form a coalition of frisbee players to compete with the endorsement power of the SECB. We watched Wallace closely.
We also appreciated Davis's party for having the wherewithal to get the El Camion food truck. We scarfed down a delicious burrito and obsessed over the fact that Davis's father-in-law is also named Ron. 
Davis's own parents couldn't make the party at the Burke-Gilman Brewing Company due to a pre-planned vacation, but his two sons and his wife (a doctor of family medicine) showed up to support the man of the hour, who told us he'd knocked doors for about three hours before his party. 
Oh shit, King County Council Member Girmay Zahilay just showed up to take a selfie with the crowd. We heard Davis call Zahilay the future governor of Washington. Honestly, almost an insult to Zahilay, who we suspect aims for a seat in DC.
---
ALEX HUDSON IS YELLING AND BLOWING BUBBLES AT PEOPLE ON THE STREET
7:34 PM
"Is that a ballot right there?" Alex Hudson yelled at an unsuspecting passerby.
He lifted it up to show her the envelope and the Hudson crew went wild.
Hudson and her campaign spent the very final moments before the ballot deadline cheering on voters in front of the Capitol Hill light rail station.
"There's a voter!" she yelled as another last-minute voter walked through the gust of bubbles blowing from their bubble machine.
She said she likes the positive affirmation, but frankly, we would die from embarrassment if someone clocked us as a voter. What will the anarchists say?
Hudson joined friends, supporters, and urbanist Twitter—OOPS WE MEAN X—royalty Ben Maritz and Rian Watt for an intimate election night celebration at the Jilted Siren. Her consultant, former Stranger writer Sandeep Kaushik informed the SECB that the event was not, in fact, an open bar. It's the damn democracy voucher program capping all the campaign spending tsk tsk.
---
YOU STILL HAVE 33 MINS TO GET A STICKER AND FREE ICE CREAM (AND VOTE)
7:27 PM
 

 

View this post on Instagram

 
Come drop off your ballot and get your sticker tonight until 8 pm sharp! https://t.co/Nc2Z2m2DA1 https://t.co/uxer8Xks3Q

— King County Elections (@kcelections) August 2, 2023
---
ANDREW LEWIS ALREADY BREAKING PROMISES
6:49 PM
As he popped between neighborhood block parties in West Queen Ann, District 7 Council Member Andrew "Freakin'" Lewis vowed to stick to in-district brews only for the evening. He'd just sipped a Holy Mountain sour called Sacrament, a high-ABV brew that comes in a champagne-style bottle. (He hopes the festive vessel portends a first-place finish tonight, contra the wish-casting going on in right-wing medialand.)
BUT THEN, delayed block party plans caused him to duck into Targy's Tavern, where he ordered a quick pint of Manny's, a District 1 brew, breaking his D7 beer pledge. Tsk tsk. (Though honestly, the ubiquity of Manny's may ultimately render it district-neutral. We'll leave it for the commenters to decide.)
As he walked and we talked of all the doors he's knocked and all the pavement he's pounded in the run-up to the primary, four people recognized him on the street and told him they'd voted for him. Not a bad sign.
---
DAN STRAUSS IS WORKING TOWARD A BREAKFAST
6:37 PM
District 6 City Council Member Dan Strauss had just polished off a mighty bagel with lox, cream cheese, capers, and onions when we called to chat about his pre-drop plans. When asked if the 5 o'clock bagel counted as a late lunch or early dinner, he said it was "hard to tell," given he'd only had a couple eggs for breakfast. The SECB was SHOCKED to hear a noncommittal answer coming from one of the council's swing voters.
Ontological questions about meals aside, Strauss said he felt "good and excited" to see the election results tonight, though he acknowledged that King County Elections expects low voter turnout. He declined to estimate his election night vote share but did remind the SECB that he won the 2019 primary with 34% of the vote and ended up winning the general with 55%.
As he awaits these returns, he planned to stop by a couple neighborhood block parties before ending up at his election night watch party at Reuben's Barrel House, where he will likely toss back a Three Ryes Men, a brew he suggests "consuming in small portions."
---
OLGA SAGAN'S MINI MUSIC FESTIVAL AT THE SHOWBOX
6:26 PM
Olga Sagan's election night party is less about rubbing elbows with the who's who of Seattle politics and more about having fun. She's basically throwing a mini music festival at the Showbox, complete with enough piroshkis to feed a small army. Her sister said she's looking forward to the election party even more than her own birthday.
An event coordinator came into Sagan's dressing room (very famous, we know) and asked her if she wanted a rock band on the set list to tone it down. The coordinator joked they could play "Kumbaya" if that better suited the event. Sagan waved her hand and said they should play as loud as they want. History would suggest incumbent Andrew Lewis and Seattle Times endorsed challenger Bob Kettle survive the primary over her. But if she's going out, Sagan said she wants to go out with a bang. If it ends tonight, Sagan said she's grateful for the experience— especially the reel she made with The Stranger ("It was so funny! [The commenters] just don't get my humor!")
---
EN ROUTE TO THE MONASTERY 
5:45 PM 
We caught up with ChrisTiana ObeySumner, The Stranger's pick for the crowded race in north Seattle's District 5, on their return home from a Fred Meyer. In addition to walking their dog, Barkley, "who is running for Doggie Delegate of D5," they brought home a little picture frame, some water, some grapes, and a pack of Camel Crush Silvers "which I feel bad about," they said with a laugh over the phone. 
ObeySumner picked up the habit in 2021 and tried to quit last week, but running in a stacked race troubled that effort. For the record, they crush their Camel early, which sounds like some kind of omen. 
Rather than host the standard election night party, ObeySumner plans to attend a tara ritual at a nearby Buddhist monastery. "It's a ritual practice to remove obstacles and grant courage and wisdom," they said, perfect for election night. In the meantime, they'll watch YouTube videos (they like nerd stuff about black holes), destress with games on their phone (Animal Restaurant and Revenge of the Queen), listen to some pump-up jams (chiefly Muse's "Get up and Fight"), and probably burn one.