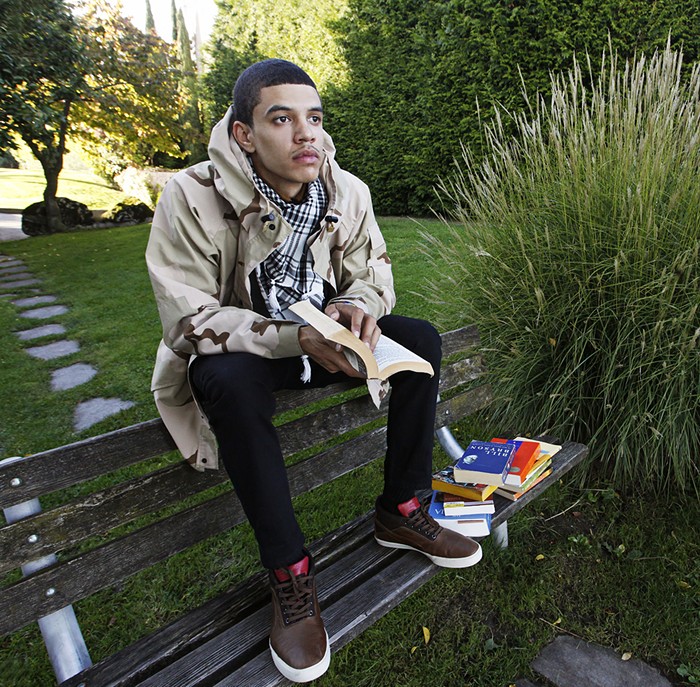 The 28-year-old Central District native signed to Sub Pop Records in 2014, after his first three self-released albums—BLK GLD, WHT GLD, and RSE GLD—caught the ear of Ishmael Butler, founder of Shabazz Palaces and member of Sub Pop's A&R team. Ray's newest release, Nightfall, includes a song called "Outside Looking In," a track about the Central District that features Ca$htro and JusMoni.
"It's the most vulnerable track on the album," says Ray. "Which makes it my favorite."
Ray's mother, Debra Ren-Etta Sullivan, is an author. Her new book, Cultivating the Genius of Black Children, is being published this week by Redleaf Press. The book jacket features a photograph of Ray's son—a fitting multigenerational legacy for a book-loving family.
Ray's favorite reads include several familiar titles: "My all-time bests are The Autobiography of Malcolm X as told to Alex Haley, The Prince by Machiavelli, The Prophet by Kahlil Gibran, and The Alchemist by Paulo Coelho," he says. "But my most valuable book is a journal my mother kept for me when I was a child. When I was young, she would write to me in the journal every day. It's one of my most cherished possessions."
Porter Ray will perform March 30 at Nectar, April 1 at Barboza, May 22 at Crocodile, and in July at the Capitol Hill Block Party. Listen to Nightfall at porterray.bandcamp.com.