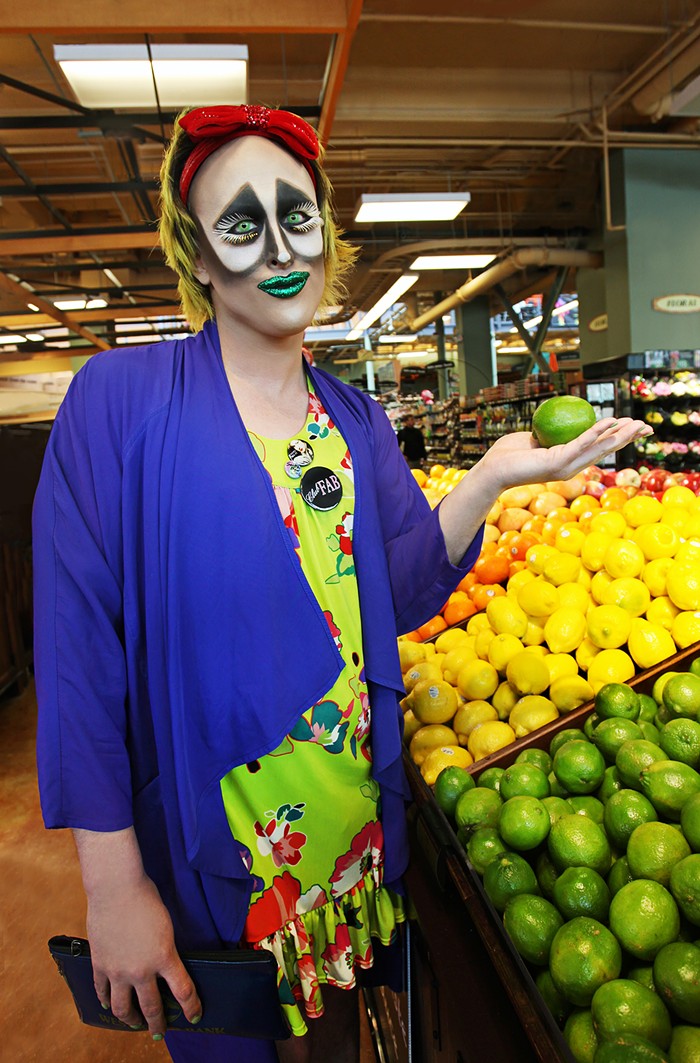 Cucci Binaca is one of Seattle's newest and most fearless hostesses-with-the-mostesses. Never ever one to stick to the antiquated drag convention of lazily lip-synching to old Cher/Madonna/Gloria Gaynor songs in a bad wig, Cucci is more likely to strip down to a nearly naked boy-body to enact the Yeah Yeah Yeahs' "Warrior" while covered in violently-colored paint.
Cucci Binaca's wildly weird magic is performed by Tyler Lane, a former US Navy service member who was stationed on a base in Bremerton. One has to wonder what it was like for Lane to trade in his navy blues for bright nipple pasties and an ill-fitting garter belt in that windy wonderland on the Kitsap Peninsula.
"There's really nothing very interesting going on in Bremerton," Lane told me, while dressed in full drag at QFC. "It's kind of a sad American city." Cucci's doing what she can to spread cheer there, hosting Cucci's Cake Batter at Papa's Eats Treats and Spirits. "It's a crazy scene," Lane enthused. "Grandmas doing dabs, drunk sailors, and... well, LOTS of grandmas. And me!"
Cucci Binaca is hosting Cucci's Spooky Weed at Kremwerk on April 20 and COMEBACK: Down 'n' Dirty Reunion at Chop Suey on April 30. She has two regular nights: Cucci's Critter Barn (second Saturdays at Kremwerk) and Cucci's Cake Batter (third Fridays at Papa's Eats Treats and Spirits in Bremerton).