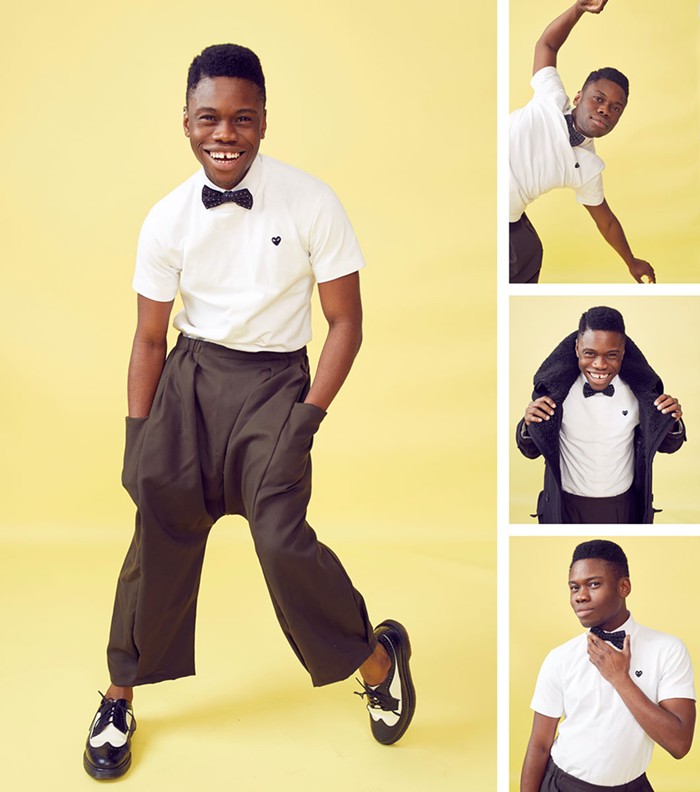 Even if you didn't catch his name, you remember David Rue. He is a powerhouse of grace, wit, and joy, and what he's wearing is a sly, constant commentary on the way clothes in 2016 can communicate history, gender, and race—and that's just what he can do with an outfit. With his moving body, he transmits the metaphysical and makes a person want to move. In June, he'll finish his master of fine arts at Seattle University in arts leadership, he's already on staff as public programs coordinator at Seattle Art Museum, and recently he gave two strikingly different performances on a single night at King Street Station that communicated his vast range as an artist. It's unbelievable that he came to Seattle less than two years ago.
Sponsored
Hello friends! Rediscover your local library this fall.
How in the hell do you work full-time and go to school and perform?
Lots of coffee and lots of coconut oil.
What do you want people to know about your experience as an immigrant?
As an immigrant (and particularly a native Liberian person), I've always felt like a third-culture kid. I was too American for the other West African kids, but then too West African for the American kids. It's weird, I always liked saying that I was an immigrant because I felt like it was something that made me different.
What's been on your playlist lately?
I've been listening to Frank Ocean's Blonde on repeat, but I have also been obsessed with Benjamin Clementine, Years & Years, Miriam Makeba, and Chance the Rapper. Amy Winehouse remains at the top of my playlist, though—always.
What are you reading and watching?
Right now, I'm reading The Battle of Versailles: The Night American Fashion Stumbled into the Spotlight and Made History by Robin Givhan. With school, I don't have much time to read for pleasure, but this is a book I feel like everyone should make time for. The only show I really watch is American Horror Story, and I just finished season six. It gave me everything I needed and more. #Croatoan!
What type of dance have you not studied but want to? What type do you envy? Want to have a one-night stand with? Are married to?
I've never really studied Butoh, but I have always been fascinated with its exploration of darkness and sorrow. I envy Tanztheater and the work of choreographers like Pina Bausch and Maguy Marin. The melodrama of it all. My one-night stand would have to be an Israeli dance form called Gaga because of how strong, supple, sensitive, and fearless this technique makes you. I'd have to say that I'm married to the kind of dance that slithers between multiple forms. I love to juxtapose something like American modern dance with some voguing, a splash of pedestrianism, or a dash of West African forms.
Where do you like to go dancing?
For me, it's not so much the place as it is the DJ. I like dancing wherever Blendiana Jones or Riff-Raff are spinning.
Can you make Seattle dance more, please?
Yes!!! I plan to, especially after collaborating with Romson Regarde Bustillo (at King Street Station). Once my schedule opens up a bit, I plan to create solos that are portraits of my own desires and perform them in spaces that encourage collaboration, exploration, and play.
What are you tired of people complaining about in Seattle?
I'm tired of cultural institutions complaining about not being able to reach new audiences (be they millennials or whatever) without having anyone on staff that is a part of that demographic or a reflection of that community.
When and where are you next performing?
I'll be dancing for my friend Jenna Eady for the closing of V2 on December 10.
Where do you want to be heading in your life?
I want to be able to exist as an artist, arts leader, scholar, and overall arts advocate dressed in a good outfit and an over-the-top (yet somehow still understated) shoe.
Sponsored

In this 30-minute multimedia experience, lights & sounds guide groups as they explore a series of immersive spaces.