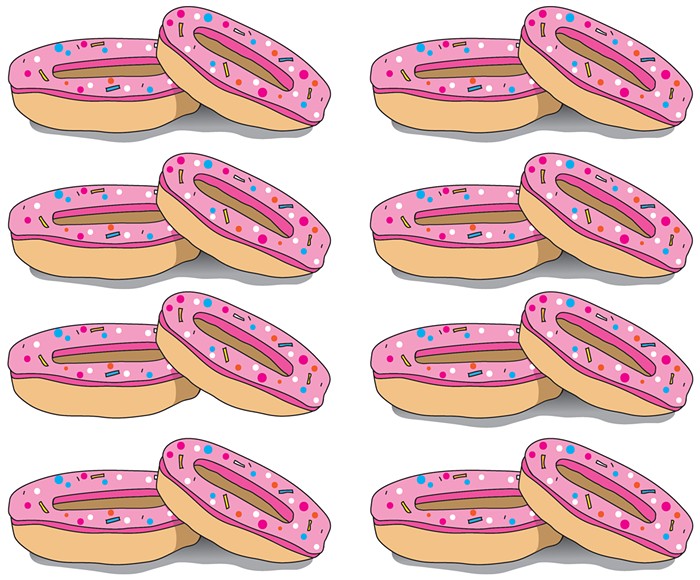 Seattle is a pretty cool place for stoners to hang in public. (Just as long as you don't get caught smoking pot in public—that's a $27 fine.) If you're like me, you probably enjoy most things more while under the influence, but here are some happenings that seem particularly attuned to those of us who've just smoked a fat doobie.
1. Succumb to the munchies
Chowing down after a nice smoke is a favorite high pastime, and there are three events coming up that speak to my rapacious soul. The three-day Seattle Wine and Food Experience is great and all, but it's the kickoff that's most worth mentioning: Comfort, a festival of "feel-good foods and crafty brews" (Thurs Feb 21, Sodo Park). Among the tasty selections from Seattle area gastropubs and taverns: fried chicken, mac and cheese, a Katsu Burger–run french fry bar (put the potato in my mouth, please), desserts, specialty cocktails, and plenty of craft beer and cider (be careful with the spins, friend).
Even more mouth-watering for my relentless sweet tooth: Seattle Cake Con (Sun Feb 24, Fremont Foundry). The price of admission not only gets you in, but pays for you to sample cake, chocolates, ice cream, macarons, doughnuts, and whatever other goodies are on display at this (omg, it sounds so amazing, I am hungry right now) "conference." A fan of The Great British Baking Show? You can enter decorating competitions, watch live demos, and chat with experts. Or you can just crush some sweets. Easy.
And finally: the Seattle Cheese and Meat Festival (Sat April 20, Block 41). I mean, it's happening on 4/20, which tells you something. Cured meat. Fromage. You get a charcuterie board and tasting glass upon entry, and more than 50 vendors offer tastes and sips (wine, cider, beer, spirits, and kombucha included). Mother. Fucking. Yum.
Seattle has an abundance of indie movie houses, and there always seems to be something showing that's geared to stoners. I've been eyeing Northwest Film Forum's Nocturnal Emissions film series (Third Thursdays), an event spearheaded by local horror queen Isabella Price, who has a podcast by the same name and stages a burlesque performance before each screening of culty horror flicks—the zombie surrealism of Phantasm (Jan 17), experimental vampirism-as-addiction flick Ganja & Hess (Feb 21), Wes Craven's satire of cannibalism The People Under the Stairs (March 21), and female-directed slasher film Slumber Party Massacre II (April 18).
If you have a short attention span, the 20th annual edition of the Animation Show of Shows brings together 15 of the best animated shorts from around the world into a feature-length presentation that will surely awe, entertain, and delight your high ass (March 8–14, SIFF Cinema Uptown). Of course, there's the inaugural SPLIFF! Film Festival, the baked younger sister of our porn festival HUMP!, that will feature weed-themed short films (April 19–20, SIFF Cinema Egyptian). You can still enter a film, find details here.
And if you must loaf on the couch, the least you can do is rent something fun to watch from the famous Scarecrow Video. They've curated a special section of stoner films in celebration of SPLIFF! that includes (but is not limited to) Half Baked, Tampopo, Brazil, The Big Lebowski, Fantastic Planet, Friday, Jupiter Ascending, Dazed and Confused, and Lock, Stock and Two Smoking Barrels (through April 20).
3. Put that seemingly useless knowledge to work
The Runaway's Trivia Tuesday has two upcoming nights themed around stoner- appropriate TV shows: Arrested Development (Tues Jan 22) and It's Always Sunny in Philadelphia (Tues Jan 29). The stoniest stoners might try their hand at the ongoing Cannabis Trivia Night (Second Mondays, Via Tribunali), because you're bound to know something about your escapism hatch of choice. Lastly, and perhaps most importantly, there are two recurring trivia nights hosted by the smart, stylish drag queen Betty Wetter, whose questions, to quote my colleague Christopher Frizzelle, "are timely, intriguing, historical, horrifying, and hilarious." The event at Clock Out Lounge (Third Tuesdays) has a new theme every month (the January 15 edition focused on the films from Ariana Grande's "Thank U, Next" video), while Betty's Body of Knowledge (Sundays at Solo Bar) covers current affairs and general/pop culture subjects.
Sure, it's supposed to be for kids (and it's being presented at Seattle Children's Theatre), but Balloonacy (March 14–July 7) gets high marks from The Stranger's own Chase Burns. He saw it at Minneapolis's Children's Theatre Company, admittedly stoned out of his mind, and calls it one of the most magical things to ever be created for the stage. He describes it as "a wordless situational comedy about an old man who lives alone and is trying to celebrate his birthday, when suddenly red balloons bust into his apartment to tease and tickle him. It's basically an allegory for socialism, but for kids." Or for stoners. Just go, all right? There's also the venerable improv of Whose Line Is It Anyway?, on tour as Whose Live Anyway?, featuring several original cast members (Greg Proops, Jeff B. Davis, and Ryan Stiles) plus Joel Murray (Fri March 8, Moore Theatre).
5. Ummm, some live music?
This is a no-brainer. You like what you like, but might I recommend these shows: the lushly orchestrated baroque psychedelia of the Lemon Twigs (Tues Jan 29, Neptune Theatre), Grateful Dead set list re-creators Dark Star Orchestra (Thurs Feb 7, Showbox), dazzling, made-for-ADD good-time prog rockers Umphrey's McGee (Sat March 9, Showbox Sodo), experimental one-man band playing on homemade instruments That 1 Guy (Wed March 13, Barboza), and expansive Brit space-rock makers Spiritualized (Wed April 3, Moore Theatre). Finally, there's the upcoming E.T. The Extra-Terrestrial in Concert , which features a screening of the beloved 1982 film with the original John Williams score performed live by the Seattle Symphony (Feb 8–10, Benaroya Hall).