At the opening night of Three Dollar Bill Cinema's Seattle Queer Film Festival (SQFF), now running through October 22 with plenty of good films worth checking out, those gathered at the SIFF Cinema Egyptian were positively buzzing. Sure, there wasn't quite the excitement of this year's Seattle International Film Festival (SIFF) with the surprise Cinerama news, but there was a similar vibe. Some of this comes from being in a room filled with fellow film and some of it comes from the fact that the programming at both fests has been especially great this year. 
Just like how SIFF opened with Celine Song's stellar feature debut Past Lives, SQFF started their run on a high note with one of the most well-reviewed films of the year, All of Us Strangers. The latest film from writer-director Andrew Haigh, and based on the 1987 novel Strangers by Taichi Yamada, All of Us Strangers tells the story of a lonely London writer Adam (Andrew Scott) who develops a relationship with Harry (Paul Mescal), a fellow resident in their otherwise empty apartment building. 
At the same time, Adam is looking into his painful past when both of his parents died in a car accident. When he visits his old home, he stumbles upon them, preserved in time before their death. He talks to them about everything he never got to say when he was a child—his desires, insecurities, and aspirations all come pouring out of him. 
The film is shattering. It cast a spell over the SQFF audience—the only thing breaking through some of the moments of potent silence were sniffles echoing throughout the theater. The film also flirts with horror, operating as a ghost story with some visual moments that rip the air right out of you. To put it in context, it was one of the most thrilling opening films SQFF has ever had.
How did the festival secure such a big get? To hear it from SQFF Artistic Director Kathleen Mullen, all they had to do was ask. It marks what may be an exciting new chapter for the festival, where the reputation they've built up over the years has given them a greater pull to hopefully bring more films of this caliber to Seattle. 
"It was super thrilling to be able to get that," Mullen said in an interview before the festival. "We were like 'That would be amazing to get, but could we? Would it be possible?' So I wrote to our rep for publicity and PR, I said 'Can we open with this film for our film festival?' They wrote back and said yes. It was as easy as an ask. Then there were some things we had to work out, but we got it because I asked."
One of the other highly anticipated films showing at this year's festival is Vera Drew's The People's Joker, a satire of some well-known superheroes. It was scheduled to show at last year's Toronto International Film Festival, but most of its screenings were canceled over rights issues. From her end, Mullen said the film can now be screened again, even as there are some limitations.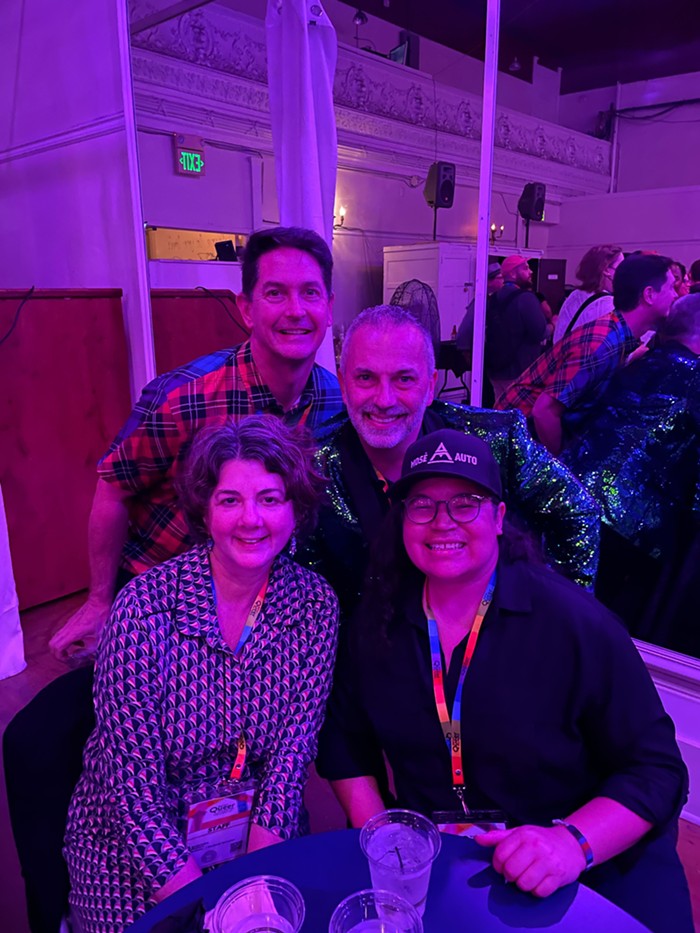 "Obviously, we're not screening that one online in our virtual program, but we felt really good about the fact that it's going to be seen and I think it's a really important film to be able to be seen," Mullen said. "The fact that we can screen it, people are really excited about that."
Amidst all the excitement over these films and many others, there is still a lot of uncertainty for film and arts organizations. SQFF's opening night was a largely packed house, but Mullen says the organization still needs those who care about local film festivals that showcase queer cinema to show support throughout the year. 
"How do we survive as an organization? Well, we need the support of donors, we need members," she said. "We've been really working hard on some campaigns around that. But the reality is that it's a tough world out there. We are a staff of two people, Billy Ray Brewton and I. Of course, we hire a couple of seasonal people, but we really rely on volunteers. We rely on the support of our donors. We want Three Dollar Bill Cinema to make 30. We're in our 28th year, so we want to see the longevity of it. We see the importance of it."
"People have to see the importance of arts and community in terms of our well-being and our queer joy," she added. "It's really part of why we did the theme this year around that and also that queer joy is resistance, it's love, it's community, and so many different things. You go to the movies, you go to an art gallery, you have art on your wall, artists make those things. Filmmakers make those things. They are part of our joy and so just thinking a lot about how, as a community arts organization, we need the support." 
It all comes down to not taking them and organizations like theirs for granted. Mullen said there remains confidence in Three Dollar Bill Cinema, but community support is critical to ensuring they can continue to maintain an important place in the city for years to come.
"We are always growing and changing and developing and listening and taking feedback and also putting out really amazing films by LGBTQ+ voices," Mullen said. "Yes, we're good, but we also continue to need that support and uplifting." 
---
Three Dollar Bill Cinema' Seattle Queer Film Festival continues through Oct. 22 with virtual and in-person programming. You can view the full lineup of films here and purchase tickets here.