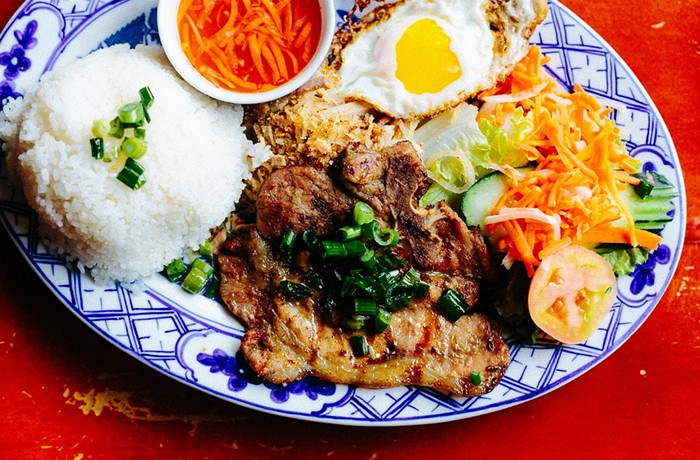 Deciding exactly where to have dinner in Seattle is tough—the possibilities feel endless, and it always depends on who you're taking out to have a bite. The restaurant you pick for a nice evening out with your lover is probably not the same as the one you'd take your family (and spirited children) to, or the same place you'd bring out-of-town guests. One requires a sense of romance, one requires space and the ability to be loud without getting looks, and one should be a crowd-pleaser while also showcasing the place you live. Check out some of our favorites paired with readers' favorites below.
---
Date Night
Sponsored
Hello friends! Rediscover your local library this fall.
This beautifully designed space on Capitol hill has brought sophisticated flavors from Syria, Lebanon, and the greater Middle East to Seattle. It's the perfect place for a romantic evening nibbling on dishes meant to share, like creamy labneh or hummus bi awarma (hummus with spiced pork belly), with fresh pita made in-house and mains like winter squash and bulgur dumplings drizzled with a garlic yogurt sauce. The wine and drink lists are worth a shout-out as well, featuring signature cocktails like the spicy Mamnoon mule, with kummel (a caraway and fennel liqueur), ginger beer, and a light dusting of curry powder. KARA TIERNAN
Sure, you could go to Maneki, an International District mainstay of Japantown since 1904. But why follow the expected route when you could impress your date by taking them around the corner to a hidden gem of sushi, Tsukushinbo, that, last time I checked, didn't even have a sign outside indicating its existence. All the things you normally find at a quality sushi joint—rolls and sashimi, crispy fried tempura and katsu, soba and udon noodle dishes—are present, the fish is consistently fresh, the service is attentive without being fawning, and the dining room feels quaint rather than cramped. Make it an extra special night by sitting at the bar and ordering the omakase dinner. You'll enjoy talking to the chef about what he's prepping as much as savoring it when he's done. LEILANI POLK
Get cozy with your partner or Tinder date at this intimate Belltown spot. The lights are dim, the shareable menu is vast, and the wine list is on point. Black Bottle is the perfect place to split some oysters on the half shell, lightly charred flatbreads with prosciutto and béchamel, a mid-range Malbec, and some laughs. Full disclosure: The "gastropub" cuisine is hard to pinpoint, with empanadas listed alongside spice-seared sashimi yellowfin, but who cares? You're mostly here to drink and pretend you're listening to your partner while eavesdropping on the table next to you. KARA TIERNAN
Bizzarro keeps shabby-chic 1990s kitsch alive via butt-ugly Goodwill paintings and plastic dinosaur heads on the walls, fake skeletons, a bike hanging from the ceiling, and a bunch of other intentionally zany decorative elements that make for good date conversation. Gimmicks aside, Bizzarro's food is pretty fantastic. All the pasta is essentially perfection, particularly the Elk Bolognese and the Forest Floor Frenzy (walnuts and mushrooms in a sherry sauce over pappardelle), as is the Cow, a medium-rare Anderson Farms strip steak au poivre paired with roasted veggies. If you always dreamed of eating lasagna in a Faith No More video, go here. MEG VAN HUYGEN
READERS' CHOICE WINNER: In Bocca al Lupo
It's easy to see why readers chose Fremont's Italian pizzeria In Bocca al Lupo (an Italian idiom that means "into the wolf's mouth"), as their favorite date night spot—an intimate atmosphere accented with rustic wood furniture, rosary bead chandeliers that give off a low sexy light, and a menu of high-quality Neapolitan-style pizzas. The restaurant's centerpiece is a red-tiled beehive pizza oven that greets you as you walk in the door. Delicious pies aside, the menu also features antipasti (try the excellent salumi plate), salads (order the arancia rosso with blood orange, pistachios, and goat cheese), pastas (the capellini pomodoro comes highly recommended), and enormous, perfectly toasted calzones. LEILANI POLK
Seattle is full of foodie hot spots, but few compare to an evening spent indulging at the Corson Building in Georgetown. Matt Dillon has created a truly Tuscan experience in the Northwest, where diners enjoy thoughtfully curated dishes served communal style in a charming building that makes you forget you're under the I-5 overpass and ignore the faint rumbling of planes taking off from nearby Boeing Field. The menu reflects what's in season, with offerings like steamed halibut with whey-braised squash, brussels sprouts, and a raita sauce with curry leaf brown butter, or roasted guinea hen breasts with yellowfoot chanterelles, Tardivo radicchio, and hazelnut-sage pesto. KARA TIERNAN
The theme here is "school daze" and they're dedicated to the bit, with vintage pull-down maps and educational diagrams, chalkboard paint, and dozens of weird little books all over. The menu is brief, but look closely and you'll find delicious ideas underneath the shticky names, i.e., the Lunchable (salami, various cheeses, and house-made chutney and pâté de campagne with a Grand Central Bakery baguette) and the Sanitary Joe (spicy, saucy ground beef and onions on a baguette with "Murphy Slaw"—get it?—cornichons, and Tim's Cascade chips). Teachers Lounge also ties with Gainsbourg for best fancy-pants cocktails in Greenwood; the Corn & Oil (blackstrap rum, falernum, lime) and the Burlock (light rum, Bonal, Heering cherry liqueur, black walnut bitters) are both nonpareil. MEG VAN HUYGEN
---
Working in a mall food court for a few years slinging Chinese food gave me a general aversion to the cuisine. But. Kau Kau not only serves some of the area's best char siu (Cantonese-style barbecue pork), it has a full menu of similarly great Chinese fare that includes family-size portions and is served in a spacious dining room with several round tables for the parties of families who frequent the place. Also an option: grabbing some of that delicious barbecue pork to-go and taking it to nearby Hay Hing Park, where the kids can scurry around in between bites. LEILANI POLK
No matter what you think of corporate food, the fish at this local chain is just too damn dependably good to hate on. Be wary of their kitschy history, but dive into their fish stand's plethora of fish-and-chips options (halibut, salmon, cod, oyster, clams, prawns, scallops), or get more dressed-up seafood at one of their three sit-down restaurants—my suggestion is Ivar's Salmon House, which is right on Lake Union. All are worth bringing the fam to, whether you go the route of fast-casual, or more formal dining. LESTER BLACK
The sister space to Ballard Pizza Company, Frelard slings the same tasty slices, beer and wine, and whole pies you've come to know and love (like The Troll, with spicy coppa, Italian sausage, red pepper, and red onion). There are numerous TVs playing whatever game is on and a well-stocked play area with a chalkboard, books, and numerous toys for the kids. The restaurant is also big enough that folks who don't have kids— or have a night off and aren't interested in spending their child-free evening listening to yours scream—can be safely out of earshot. KARA TIERNAN
READERS' CHOICE WINNER: Din Tai Fung
Din Tai Fung is a perfect spot for chowing down on some delicious food, especially if you're with a large group. The international Taiwan-based restaurant chain is known for their xiao long bao, a type of steamed dumpling filled with hot soup. God, are they delicious. The pork xiao long bao are a close approximation to what the food is like in heaven, I presume. Their appetizers are to die for as well—especially the truly holy cucumber salad. When I go with my family, it's a race to see who can eat the most cucumber slices. Be sure to snag a bowl of noodles with spicy sauce, too. Good luck not getting oil on yourself as you hastily slurp those puppies up—it's worth it, though! JASMYNE KEIMIG
Bless the beer gods behind White Center's Beer Star hall for creating a space where parents can get a nice cold draft from a lengthy 50-plus tap list with kids in tow. Beer Star is awesome for family and framily gatherings, and it features a nice play area with a chalkboard and toys to keep the young'uns entertained within sight. It's also attached to Li'l Woody's, so if the little ones (or, more importantly, the big ones) start getting hangry, you can grab a much-needed burger and crack fries with a side of chocolate shake right next door. KARA TIERNAN
Contrary to popular belief, Seattle is not a total void of good Mexican food. You can find delicious authentic fare at El Camión. Although its brick-and-mortar location in Ballard is a little slicker than when it started out as a food truck and catered to the day laborers outside of Lowe's on Aurora, El Camión (aka The Truck) is as legit as Mexican food inside Seattle's city limits really gets, especially the tacos, two-pound burritos, and chilaquiles. Plus, there's an extensive salsa bar, parking, and daily taco specials. MEG VAN HUYGEN
Tamarind Tree in the ID's Little Saigon has received rave reviews since opening in 2004, thanks to its sleek modern decor, an inviting and cozy atmosphere despite its roomy dining room, and attention to detail in each and every dish. The menu features shareable traditional dishes with a fresh twist, like the green mango salad with grilled lemongrass tofu, spicy chili lemongrass chicken, and Tamarind Tree rolls served with a sweet and spicy dipping sauce. They have a lovely covered patio that's open year-round, so you can cozy up under heat lamps in winter and fall, or order a fun cocktail and soak in the sun during the spring and summertime. KARA TIERNAN
---
Oysters, mussels, scallops, and more come straight from the sea to these stylish seafood bars. Designed to provide diners with a first-rate seafood-eating experience, the cool marble surfaces greet great platters of freshly shucked bivalves on ice, seaweed-thin shavings of impeccable fish, and the kinds of wine, beer, and cocktails that complement a salty sea of flavors. The shellfish all comes from the family company's fifth-generation farms just outside the city. The bars are as much galleries of the Northwest's natural bounty as they are places to grab a bite to eat, especially with dishes like the Salish Sampler, a shucker's dozen of raw oysters, geoduck, yellowtail, scallops, and prawns that takes diners through the region's best and brightest seafood in its purist form. NAOMI TOMKY
Pho Bac, known to many as Seattle's first pho restaurant, has been serving pho out of the boat-shaped building on the corner of Rainier and Jackson since 1982. It's safe to say the Pham family knows pho—so when their kids opened Pho Bac Súp Shop next door, you knew it would draw a following. Everything, from the neon signage to the drink list featuring bourbon with pho aromatics (a MUST!), pays tribute to the family's roots through a modern, hipster lens. The pho is obviously great—but the standouts are really on the bites menu, which features twice-fried chicken wings with sweet and tangy tamarind sauce, spicy pork sliders, fries with lemongrass sauce, and so much more! KARA TIERNAN
READERS' CHOICE WINNER: Ray's Boathouse
There's a reason this waterside bait shop and boat-rental-turned-elegant-restaurant is considered iconic: the views of Shilshole Bay are literally breathtaking, and if you're seated by one of the enormous picture windows or out on the deck, it almost feels as if you're actually on the water. This dining room is the main draw and the reason you're bringing your parents from Iowa, but the food is worth talking about, too. Share an appetizer of steamed manila clams, the plump mollusks doused in tom kha broth and sprinkled in Thai basil, chive oil, and chili oil. Then splurge on more of the ocean's bounty—wild Alaskan King salmon and crab legs, sea scallops, and sablefish included. Their steaks are chef's kiss delicious, too. LEILANI POLK
No visit to Seattle is complete without a boat ride of some sort, and what better reason to hop a ferry than dinner at Hitchcock? A short walk up the hill from the Bainbridge Island ferry terminal, Brendan McGill's culinary ode to the island shucks oysters, smokes salmon, and serves a whole menu of specialties sourced from the great nearby. The eminently affordable tasting menus provide a refreshing and full look at the island, from stinging-nettle soubise on steak to citrus fumet with mussels, alongside à la carte options. And the friendly servers keep an eye on the ferry schedule to make sure everyone gets home on time. NAOMI TOMKY
Dough Zone specializes in juicy Chinese dumplings like xiao long bao (tender little meatballs and a puddle of broth encased in a delicate wrapper), q-bao (fat, fluffy-crisp pork buns seared in a pan), and lacy pot stickers. Sides like the tangy fermented green beans and snacky green-onion pancakes complement them nicely. There's often a wait, but you can always bring your out-of-town guests to wander around the Asian grocery explosion that is Uwajimaya next door to the ID location while you wait for a text alert that your table is ready. JULIANNE BELL
We know you know about the Alibi Room, its gentle, exposed-brick respite from Pike Place Market crowds (or the mean streets of Greenwood), its pleasant brick-oven pizzas and cocktails. But your out-of-town guests have never tried it and they deserve a chance to enjoy one of the best pizzas in town: the grapes and blue cheese. It's a simple concept—just halved red grapes, Gorgonzola, and mozzarella on an olive oil base, a drizzle of balsamico, and some arugula scattered on top—but it's a verging-on-obscene masterwork of primordial pizza science. You don't even need to like Gorgonzola to become infatuated with this pie. Just order it, and thank me later. MEG VAN HUYGEN
Plaka Estiatorio does Northern Greek cuisine in a homey, spacious dining room, with a menu that touches on meat-and-potatoes dishes that are at once more unique than the usual Greek food characters. Although you can't go wrong with any of the entrées, menu superstars include the gorgeous grilled octopus—a candidate for the best in Seattle—and the tender braised lamb. The yigantes meze is a perfect place to kick it off—gigantic white beans cooked down with tomatoes and herbs, and served with olive-oil-drizzled bread for dipping, which they automatically give you a basket of when you sit down. And yes, they have the best bread, too. MEG VAN HUYGEN
Sponsored

In this 30-minute multimedia experience, lights & sounds guide groups as they explore a series of immersive spaces.