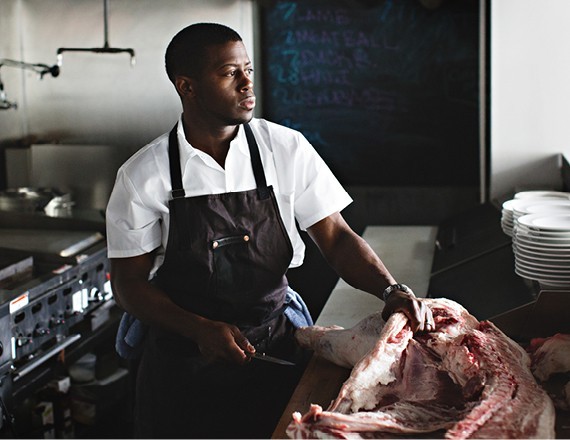 It's been a good year for chef Edouardo Jordan. Last June, he opened his first restaurant, Salare, in Ravenna. Since then, he's gotten a three-star review, been on the cover of the fall issue of our food magazine The Sauce, been written up in the New York Times, and featured in Lucky Peach magazine. As of this morning, he is one of Food & Wine magazine's Best New Chefs of 2016.
In praising Jordan, the magazine had this to say: "The menu at Salare represents the chef's outstanding and diverse training, from salumi-making in Italy to working the line at Per Se in New York City and cooking over live fire at Seattle's Bar Sajor. His superb sweetbreads with collard greens merge his fine-dining experience with his Southern roots."
Jordan's food—excellent housemade charcuterie, dishes like honeycomb tripe braised in San Marzano tomatoes, and halibut run down, a Jamaican stew made with local fish, coconut milk, and plantains—is informed equally by his rigorous French and Italian training, experience with Northwest ingredients, and black Southern upbringing. It would have been easy for him to open a straightforward Italian restaurant here in Seattle, but instead he chose to cook food that is a full and complex reflection of his identity. Jordan has challenged diners to try—and embrace—new flavors and unfamiliar cuts of meat.
"With Salare, I'm being respectful of my heritage, going deep into slavery when our folks were cooking in the fields and given end pieces of pork and offal," he told me last fall. "They figured out how to make those things taste good and feed the family. I still think about that kind of heritage and history now. I also want to open people's eyes."
While there have certainly been other African-American chefs before Jordan who deserved this honor, Jordan is the first African-American to be named a Best New Chef by the magazine. That he has always spoke openly about the challenges he's faced as a black chef in fine dining kitchens makes this recognition feel even more significant.
Congratulations, chef.