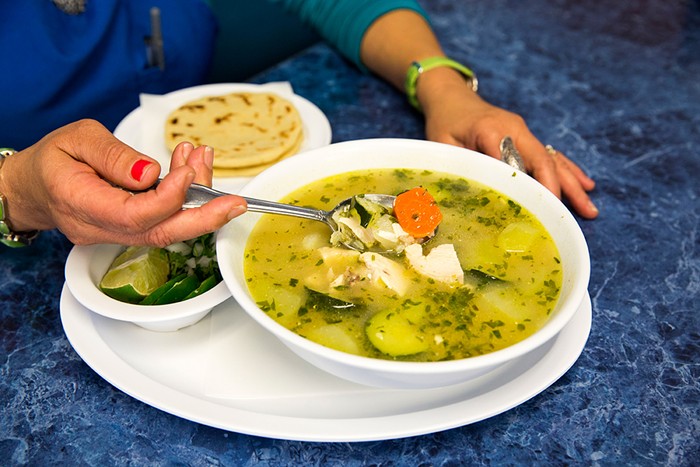 I have a hard time letting go of summer. I hold on to it desperately, jumping into Lake Washington even as the temperature of the water drops, until finally a cold autumnal reality knocks summer out of me. But the sunlight is fading. In a little over a month, we'll set the clocks back, a small act of rebellion against the inevitable darkness seeping in. The air is already crisp and carries with it the undeniable scent of dry leaves and change.
Sponsored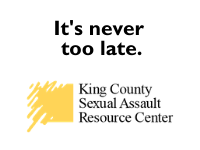 Free, confidential, inclusive support and information about sexual assault is available 24/7
Food helps, of course. Around this time every year, I starting repeating in my head like a mantra three words I read off a sandwich board in front of Bob's Quality Meats in Columbia City a few years back: "Braising for Autumn." It's a reminder that while fall is cold and dark, it's also the coziest season, one meant for letting things burble on the stove for hours as you lie on the couch. It's the season for soups.
You're probably already familiar with the great Salvadorean Bakery in White Center, which has been providing the community with countless tres leches cakes, cream-filled empanadas, and fruity cookies, as well as pupusas, tamales, and hearty breakfast scrambles, for more than 20 years. While it's nearly impossible to resist the call of a revuelta pupusa stuffed with moist pork, refried beans, and a melty cheese that oozes out the sides and gets extra crispy and salty on the hot griddle, the soups here are just as outstanding.
In the sopa de pollo, big pieces of juicy chicken—many of them still on the bone—swim in a clear, deeply flavorful broth heady and strong with garlic and onions. Also floating in the bowl: chunks of zucchini, carrot, celery, and potato, all sliced large enough that they can simmer for hours without disintegrating into mush.
Diced fresh mint adds a lovely zip, as does a squeeze of lime and a sprinkling of the chopped onion and cilantro that accompanies the soup. A small bowl ($7.50) is, in fact, quite big and very filling, though if you're really hungry, you can upgrade to a large for just two dollars more.
While the sopa de pollo is light and bright, sopa de res ($7.50/$9.50) is darker and richer, with meltingly tender strips of braised flank that float in a thick brown broth. The vegetables here, too, are more substantial: a ring of corn on the cob, dense yucca, sweet starchy slices of plantain, and wedges of green cabbage. It's a soup to match a sky that darkens at 5 p.m., one to power you through the depths of December.
The most indulgent of Salvadorean's soups is the sopa de patas ($9.50), a large bowl crowded with big, bony beef feet, as well as slices of beef tendon and tripe that have been slowly cooked into tender, slippery submission. There are plenty of vegetables—yucca, corn, cabbage, and zucchini—but the star of the dish is the broth. It's silky and viscous, rich with collagen from the tendons and beef bones. You can feel the warm liquid wash over your tongue and coat your throat and stomach as it makes its way down into your body. And you'll swear you can also feel your skin and hair reaping the benefits of all that collagen, growing thicker and stronger, and taking on a more healthful glow.
For the last year, I have carefully been working my way down the menu at Vientiane Asian Grocery, a Laotian mini-market in Rainier Valley whose many wares and products glow under bright fluorescent lights. Tucked into the store is a small restaurant that turns out remarkably flavorful (and affordable) food. Each time I visit, I become fixated on a new item and can't imagine not ordering it every time I go. Three months ago, it was the beef jerky, flash fried, salty and musky. Then there was the nam khao crispy rice salad, made with sour pork skin and fiery dried red chilies.
But as the weather becomes cooler, I have a feeling I'll be continually drawn to Vientiane's fish khao poon ($8.00), the first spoonful of which always tastes like a revelation. This isn't a subtle or refined soup—it's fishy, gritty, funky, primordial, and absolutely thrilling. The orange broth is complex, redolent of lemongrass and red curry, alternately giving off subtle whiffs of coconut, citrus, and fermented ingredients such as bean paste and fish sauce.
Soft pieces of flaky white fish float throughout, along with cubes of pork blood, thick rice noodles, bean sprouts, and scallions. The soup is made with pounded fish and herbs, little bits of which settle into the bottom of the bowl like fossils. Equally exciting as the khao poon is the plate that comes with it. It's piled high with fresh chilies, lime, cilantro, basil, lettuce, and shredded cabbage, all of which you can use to season your soup as you please.
While Vientiane's khao poon will challenge your taste buds to make sense of a riot of flavors, the house noodle soup at the International District's Mi La Cay will comfort them. The broth here is simple—a mild chicken broth flavored with lots of fresh chives—but it's filled with a surprising mix of proteins and textures. On top floats a deep-fried, head-on prawn. Underneath it sits a mound of succulent roasted pork as well as a generous piece of fried chicken. While the pork is meaty and lush, the sweet prawn and peppery chicken are enveloped in crackly, crunchy exteriors that soak up the soup and soften as you work your way through the bowl.
Mi La Cay recently relocated from its long-standing home on Rainier Avenue to the former home of Malay Satay Hut on 12th Avenue, a few blocks north. The old Mi La Cay was a huge space with black faux marble tables and lots of turquoise accents that always made me think of Nagel prints and 1980s dance clubs. That building will be torn down to make room for a mixed-use apartment building.
With its wood-lined walls and big bamboo hut, the current Mi La Cay space looks exactly as it did when it was Malay Satay Hut, a place I still miss even though it closed two years ago. I thought about it as I slurped up my soup, its broth light and clean as a clear blue sky. The crunchy bites of fried shrimp and chicken gave it oil and heft, a few dark clouds rolling in. Everything is fleeting. Why shouldn't we try to hold on to all of it?