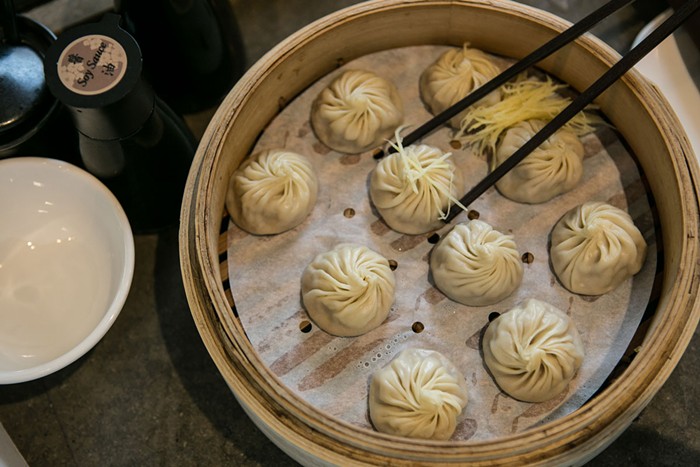 Before international dumpling chain Din Tai Fung opened its first local outlet in 2010, nobody in Seattle made soup dumplings worth eating. Sometimes xiao long bao, as soup dumplings are called in Chinese, would spend a short spell on some menu or another, but they would quickly disappear when it was clear that the quality wasn't up to snuff. These dumplings require precision. No one before Din Tai Fung was doing it—or, at least, doing it right.
Sponsored
A world premiere musical that you can really sink your teeth into Get your tickets
HERE
!
As a food and travel writer, I remember friends asking if I was excited for soup dumplings when the famed Din Tai Fung first came to town. And I was excited—not for Din Tai Fung specifically, but because it was a jumping-off point: the first, I hoped, of many soup dumpling shops to come. Now, seven years after the first Din Tai Fung opened, Seattle has achieved what I'd always hoped: a competitive soup dumpling scene, one widespread enough that even the worst soup dumplings I've sampled are better than anything we had pre–Din Tai Fung.
I set out to find the latest and greatest in Seattle's soup dumpling scene. This meant starting at the highly Instagrammable Peony Kitchen (10317 Main St, #100, Bellevue), which opened in March on Old Bellevue's Main Street. "A taste of old China and modern Chinese cuisine," the description promised. The sleek, highly designed room had an air of elegance that matched the service—and the price tag. For $14, I ordered up the "five flavor xiao lung bao," or 10 dumplings in a rainbow of colors and, supposedly, flavors.
Unfortunately, little set these dumplings apart. Sure, I could sense an underlying flavor in each one—from the bright yellow cheese dumpling to the black seafood one—but the hints of ginseng (in the green dumpling) or hot and sour (in the red) made little impression. I was prepared for subtlety, but not for these underwhelming dumplings. The wrappers were chewy, drying out before we finished, and the soup lacked flavor. So much effort seemed to be put into the looks, but so little into the taste. This pattern was repeated in other dishes we ordered, including a particularly bland chicken buried in useless peppers.
Disappointed in my first stop, I headed to Issaquah's Dough Zone Dumpling House (1580 NW Gilman Blvd, Issaquah), the newest location for the four-store Eastside chain. While the group's rumored International District shop has yet to open, I admired how Dough Zone has matured from its early days. While the owners behind the stores have always made clear their intentions to be multi-unit, the polished design, professional-looking menus, and crisp service made it clear that they've started to nail down the formula. But had they nailed down the dumplings, which were $9.50 for 10? If looks were everything, I would have found my winner. The uniformly unmarred purses sagged gently, the dull matte of the skin was just barely translucent, and the pleating was consistent. As I bit in, the broth rushed out pleasantly. They were good. But they weren't great. The skin was a little thick, coming to a rubbery knob at the top, and the meat a little chewy. While I would happily return to any of the locations for my favorite soup dumpling cousin sheng jian bao (what they call the jian bun here) or a bowl of noodles, I left still wishing for a better soup dumpling.
It was time to try the gold standard, the one that started it all (here, anyway). Like Dough Zone, Din Tai Fung (600 Pine St, Suite 403) just opened its fourth local shop, this one in Pacific Place mall downtown. Arriving at 11:30 a.m. on a Thursday, I beat the lunch line and was seated immediately. It felt eerily similar to Dough Zone—I have no doubt the two look to each other for tricks and tips. The dumplings, too, were familiar: In my own reference photos, I had to double-check dates to remember which picture-perfect baskets came from which place, though at Din Tai Fung I coughed up a few more dollars for them ($12.25 for 10 dumplings). Still, like those at Dough Zone, these dumplings lacked the beguiling marriage of textures that makes them such a popular item—and so difficult to make. Within minutes, parts of the dough began to harden. By the time I'd paused to eat some of the better items on the table (rice cakes, green beans, wontons), the tops of the soup dumplings were gluey and the tips solid, a sign that the skin was too thick around the edges.
I have eaten many soup dumplings in this town over the years, and I knew there was only one place left that could prove that Seattle isn't settling for mediocre imitations in fancy, well-marketed packages. But when I sat down to lunch at Bellevue's Dim Sum Factory (4092 Factoria Blvd SE, Bellevue), I was concerned by what I saw. Opened in 2014, the Factoria mall location is the sister restaurant of what was once my favorite dim sum restaurant in Seattle—Top Gun, which is now in Bellevue. But I was dubious of the shiny-skinned serving of soup dumplings that sat in front of me ($9.99 for eight). The dumplings bore the frazzled gleam of a native Seattleite on the third 90-degree day in a row: They looked tired, nearly collapsed under the weight of what was inside. Then I ate one; a flood of soup sprang out. The filling yielded and the dough stayed soft, even as I took a break to dig into turnip cakes. At the end of the meal, I popped a still-juicy, still-pliable dumpling in my mouth, impressed—but not as impressed as I would be the next day, when I reheated them to the same effect.
Looks, as the saying goes, are not everything. Besides, I didn't set out to find the most Instagrammable soup dumplings around; I set out to find the best. Dim Sum Factory might not have perfect pleats and rainbow-colored dumplings, but what they do have is the best-tasting soup dumpling in town.