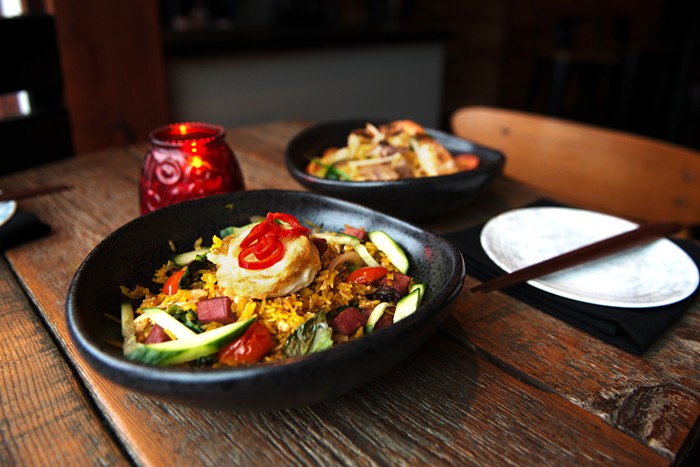 Travel is transformative. Not only do you escape the daily grind, there's the chance to discover new places and new people and new foods. At least, that's what happened to Bryce Sweeney and Mario Eckert, two friends who decided to open Reckless Noodle House together while traveling around Vietnam eating food.
Sponsored

Part theater, part revival, and all power, this one-woman show will have your head nodding and hands clapping!
They found a cozy space, at 25th and Jackson in the Central District (recently vacated by the Atlantic), which they refitted with quirky lanterns, wooden booths, and textured walls awash in mismatched art, mountain scenes, and miniature shark jaws. They hired chef Kenny Lee, whose stints at Seattle's best Asian kitchens—including Lionhead and Din Tai Fung—along with his Cambodian heritage, promised a well-rounded command of Asian cuisine. The pair gave Lee a short list of their favorite dishes from Vietnam and other nearby countries, and let him create a menu.
"We didn't want to pigeonhole ourselves into just one style of Asian food," said Sweeney, noting Lee's tendency to incorporate Thai and Cambodian flavors. "We just kind of gave him a broad view of what we were looking for, and he took off with it."
The menu incorporates a medley of flavors and spices from all around Asia, in a way that feels like sampling street food from different countries without leaving the comfort of your booth, barstool, or chair.
Starters include the roast duck crispy roll, folding scrambled eggs, vegetables, and duck into a crispy spring-roll wrapper, with hoisin sauce and lettuce leaves for wrapping.
Lightly dressed with peanuts, lime, long beans, dried shrimp, and introductory levels of chili, the chilled papaya salad is—like everything on the family-style menu—another shareable crowd-pleaser, and perfectly suited to a hot summer day.
Larger plates include the braised beef cheek noodle, with generous hunks of tender beef resting atop a bed of thick noodles bathed in numbingly hot Sichuan oil.
With its complex coconut broth; lemongrass; choice of beef cheek, tofu, or seafood; vegetables; and bite-sized noodles, the curry vermicelli bowl also veers across borders, channeling both a Malaysian laksa curry and Thai tom yum soup.
The Hokkien wok noodles strike an entirely different tone, with healthy portions of shrimp, octopus, squid, and pork mixed within a garlic-buttery bed of ramen noodles. Bonus: It tasted just as good the next day.
The restaurant's scope grows even wider when you consider the cozy bar, where Sweeney and Eckert's collective cocktail mastery (and fondness for mezcal) has spawned one of Seattle's most inventive drinks lists.
At $14 to $22 per entrée, food here is more expensive than what you'd find in the nearby International District, but it is also made from scratch with local, non-GMO ingredients, sustainable seafood, and meat from Oregon and Washington farms. The steady crowds tend to flock straight to the bar or backyard patio, which is outfitted with a shuffleboard table.
"Our goal is to create an ambience where people can just come hang out and have a drink," says Sweeney. "But if you want to have some food as well, that's awesome."
If you haven't been to the Central District for a while, Reckless Noodle House is a great excuse to visit.