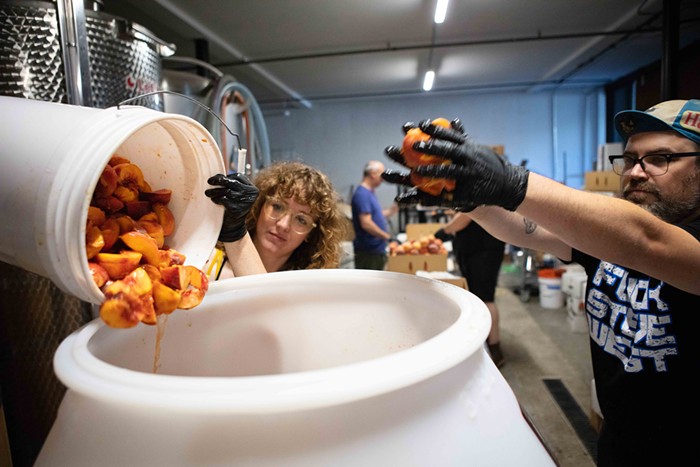 Seattle's breweries are full of fruit right now. The same types of peaches, nectarines, and plums at roadside stands and farmers markets are also fermenting inside oak barrels.
Sponsored

Plus NIOSH respirators, surgical masks, gloves, goggles, 3M half-face respirators and more. www.protectly.co
These soft and aromatic fruit beers take months or even years to develop. Breweries around Washington—like Engine House 9, Dwinell Country Ales, Holy Mountain Brewing, Urban Family Brewing, and Garden Path Fermentation—are spending the summer making Belgian-inspired beers with local fruit, but no brewery has gotten more attention more quickly for its fruited beers than Adam Paysse's Floodland Brewing in Fremont.
"I didn't really go into it planning to do as much fruit as we do, but I just kind of got carried away because it's fun," Paysse said. "I like working with the farmers. It's a thing you do during a certain time of year, and then you move on to other things. I like the fleeting component to it."
Paysse is in close contact with fruit farmers so Floodland can get the fruit at precisely the right moment. A peach picked early might lend a beer more green apple and floral character, whereas one picked later might have more of a fruity perfume. Wait too long and the overripe fruit might have too much sugar, creating a one-dimensional beer.
On a recent morning in Fremont, I watched Paysse and Rick Lynn, the owner of Central Washington's Rama Farm, go back and forth exchanging details about peaches as Lynn unloaded a new shipment.
Inside Floodland's basement brewery, stainless-steel tables were laid in a line with cutting boards on top. I joined a crew of Paysse's workers as we pitted peaches and threw them into a big brewing vessel. I occasionally cheated the bucket out of a peach, enjoying a slice dripping with deliciously sweet juice.
After a couple of hours, the brewing vessel had nearly 500 pounds of peaches. I peered over the edge and wondered what these delicious peaches would taste like after Paysse's wild yeast had its way with them.
My entire sense of a peach is based on its sweetness, but these peaches would soon have their sugar taken from them. Paysse ferments his beer with a blend of different strains of yeast like Brettanomyces and bacteria, called a "mixed culture" in the brewing industry, that will voraciously eat these fruits until there is no sugar remaining.
Paysse will let these peaches sit with an aged saison beer made out of spelt, wheat, and barley for six weeks to six months, and then transfer the beer into bottles where it will continue fermenting for at least another four months. That means this beer won't be ready till 2020 at the earliest. "If someone is making a [fruited] mixed-culture beer and it is coming out when the season is grown, then it's bullshit, basically," Paysse told me.
Luckily, I was able to leave the brewery with a bottle of Firmament and Light, a saison Paysse brewed with Rama Farm peaches grown in 2018. I could smell the aroma of fresh fruit as soon as I opened the bottle. And when I poured a glass and took a sip, I was struck by the beer's softness, its touch of tartness. There was a perfume similar to those peaches I had cut in Fremont, but the sugar had been replaced with notes of rose, strawberry, vanilla, and nectarine. It turns out a brewer can make a peach into something far greater than just a peach.
Sponsored
Ghosts, zombies, slashers, witches, Eldritch beasts, gore-- SLAY has something for every horror fan!