In food—as in entertainment, music, journalism, visual art, and any endeavor that involves a melding of soul and commerce—awards can be a complicated thing. They both do and do not matter, and they occupy both of these identities intensely, invoking strong feelings and deep reactions, inspiring passionate indifference and diffident passion, sometimes all at once. They are complicated.
In early June, we learned this year's crop of winners of the 2022 James Beard Foundation Awards. Widely considered a sort of "Oscars of the food world," the JBFA whittle down the best and brightest in American restaurants (and food media) into a tight list of finalists across a dozen or so categories. This year, there were just three Seattle finalists: Rachel Yang and Seif Chirchi of Joule nominated for "Outstanding Chef", Ballard's The Walrus and the Carpenter for "Outstanding Restaurant", and Mutsuko Soma of Kamonegi for "Best Chef: Northwest."
None of them won. Seattle was entirely shut out of the 2022 James Beard Foundation Awards. It both does and does not matter.
Each day chef Soma makes utterly fresh, wonderfully chewy soba noodles by hand at her little Fremont restaurant, which in 2018 was named Seattle Met's "Restaurant of the Year"—the same year it landed on a national Eater list of best new restaurants, as well as Bon Appetit's Top 50. In the way these things tend to happen, attention begets attention, a rolling stone of praise and ardor steadily picking up speed downhill, building towards this year's finalist turn at the Beards.
Kamonegi is an extraordinary restaurant, worth your time and dedication in attaining a reservation. But this is not that story. Instead we are 20 yards down the block from Kamonegi at its wobbly little sister pub, which is called Hannyatou. I think it's one of the best restaurants in Seattle right now, or at the very least, the city's best drinking and snacking bar. The quality of what you eat and drink here belies the humble surroundings, reaches up towards something higher, and is very frequently astonishing. There is something high-low happening, hidden in plain sight, better than it needs to be, that pulls at the artifice of what it means to be a "famous" restaurant, or locally noted, or nominated for big awards. Hannyatou is so very worth your time.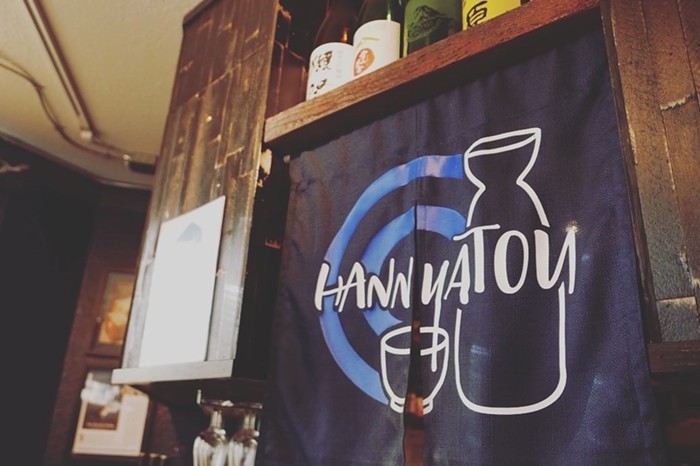 Opened in May of 2021, the space was "never planned", chef Mutsuko Soma tells me by phone following a half-dozen visits on behalf of The Stranger over the last six months, in which I very happily puttered in and out at all hours of the evening, sometimes sitting with the regulars at the pub's jovial bar counter, other times hiding out with a co-conspirator at one of the bar's snuggly two-tops. With long lines and waits becoming a regular occurrence at Kamonegi, sister pub Hannyatou was born from a kind of intrinsic sense.
"When the little coffee place that used to be here moved out, we thought it would be a great idea to have this place as kind of like a little waiting bar," Soma says. "Otherwise the nearest bar was like 5 blocks away."
The kitchen at Hannyatou is tiny, cramped and crooked, operating under some internal order of phenomenological space management, which extends out to the restaurant's dining array: just a couple of low two top tables and six coveted bar seats, juxtaposed next to a growing cork wall full of hundreds of sake caps.
The focus here is on an impressively vast selection of sake by the glass and bottle, woven in and out with a tiny universe of drinking snacks, weaving together different traditions and expressions. This menu is helmed by Yael Peet, who is originally from New Jersey and moved to the Pacific Northwest in the early days of the pandemic; before that, she helmed a drinking snacks bar in Brooklyn called Karasu, written about favorably by the likes of Pete Wells at the New York Times and Wei Tchou at the New Yorker. (Similar to awards, notices from famous publications both do and do not matter to chefs, like the fiercest Schrödinger's cat.) Her first job in Seattle was at Canlis, where first she cooked, then she served, but it wasn't meant to be. In January of 2022, she partnered with Soma on an enterprising pop-up, fusing Kamonegi's expansive selection of sake with Peet's approach to izakaya cooking, which seems ordered around maximalist flavors in a minimal cooking space. The collaboration worked, and Peet took over kitchen duties at Hannyatou soon after.
The space is now firmly in Yael Peet's hands, and the breadth and quality of dishes on offer in any given night is dizzying. You might be served mind-blowingly fresh green spring peas in an anchovy miso, or diasporic cross-fader snack mix of taco seasoned wasabi peas and corn nuts, or raw Top Ramen with a creamy sauce for crunchy dipping (like the cheeky childhood snack), or a gorgeously unctuous sweet, wet sake cheese of impossible texture, imbued with white horseradish in the style of English cheddar, then soaked in sake lees for sweetness and complexity. You may encounter dishes like umeboshi rutabaga, a phonetically beautiful 8-syllable-tone poem of a snack, subtle and crisp and redolent with shaved bonito flakes, functioning almost like a kimchi or a side pickle alongside everything else you're eating and drinking, which is very much the point.
One night, I ate a dish of cold fried salmon served submerged in a sweet broth with orange slices, peppers and carrots, the creamy salmon texture fusing with the acid pop from the vinegar. Another night, I was unpretentiously served a set of achingly fresh Alaskan spot shrimp, wrenched from the sea that very day, plated by Peet as a simple crudo with pickled shallots, ramps, olive oil, and a house umeboshi vinegar.
"I make this a little bit at a time," she told me of the vinegar, "and every time I pit a plum I add a little more," as though it were a most natural and casual thing to do. The resulting effect is extraordinary—the shrimp clean and sweet, squeezed from the tip of its tail as though it were a tube of savory shrimp toothpaste. It is as good of a raw fish dish as you will find anywhere in the city of Seattle right now, here and then gone again as quick as the microseasons, relatively hidden away here behind the bar of this wobbly little sake pub.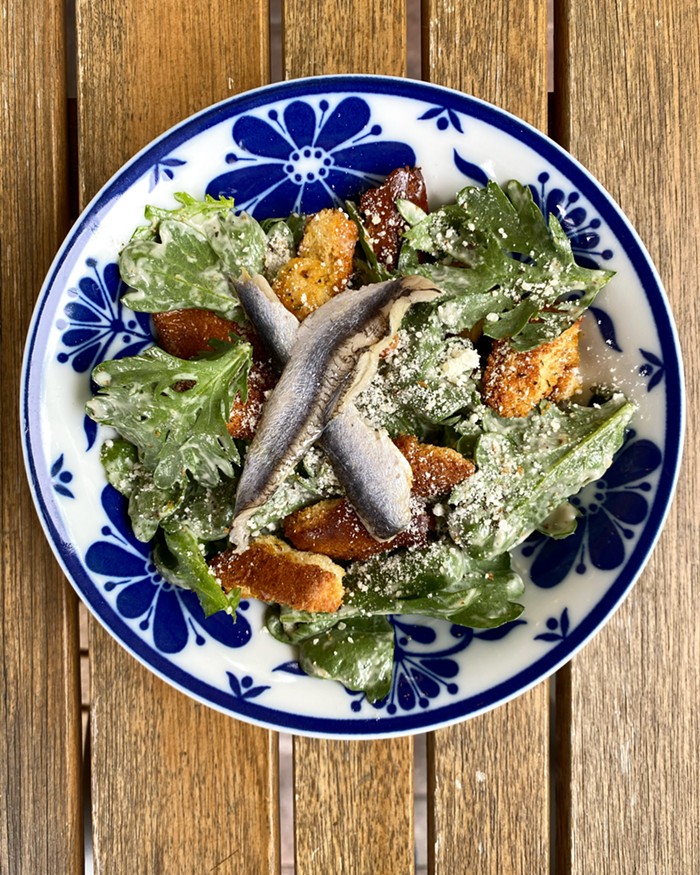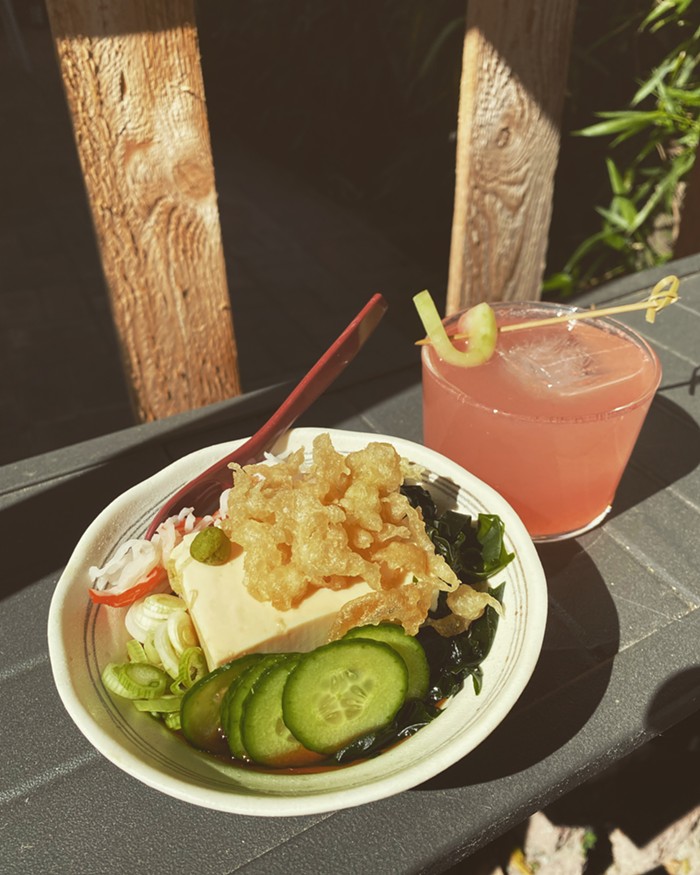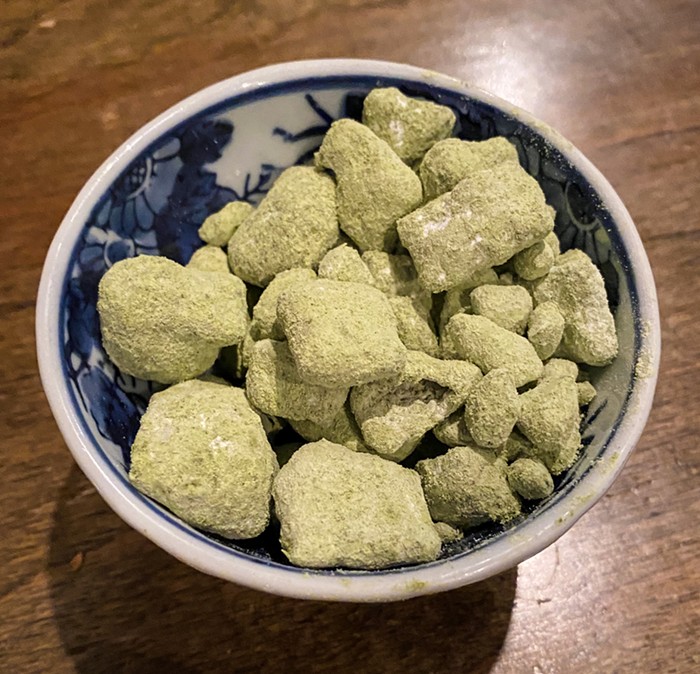 There's more. An asparagus and dill hollandaise dish, beamed in from a Japanese Jewish consciousness I never knew existed, but making perfect sense with the sake; there is also an Okonomiyaki latke with apple sauce, a comfortingly satisfying katsu sandwich, inventive and hearty hot dogs, and white chocolate matcha "puppy chow" that tastes like it was created in a lab for me—my weird stoned teenage dream dessert made real, somehow, right here in this bar. And we haven't even really talked about the drinks, which are marvelous and challenging and educational, depending on how much you do or don't know about sake walking in. Here, you may be poured something like the Namasake Kikusui Funaguchi Gold, chewy and viscous, like drinking Lurisia mineral water with pizza crusts. When I visit Hannyatou, I just ask for sake directions; there are few places in the city where you can better trust being put completely in the hands of the staff, who are as obsessed with sake as any of their patrons and know the offerings with joyful intimacy. Be sure to order a shot of the umeshu habanero at the end of your visit meal—a spicy fusion-adjacent inversion of the classic Japanese plum wine, warped upon itself in a way that somehow lands quite natural and effortless, like a summation of the bar's concept itself, memorable and singular.
Visiting Hannyatou feels like you're sitting in someone else's clubhouse in the best way. For what it is on paper—the wobbly sake pub next door to a nationally-lauded, perpetually-booked restaurant of great esteem—it is roughly one thousand times better than it needs to be, and that joyful defiance of expectation absolutely tickles my brain in a way few other places do. There is something special happening here, with the food and the drinks and the vibe; the idea of this very natural intermingling of ideas and expressions between two chefs like Yael Peet and Mutsuko Soma finding an easy sweet spot in the Venn diagram, fueled by sake, yes, but something else too. 
We live in this endlessly disappointing world of VC-backed bullshit and artificial deliciousness and forced pleasure in the name of joyless capitalism, which is why stuff like awards end up feeling important; they are a way to divine wheat from chaff, that which does or does not suck, to discover that which is good, delicious and true. But thankfully, they are not the only way. You can always just go see for yourself.