Seattle and Washington State have always had all sorts of puritanical, wacky, nonsense laws about serving liquor. The one requiring bars to have a "kitchen" is one of them. Washington Administrative Code 314-02-035 states, "A spirits, beer, and wine restaurant licensee must serve at least four complete meals. Establishments shall be maintained in a substantial manner as a place for preparing, cooking, and serving of complete meals."
Regular bars frequently find it difficult to comply with the food rule due to space restrictions and the physical logistics of basic kitchen needs like refrigeration and venting. And it's especially complicated for live music venues—while having an actual kitchen can help provide revenue on non-show nights and off hours, the requirement can also be a cash suck. Oftentimes people are simply there to drink and food doesn't sell. 
There are venues that successfully balance both food and entertainment, though. Triple Door, a straight-up "dinner and a showroom" rocks a fab kitchen with seafood and Southeast Asian fare (Wild Ginger is their sister property), Burien's recently opened Flight Path serves pub standards and pasta with a side of comedy and live music, and in West Seattle, both the Skylark Cafe & Club and Easy Street Records & Cafe have shows and serve a full menu from breakfast on. In Neumos' side-bar the Runway, you've got Bok a Bok chicken, the Crocodile's just-turned-one-year-old eatery Stromboli is a satisfying way to sop up the sauce, and Wild Rose recently announced it's reinventing its menu and focusing on upping its food game.
Though the bylaws still require the service of "four complete meals" (seriously, Seattle, fix this) most folks are operating under the "minimum requirements," serving simple things like burgers, hot dogs, or frozen meals to stay legal. Some ignore it entirely and take the risk.
In consideration of supporting the venues out there making an effort—and one burdened by the standards—here's a roundup of music venues with solid menus so you can skip the extra running around it takes to grab pre-show dinner and pump that saved Uber fare back into the local music economy.
 

 

View this post on Instagram

 
The Rabbit Box
94 Pike St, therabbitboxseattle.com
The Rabbit Box is a new hideaway that immediately takes you out of the madness of Pike Place Market and surrounds you with seductively good lighting, well-crafted cocktails, literary references, and stage-adjacent seating with musicians performing so close you can touch them. 
On a non-show night, it's the intimate type of room where clandestine plans are made while PJ Harvey moans in the background. You'll find tasty bites at every price point—the menu is very fairly priced, especially for Pike Place—and most notable is the Hemingway Burger, wrapped in a copy of Hemingway's own recipe and seasoned so masterfully it tastes like game.
The future includes plans to livestream and record shows, as well as host readings, interviews, and variety shows that can be broadcast. "Radio is in the future, along with an annual album/magazine," says owner-operator Robynne Hawthorne.
Clock-Out Lounge
4864 Beacon Ave S, clockoutlounge.com
Clock-Out Lounge hosts everything from all-ages, TV-centric trivia to old-school 21-plus punk shows, sometimes over the course of the same day. Nestled inside the Beacon Hill venue, you'll find Breezy Town Pizza serving up a cheesy yet structurally sound pie or slice. Think a Chicago deep dish merged with its handheld NYC cousin.
Your best bets to walk in and grab a table without a wait are at 4 and 8 pm, and that is show dependent so check that calendar. There are stellar salads, like the Beets by Schrute Salad, which is a tribute to The Office that showcases the aforementioned beets with pistachio, goat cheese, and a tangy vinaigrette, and both vegan and non-vegan pizza offerings to fit everybody's tastes.
"Before I opened either of my restaurants (back when I had free time on evenings and weekends), I was a live music photographer for KEXP—I was actually introduced to Clock-Out's owners, Jodi [Ecklund] and Denise [Burnside], through a friend who still works at KEXP," says Breezy Town owner Dave Lichterman. "I covered in-studio sessions with Blue Scholars and Shabazz Palaces, [and] to have Geo and Ish be fans of my pizza lets me connect my past life as a photographer to my current life running Breezy Town Pizza and Windy City Pie.
"Having bands who I initially met through photography come through Clock-Out Lounge/Breezy Town Pizza has been some of the most fulfilling full-circle moments for me, allowing me to share my passion for food with people I previously met and befriended in a totally different context. It has been really rewarding being part of the Beacon Hill music scene, in particular when families get to be part of the space when it's active as a venue, like during School of Rock. Through the concerts, many folks are introduced to our pizza for the first time and then return as customers even when bands aren't performing."
The Royal Room
5000 Rainier Ave S, theroyalroomseattle.com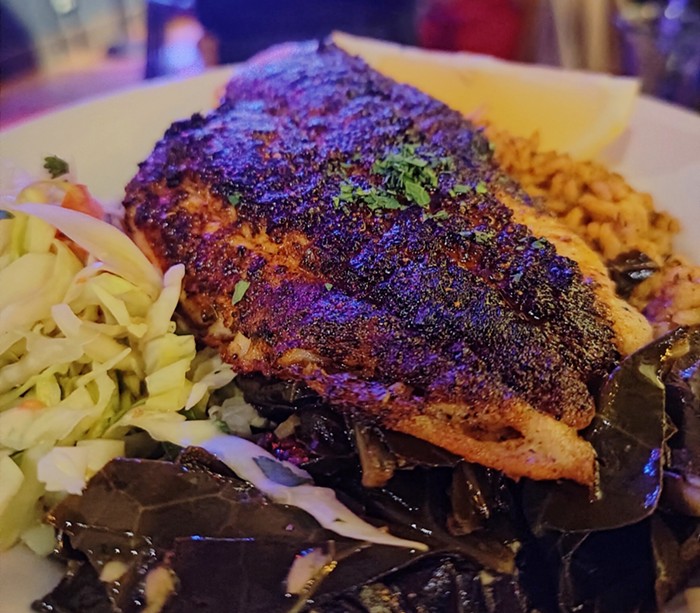 Columbia City is bopping seven nights a week thanks in part to the success of the Royal Room, which features a packed schedule perfect for those hard-to-entertain in-laws or visiting out-of-towners. Proprietors Tia Matthies—whose Seattle music lineage dates back to the legendary OK Hotel and OG Rendezvous and she's also a partner in the Rabbit Box—and local luminary Wayne Horvitz created a space where a wide range of folks dressed up or down enjoy classic cocktails and memorable Cajun-inspired favorites set to a backdrop of jazz combos and bluesier Seattle bands. Horvitz prides himself on being able to recount menu faves of visiting musicians, too, from jazz drummer D'Vonne Lewis (blackened salmon) to Angel Olsen (tacos with sweet potatoes). 
Bar House
503 N 36th St, instagram.com/barhouseseattle
Over in Fremont, at metal bar Bar House, there is a metal hotdog. A VERY metal hot dog.
Only a foolish mortal would dare summon this beast from its exactly "use within one week from date of opening" slumber. Do you know what merciless fate you are about to bring upon your soul... and intestines? Just because you asked for your third Bar House Special (a $1 Pabst Blue Ribbon with any shot) and slurred out the phrase, "But I gotta eat nowwwwwwww," doesn't give you the right to send for the Metal Dog, which is to be brought forth only in the direst of food emergencies. There are many excellent Fremont dining establishments within one block! Yet, you were not deterred, and will now and forever reap what you have sown.
First, know your wait will be infinite. The pangs will be endless. Your longing will know no end. By the time the faint whiff of your impending doom meets your feeble human senses, you will crave your earthly demise.
Gaze upon it in all its bare, naked splendor. 
 

 

View this post on Instagram

 
Dare you ask for condiments!?! Oh my miserable, very un-metal, friend. With mortiferous chews, you will consume red withered flesh prepared by Satan himself under an electronic spigot of hell fire otherwise known as the Olde Midway Pro 18. The bun will be as dry and barren as a pestilent desert of sorrow. Should you require the blood and sugar of nature's unholiest fruit there will be an upcharge. They also have an assortment of chips!
Note: Actually, the Bar House hot dog is perfectly fine, but it does take an ungodly amount of time to prepare. You might not summon a demon, but your bartender will be rightfully annoyed and deserve a more than generous tip. Don't make them stop busily bartending because The Man says they have to have food on hand. You are steps away from all sorts of great Fremont takeout, which you can bring on in.