Three weeks ago an ad appeared on Craigslist Seattle looking for servers and kitchen staff for Beth's Cafe—the crunchy 1950s diner at 73rd and Aurora that closed suddenly around Labor Day of 2021, to great local heartbreak. "We will be reopening on or around January 25th," it read, but then the day came and went and the doors stayed shut.
There was talk over on Reddit about it being a cruel hoax. We all remembered Beth's fleeting reopening in July of 2022, which lasted a couple months before funds ran out. The city was afraid to hope.
Well, the rumors are true, you guys! Yesterday, quietly and without any ads or internet fanfare, Beth's turned on their neon OPEN sign. Despite whispers that the diner had been sold, the restaurant is still owned by Hazel Dalton, who ran the cafe with her husband Chris from 2002 until his death from pancreatic cancer in 2020—and veteran cook Ed Soder is back on the grill too. 
The project to revive Beth's Cafe has been in the works since September 2022—the place has been cleaned up and repainted, and the crayon drawings that once plastered the walls are gone, although the plan is to re-illustrate them. There's also a new ordering system, where you can follow a QR code, place your order, and pay all from your phone.
The menu is pretty much the same, happily: the notorious 12-egg omelette is still present (it's $31.95 for the one that was featured on an episode of Man vs. Food), as is the Triple Bypass, the 12-egger with bacon, breakfast sausage, diced ham, and a double serving of both Swiss and American cheese. The space is the same, too, with all the well-loved tables and booths and barstools. This never happens, folks. It's a restaurant industry miracle. 
On Day One, around lunchtime, there were only a few tables populated, but the excitement at Beth's was palpable, with an added air of plain relief.
"Let me just tell you," manager Sam Gilliss said, "I had the cinnamon roll today for the first time in forever? And it was just ah-mazing." He rolled his eyes back in his head a little and nodded at Ed Soder, the cook. "We're so glad to be back."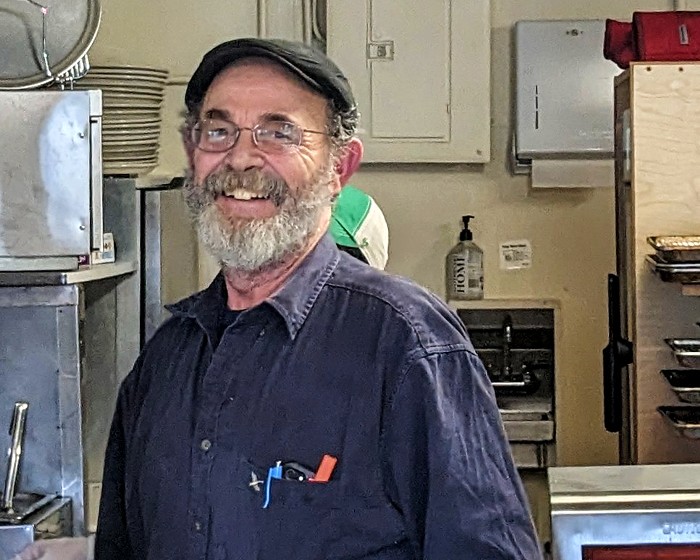 Ed grinned and underscored the sentiment. "I started working here in 1982, through three different owners, and hey, I'm still here after all! Looks like they can't get rid of me!" 
I got a standard plate of sausage and eggs, the linky kind, and they were somehow a bazillion times more delicious than I remember them being. Super snappy, with some kind of glaze that's been seared in by the grill, and plenty of luscious liquid fat inside. The breakfast comes with four links, and I could've put away at least four more. Are these some kind of special, non-Jimmy Dean breakfast links? Or is this just the taste of nostalgia??
In its heyday, Beth's was famously open 24 hours, and we all have seedy memories of finding ourselves there at 2:30 am, fully shithoused, trying to inhale a patty melt without faceplanting into it. So this is naturally the first question on everyone's lips, especially in a city with a serious fucking dearth of late-night dining: Are they gonna be 24/7 again? 
"Yeah, everybody's asking about that," Sam said. "So, we posted on Facebook [about reopening] this morning, and by far, the biggest question was, 'Are you gonna expand on the hours?' So, yeah, we're gonna try to do that. We wanna ease into it. What we thought was it'd be better to add to it instead of having to take away from it."
For now, Beth's Cafe is open Wednesday-Friday, 7 am to 3 pm, and Saturday and Sunday, 7 am to 5 pm, which is perfectly fine. This is a sensible decision. Don't be greedy; just be thankful that it's back and you can have it again. Viva Beth's.