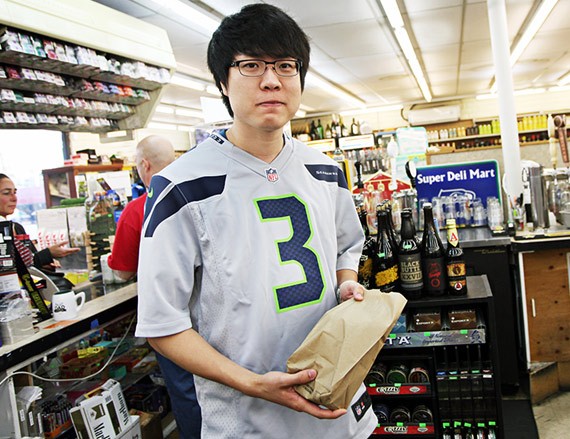 There's something beautiful about utilitarian food packaging. I am always filled with an inordinate amount of glee when the person behind a counter hands me a sandwich wrapped neatly in white butcher paper, a little tab of masking tape holding it all together. It's like a blank canvas upon which all my stomach's hopes and dreams can be painted.
A few weeks ago, I was talking with Justin Gerardy, owner of the Central District's Standard Brewing, and he made a joke about the "inelegance of beer labels—you know, Farting Dog Beer, things like that." At the time, it made me laugh, but later I realized how much truth there was to it. Growlers are much more simple. The weight of the glass has a certain gravitas, and I love their little handles (especially the cute curlicue-style ones from Georgetown Brewing, which are the perfect size to slide one finger through). As a bonus, if you fill them up directly at a local brewery, they will run you less than $10.
Big glass jugs of beer are just as practical as bottles or cans—they keep for two weeks in the fridge and are portable—except they hold 64 ounces, or four pints, enough for two to four people. In many ways, a growler of beer is the perfect accompaniment to a couple of sandwiches—sustenance you can take anywhere.
Mammoth owners Grant and Hannah Carter, who also own Ballard's Bitterroot BBQ, obviously understand this. The menu at their sleek and modern Eastlake sandwich shop, open since January, offers 16 sandwiches and 48 taps, the overwhelming majority of which pour beer that can be taken in growlers to go. (There are also ciders, wines, house-made sodas, and cocktails.)
There are no plates or silverware at Mammoth—whether you order "for here" or "to go," every sandwich arrives, heavy and warm, wrapped in beautiful white butcher paper. They also come with terrific house-made potato chips—thin, crispy, salty, and oily—that are dusted with black pepper and some sort of magical cheddar-cheese powder. They're like a better, handmade version of Ruffles Cheddar & Sour Cream Flavored Potato Chips (which I happen to love).
Mammoth's commitment to its large-animal theme extends to its sandwich names: the Cro-Magnon (ham, mortadella, salami, and coppa with provolone), Neanderthal (pork belly, pickled red onions, and aioli), and Mastodon (roast beef and charred onions). Of the sandwiches I tried, the Hunter ($11)—fatty grilled steak with salami, onions, peppers, mushrooms, provolone, and aioli—was the best. It was a juicy, (over)indulgent sandwich that threatened to get out of control with every bite. Only the sturdy Macrina sourdough roll, whose fluffy, chewy interior absorbed all of the excess oil, kept it in check.
The Saber-Tooth ($11)—filled with Bitterroot's smoked pork, ham, Swiss cheese, charred onion, pickles, and Dijon mustard—was a nice twist on a Cuban sandwich, although on my visit, the pork was overly salty. Its dense concentration of meat was countered nicely by the potent mustard and crunchy, sour pickles.
The only drawback to Mammoth is the excessive amount of meat on everything. While I don't shy away from meat, I thought the salami on the Hunter (which is basically a deluxe cheesesteak) detracted from the beefiness. And I chose to avoid the Predator ($12) altogether because the combination of the pork belly and a fried chicken leg is more than anyone needs.
Mammoth's beer selection, mainly from local and regional craft breweries, is fantastic, ranging from light pilsners and lagers to dark stouts and porter. They also have a nice selection of sours. They don't pour tastes of any beers, which feels stingy, especially since pints here are not cheap—most cost $8. But you do get a bit of discount if you fill a growler—they charge you for three pints, instead of four. (But still, $24 for a growler of beer—even very good beer—feels like a lot.)
On the other end of the spectrum—and town—is Super Deli Mart, a family-run convenience store deep in West Seattle. Its exterior belies the treasures that lie within—namely, great beer. Super Deli Mart pours 16 kegs that change often—from ubiquitous local stalwarts like Manny's to seasonal brews like a Fresh Hop IPA from Portland's Breakside Brewery and one of the ultimate winter beers, Firestone Walker's Velvet Merkin, a bourbon-barrel-aged oatmeal stout that's very hard to find on tap. You can have a pint in the store, or you can fill a growler—for an average price of $10 (more for specialty and limited beers).
The beer selection, which also includes bottles and cans, draws people in, but the placement of tables, chairs, and stools throughout the space—amid the Doritos, within the wine aisle, next to the taco-seasoning packets—are what make people stay. Surprisingly, Super Deli Mart has managed to become a great neighborhood bar, with zero pretension and the welcoming sort of atmosphere that makes old dudes, children, and little dogs named Hercules feel right at home.
It also helps that they make deli sandwiches—tasty ones, too. Place your order at the cash register, which happens to be the bar, which is also where they sell lottery tickets and Nag Champa. Have a pint for just $4.25 while you wait for your sandwich (it might take a while) and have a word with the friendly locals doing the same.
Super Deli Mart's menu is eclectic, sometimes confoundingly so. You might expect to find sauerkraut or bratwurst on the German, but instead you'll find pastrami, salami, and Swiss cheese. But there is sauerkraut on the very good Reuben ($7.19)—slices of marbled rye piled high with pastrami, Swiss, and, in the place of Thousand Island dressing, spicy mustard.
All other sandwiches, unless you specify otherwise, come with mayo, mustard, onions, pickles, lettuce, and tomatoes. They taste especially satisfying on the Cheesy British ($7.19)—roast beef, ham, turkey, and your choice of cheddar, American, or Swiss, which I like to get on a dense French roll. (Again, I'm not sure what exactly makes this British.) The iceberg lettuce is shredded into fine confetti, so half absorbs the mayo while the other half stays crunchy. I ate it after drinking one pint of the Velvet Merkin (8.5 percent ABV) and was pretty sure it was the best hoagie on the planet.
There may not be handmade potato chips at Super Deli Mart, but there are definitely bags of Ruffles Cheddar & Sour Cream.