The Asia-Pacific Economic Cooperation (APEC)—an intergovernmental forum on free trade—is coming to Seattle this summer. No stranger to this forum, Seattle has long been home to the National Center for APEC, a US business association established after the first APEC heads of state summit was discreetly convened by President Bill Clinton in a Coast Salish-style tourist longhouse on Blake Island in 1993. Thirty years later, the Biden administration has welcomed back the forum for ministerial meetings in Seattle and for a full summit in San Francisco in November, touting the meetings as an effort to "advance fair and open trade and investment, bolster American competitiveness, and ensure a free and open Indo-Pacific." 
Government officials from 21 member economies will hold a month of private meetings with US corporations at the new Seattle Convention Center complex from July 29 through August 21.  
The centerpiece of these closed-door dealings is the Indo-Pacific Economic Framework for Prosperity (IPEF), a trade deal that already includes fourteen countries (Australia, Brunei, Fiji, India, Indonesia, Japan, South Korea, Malaysia, New Zealand, the Philippines, Singapore, Thailand, Vietnam, and the United States). IPEF aims to loosen trade rules that would uphold the neoliberal status quo for over 40% of the global economy, impacting infrastructure, labor regulations, and environmental protections for billions of people for decades to come. 
As US multinational corporations like Amazon, Boeing, Chase, Chevron, UPS, and Walmart (all members of the National Center for APEC) will use this forum to export jobs and shore up access to foreign resources and markets, a coalition of progressive forces called PNW People Over Profit (PNW POP) is set to confront the meetings. 
A continuation of resistance to corporate globalization, such as the 1999 protests against the World Trade Organization in Seattle, PNW POP is a new generation of concerned groups from labor, climate justice, anti-war, human rights, and other community organizations and alliances. PNW POP has been facilitating educational discussions on APEC and is holding its own People's Summit to counter-protest the kickoff of the ministerial meetings in Seattle on Saturday, July 29.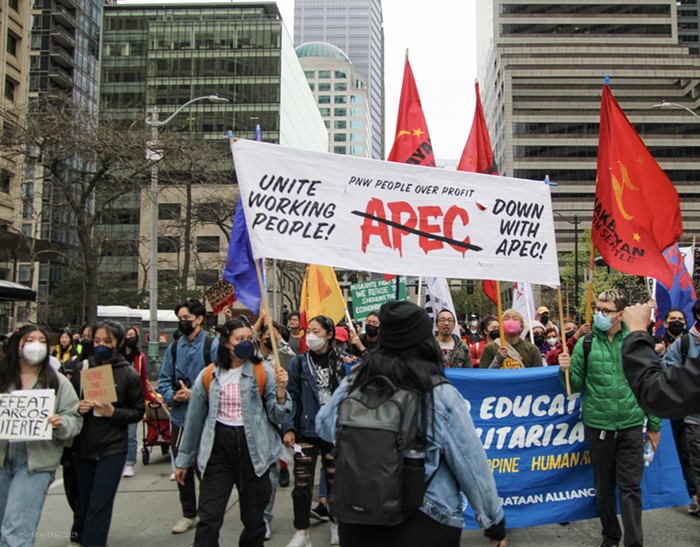 Although the aspirations of IPEF may appear rosy with promises of green energy, supply chain resilience, and "inclusive growth," this language ultimately serves to greenwash and obscure the corporate domination that will result from these dealings.
In a February 2023 briefing, US senior official Matt Murray from the Bureau of East Asia and Pacific Affairs stated, "APEC economies should work towards inclusive growth for workers and those with untapped economic potential, including women, small and medium-sized enterprises, and underserved and underrepresented communities."
Elaborating on "the importance of equity and inclusion as drivers for growth," Murray makes it clear that the APEC forum sees women and minorities literally as "untapped" resources to exploit. And especially looking at human rights and labor conditions on the ground in APEC member economies, it is clear that the 34-year-old forum is not delivering real solutions to the worsening problems of inequality and declining social services that underserved populations desperately need.
US media frequently covers these trade deals as counters to the economic influence of China, but it often fails to connect IPEF to the decades of military spending that have been required to exert this influence in the first place. With an annual military budget exceeding $870 billion, the US now eclipses the military budgets of the next 10 countries combined.
This spending siphons resources from domestic budgets that could be spent on education and health care, all amidst the growing struggle of American workers for improved conditions, ranging from rail workers, to the Seattle Art Museum VSO union struggle, to the pending strike of 340,000 UPS Teamsters that could be the largest single-employer strike in American history. And yet, US tax dollars continue to be prioritized for military aid to APEC partners, even those with documented human rights abuses. 
In fact, the Armed Forces of the Philippines (AFP) received over $1 billion in American equipment and training from 2015 to 2022. This spending has accelerated in 2023 as the US rushes to establish four new military bases in the Philippines, both to enforce foreign markets for APEC corporations as well as to secure the archipelago as an "unsinkable aircraft carrier" in geopolitical posturing with China.
In turn, the Filipino people have experienced mass displacement by military operations, tens of thousands of extrajudicial killings under the US-backed Marcos and Duterte regimes, continued violations of international humanitarian law by the AFP, and instances of human trafficking and violence against women near US military bases. The Philippines has consistently ranked as the deadliest country in Asia for land and environmental defenders over the last decade, with more than a quarter of the 19 environmentalists killed in 2021 being linked to mining operations alone. 
The reality of these abuses could not be more contrary to the "inclusive" promises of APEC. Environmental killings were certainly not mentioned when Canadian mining corp Oceanagold CEO Mick Wilkes gave an interview at the 2015 APEC forum in Manila, where he described the super-profit from the company's Didipio-based mine in the northern Philippines. The human rights violations of the AFP will not be on the agenda when Filipino delegates arrive in Seattle this month, nor when Philippine president Ferdinand "Bongbong" Marcos Jr. returns to the US for the full APEC summit in San Francisco in November–unless, of course, they are confronted by labor forces and grassroots movements like PNW POP.
While APEC's official slogan for the 2023 forum is "Creating a Resilient and Sustainable Future For All," it might be better described as "Creating a Resilient and Sustainable Future For Some"—specifically, for the rich. Prior free trade agreements such as the North American Free Trade Agreement (NAFTA) have done nothing but increase the gap between the rich and poor by allowing corporations free rein to further exploit workers around the world. 
Despite its rebranding, IPEF will have similar consequences as corporations seek the greatest profits at the expense of labor, human rights, and the environment. The APEC ministerial meetings beginning in Seattle this month present a critical opportunity for workers to voice opposition to IPEF and to demand a new framework that puts people over profit. 
---
Wade Phillips is a member of Seattle's chapter of the International Coalition for Human Rights in the Philippines (ICHRP-Seattle). Wade has previously contributed to the Voices series of the South Seattle Emerald, as well as to WASH Magazine and Post-Trash.