A recent Stranger article intending to paint me as an anti-density NIMBY (based on an email I sent to the City planning department in 2017) was only the most recent one-size-fits-all attack on Black and BIPOC perspectives from a largely white-lensed "urbanist" frame. In isolating a single email on one project, The Stranger (a vocal backer of my opponent for City Council) ignores my commitment to combating gentrification, my promotion of affordable housing in the Central District, where I rent a home with my wife, and my support for increased growth across the city. 
More importantly, the article, through derision and isolation, completely washes over the decades of racist policies that marginalized communities across Seattle–and America–have fought and struggled to overcome to build generational wealth, establish affordability, and protect community foundations in historically redlined neighborhoods. This reductivist mentality not only precludes thoughtful discussion of community-driven priorities but also ignores the rich history of Black Urbanism in our city.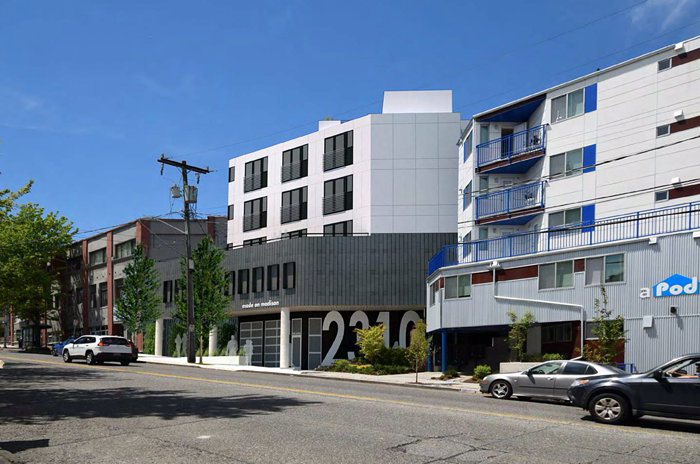 Seattle's land use history–like many American cities–is written in color: redlined areas for Black, Asian American Pacific Islander, Indigenous, Jewish and other non-white communities, and blue and green areas for working class and affluent white neighborhoods. Those colors, determined by antiquated federal lending guidelines and enforced by openly racist neighborhood covenants, set the foundation for the city. 
Some of these covenants specifically stated that "No person or persons of Asiatic, African or Negro blood, lineage, or extraction shall be permitted to occupy a portion of said property."
My grandparents often told us of their experience in the late 1940s, when they tried to purchase a home in the Washington Park area. After showing them the home, the realtor said, "I can sell it to you, but you can't live in it". And of course the broader Black and BIPOC experience was denial of mortgage access, further depriving communities of opportunity to build generational wealth.
For these reasons, it is painful to regularly hear the comparison of Seattle's current zoning policies to "modern day redlining." Redlining is racism pure and simple.
From the foundation of these discriminatory urban growth policies grew strong and supportive neighborhoods like the Central District, Rainier Beach, and Chinatown- International District, where all people of color advocated for affordable housing, efficient public transportation and services, accessible parks and open spaces – amenities of the investments other parts of the city expected and received. Model Cities, a federally funded program in the late 1960s, was led by the late Mr. Walter Hundley, who helped develop our Central District, C-ID and Pioneer Square. Seattle, the first city to receive funding, became a model for the country. 
While our communities grew and thrived, the roots of homeownership and generational wealth remained shallow. The harm that occurs without intersectional urbanism is gentrification and the displacement of communities of color – from not just their historic neighborhoods – but from the city of Seattle itself. 
The tangible loss of diversity and the benefits of the sense community was made worse by growth policies. For decades, these policies rezoned and targeted density in the very neighborhoods once cordoned off for non-white residents and lower income families and protected other ones. 
It is no wonder there has been a general skepticism of the broader concept of "urbanism" between many BIPOC leaders and some advocates for affordable, walkable, dense communities. Even well-intentioned policies have too often sadly resulted in short-term displacement and long-term loss of diversity, even as they deliver housing, progress, and opportunities for new residents. 
We cannot erase a century of color-coded racist land-use policies– and generations of structural disadvantages with policies that do not include input and understanding from impacted communities. We also cannot afford to label allies in building dense, affordable neighborhoods by weaponizing the word "NIMBY" simply because they are demanding both a seat at the table and consideration of how to build sensitivity and equity into our urbanist visions – even if those visions sometimes differ in how a specific project or zoning change is crafted or implemented. 
Seattle's Africatown is a case study in Black-led urbanism delivering broader goals of affordable and market-rate housing in a dense and dynamic community. The project also pays attention to issues of displacement and the unintended consequences of erasing existing housing to build new. 
We must take action to meet competing yet simultaneous priorities of building new housing while we struggle to meet the challenge of keeping Black and other BIPOC seniors in their homes, and affording the opportunity for those homes to be passed to future generations. We have to engage in dialogue and policymaking to create the type of housing options that will keep families in Seattle and attract and retain our younger, increasingly diverse population. 
My own family story reflects the reality of these sometimes competing narratives: My grandparents purchased a Central Area home in 1947. They raised my father in this home, and he in turn was able to build a career as a Seattle Parks employee–a job that today provides a living wage but hardly enough to purchase a home in Seattle. In an effort to maintain an aging home and keep up with the costs of living, our family home was subdivided into three rental units, including a unit where I currently live.  
We are fortunate to have a three-generation arc in Seattle. While I have a family stake in this home, I am a renter, and if my family sold the land, we would be hard-pressed to find similar, affordable housing in the neighborhood where I was raised and want to stay. Even as a "success story" of Black homeownership and longevity in our city, each generation is literally losing ground.
I've lived and known the complex history of our city, and the challenges facing too many Seattleites that are seeking housing that is affordable, stable, and provides opportunities to build equity. It's the primary reason I am running for Seattle City Council. Having the opportunity to be part of thoughtful, unified solutions that rapidly changes our zoning and housing policies to increase density and housing stability in every neighborhood is both an exciting challenge and an urgent need. 
So let's come together as urbanists–and advocates for thriving urban communities–to accomplish our shared goals, rooted in our shared values, with the trust and dialogue needed to build the Seattle we all envision and we all deserve.
---
Joy Hollingsworth is a Seattle City Council candidate running in District 3.