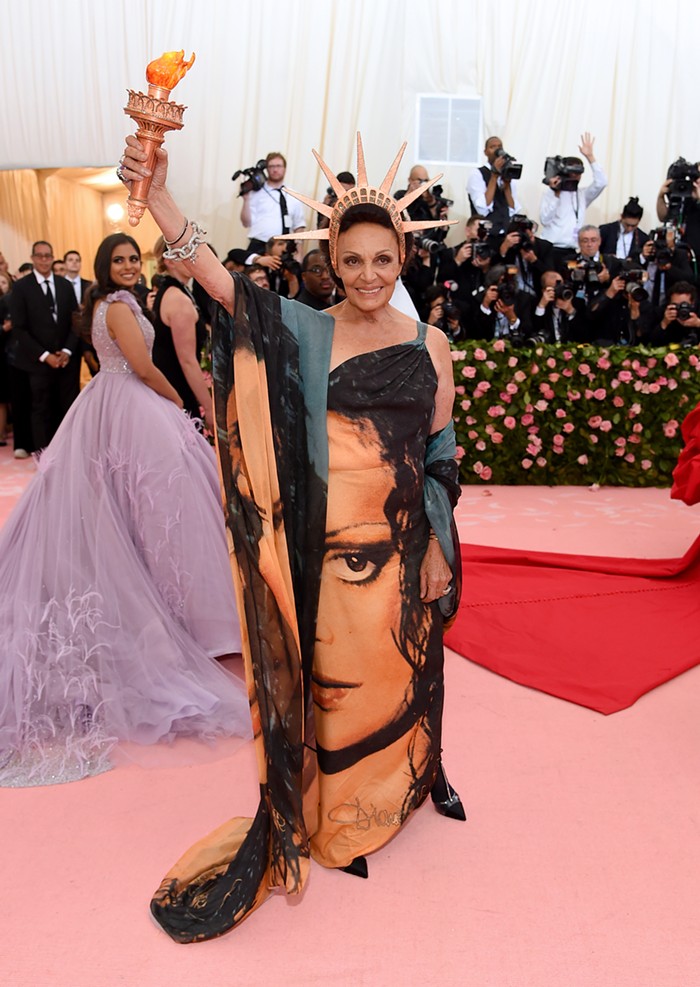 Last night, celebrities and designers converged on the Metropolitan Museum of Art for the annual
Met Gala
, a fundraising event for the Met's Costume Institute. The theme follows the Institute's newest exhibit,
Camp: Notes on Fashion
, which opens on Thursday, May 9.
Camp, as we've covered, is a slippery concept for many people to pin down. It is a sensibility that appreciates bad taste, described most famously by Susan Sontag in her essay Notes on Camp. (It is important to note, however, that she did not create Camp; black drag queens did, or maybe French playwright Molière did, or maybe no one did). As Sontag writes: "Camp doesn't reverse things. It doesn't argue that the good is bad, or the bad is good. What it does is to offer for art [and life] a different—a supplementary—set of standards."
Yesterday, The Stranger's Philosopher in Residence, Charles Mudede, suggested to me that Camp is sort of parallel to the Russian term, "poshlost," which I thought sounded correct. (From Mudede: "The word means more than 'cheesy.' It is something that is cheesy beyond our words. Indeed, Nabokov used the image of a naked man swimming with swans as a way to get close of the essence of poshlost.")
Confused? Don't worry, most celebrities at the Met last night were confused, too.
One icon, however, brought us a clear-eyed working definition of Camp: the Belgium-born fashion designer (and former princess) Diane von Fürstenberg.
Fürstenberg, often referred to as DVF, arrived at the Gala in a funny and elegant Lady Liberty outfit (funny and elegant aren't often words placed next to each other—that alone is a victory). But the look is more than a costume. Instead of wearing Lady Liberty's unique shade of blue-green, DVF chose to wear a gown featuring her own face. This is what takes it into the world of Camp.
"She was actually prepared to wear Liberty blue-green when I pushed her to use her own image for 'Camp' reasons," artist and designer Machine Dazzle wrote to me this morning. "I gave her some sketches for the two-part gown, and her team built it."
Machine Dazzle, a beloved theater artist and designer, created DVF's Liberty crown and torch.
"Diane's husband works with Scott Rudin, producer of Taylor Mac's 'Gary.' Scott is familiar with my work, and when Diane decided to go to the Met Gala as Lady Liberty, she started inquiring about a designer to help. Scott referred her to me and we started chatting," Dazzle told me. "She's very warm and chatty."
Initially, I had no idea Machine Dazzle had a hand in creating DVF's Met Gala look, but it makes sense. It has his iconic flair, at once absurd and regal. (So does this headpiece worn last night by supermodel Cara Delevingne, which Dazzle also created.) He's currently best known for creating costumes and looks for MacArthur genius Taylor Mac's productions.
"I knew she wouldn't go for my usual crazy aesthetic," said Dazzle. "So I decided on precision rather than deconstruction. I hired a 3D print designer to print out the crown and torch with authentic and precise details."
The symbolism behind Lady Liberty goes deep for DVF. The designer, a leader in the fashion world known for creating the wrap dress, was referred to by her mother as her "Torch of Freedom," Dazzle told me. DVF's mother, the Greek-born Liliane Nahmias, was a Holocaust survivor.
"Diane's mother was arrested May 6, 1944, and taken to Auschwitz," Dazzle told me. "Exactly 75 years later, Diane is Lady Liberty. It was very touching and she was so happy and radiant last night."
Here she is announcing the story, via Machine Dazzle's Instagram:

Maybe I cried watching this on repeat.
Like Lady Liberty, DVF is an icon in her own right. As Stranger Music Calendar Editor (and noted fashionable person) Kim Selling told me today, "DVF is an icon for the working woman. She built her empire on creating wearable classics that elevate the fact that we all have to drag our ass to the office but still want to feel like a put-together 9-to-5 queen."
To see DVF wearing this Liberty outfit with her own face on it is brilliant and confounding. The whole thing is artifice, and it is also sincere. That's Camp!
"The 3D prints are a strange plastic—lightweight and feels like a toy," writes Dazzle. "I painted them with metallic copper, and then copper leafed them. I added Swarovski crystals and voila! The torch really lights up. The flame pops off and there's a hidden flashlight inside."
He added, "The crown is attached with ribbon that's hidden in the hair. She couldn't have taken it off if she wanted to."
Not that she probably wanted to—DVF is a longtime patron of Lady Liberty, Dazzle tells me. "Diane has raised millions of dollars for Lady Liberty. She's opening a museum on Liberty Island next week, which is all about the history of Lady Liberty. A beautiful Rizzoli book is currently being printed about it with never before seen photographs."
Dazzle's last words on last night's look? "What can I say? It's a perfect thing." I agree. It's perfectly Camp.