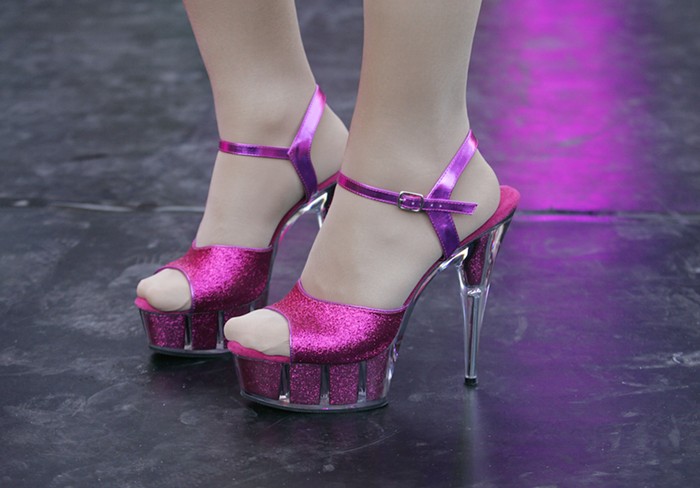 There is perhaps no more repeated quotation in the annals of drag than the famous Dolly Parton declaration: "It takes a lot of money to look this cheap." There's a good reason why: doing drag, like being Dolly Parton, costs a
lot
of money. But unlike being Dolly Parton, drag does not pay well.
Once a fringe art form found primarily in dark bars and back alleys, drag has suddenly, and with little warning, catapulted to global prominence with the success of RuPaul's Drag Race. Queens who once might have resigned themselves to a lifetime of financial uncertainty now, if their mug is blended and their dips are tight, can become international social media superstars.
Drag Race's success has—pardon the phrase—trickled down and spurred the growth of a cottage industry. There are more queens than maybe ever before, but there are also designers and tailors who make their garments, wig makers who sculpt their up-and-down do's, and administrators who manage the careers of top-tier queens. There's no real way to quantify public appetite, but if attendance at popular local shows like Lashes, Rapture, Le Faux, and the Mx. Cast Race are any barometer, a lot of people are into drag right now. In less than a decade, drag has gone from outsider art to primetime entertainment, on air right before Love and Hip Hop. But are these queens making any money?
It's debatable whether the Drag Race windfall has reached younger or more localized queens in any substantial way. Many non-Drag Race queens have pointed out that the proliferation of "RuGirls" often endangers local bookings. Earlier this year, Cookie Couture, who performs regularly as part of the cast of Lashes at RPlace and helps coordinate Kremwerk's drag programming, took to Facebook to criticize "exorbitantly priced Pride line-ups that feature little-to-no local talent booked (while claiming to be a 'community space')."
Other queens have mentioned that promoters have cut their pay—usually a flat fee between $30 and $60, according to every queen I spoke to, plus tips—to offset a RuGirl's booking fee, usually somewhere in the thousands of dollars. More than a Golden Age of Drag, the boom of the past decade has created a kind of plutocratic system in which substantial wealth and influence are wielded by those who have agreed to anchor their careers to RuPaul's institutions.
These consequences do occasionally reverberate all the way to the top. Last year, Drag Race fan favorite Adore Delano sued her management company, Producer Entertainment Group. The lawsuit alleged that PEG had embezzled over $3.5 million dollars from Delano. The case was dismissed and in January PEG counter-sued, reportedly seeking $180,000 in owed back fees. In May, I interviewed Delano for Alternative Press and she spoke candidly about being suddenly forced to navigate the labyrinthine infrastructure of the entertainment industry without any kind of business training. "Most of my homegirls are drag queens and we didn't go to business school," she said. "We didn't know what it was going to feel like to be thrust out there, and make all this money, and know how to handle it. I mean, we come from different lives. In the beginning, you just work, work, work, and it's easy to take advantage of somebody when they're not used to handling books or business."
Even keen business sense isn't always enough. A few weeks ago, local treasure BenDeLaCreme announced that she would not be taking her show Inferno A Go-Go on an Australian tour as planned, in solidarity with performers who hadn't received payment from the last Australian tour.
So how do we faggot and non-faggot consumers of this fair art make sure the gals who razzle dazzle us at our favorite bar are taken care of? My conversations with a number of local drag performers made it clear that the answer is multifaceted, but one of the easiest ways to begin any conversation about compensation is to create more transparency around pay structures and costs.
To that end, The Stranger asked a few local performers to break down how much a specific look cost to buy and assemble. "Drag isn't supplied, it's like being hired to work in an office, but you have to find your own computer, printer, and water cooler," explains Seattle drag performer Mona Real.
It's worth noting that most queens will change into two or more looks over the course of the night. There is also pressure to create new numbers for every performance, especially since so many drag nights have specific themes. Safety and practicality may dictate that performers take a car to their gigs, which means that these breakdowns do not reflect the entire cost of a night of performing, especially if a number involves props. That said, even a single look costs much more than the $30-$60 flat fee promised by most club gigs.
"Hair and shoes alone are probably over $50 dollars each," says Londyn Bradshaw, Miss Gay Washington 2018. "Right there, that's $100 dollars. So I think most outfits cost more than you're earning at the gig." Cookie Couture was more pithy: "I don't think I've ever made enough money to cover the cost of every product I'm wearing or every piece of my look I have on at any gig."
- Wig: $30 hand-me-down from local drag icon Mona Real years ago, styled by me (I've found wig styling ranges from about $40 to $80)
- Shoes: $20, Payless (they go up to size 14!)
- Dress: $25, drag sale purchase made a few weeks ago
- Jewelry: $15, all Goodwill finds
- Nails & Eyelashes: $5 each, Sally's Beauty Supply
- Tights: $15 (three layers of Dollar Store tights with a top layer of Capezio dance tights)
- Make-up: $100, all Atomic Cosmetics (three kinds of foundation, setting power, six different eye-shadows, glitter, lipstick, setting spray)
- Undergarments: $20
- Hip pads: Gifted to me by my boo LaSaveona Hunt. I think good ones run about $60 but are easy to make yourself.
- Fake boobs: $2, rolled up gym socks
- Smile: Crest White Strips, $20

TOTAL: ~$300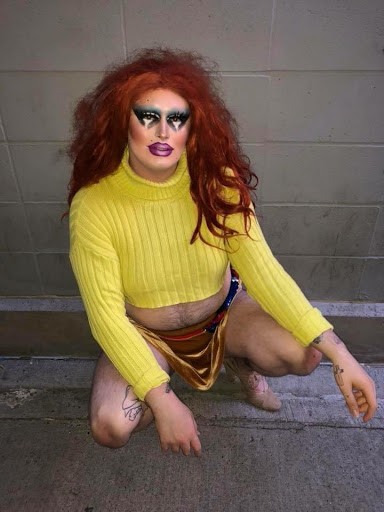 -Turtleneck: $20
-Skirt: $25
-Heels: $35
-Fanny pack: $5
-Wig: $50
-Three Kryolan tv paint sticks: $75
-Ben Nye neutral set 8 oz jar: $20
-Lorac Pro Contour Palette: $50
-Kat Von D Divine Palette: $40
-MAC Hyper Real Glow Palette: $40
-MAC Mini Blush: $18
-Sleek Solstice Highlighting Palette: $15
-Clinique Cheek Pop: $25
-Two lip liners from NYX: $8
-Two Danessa Myricks 24 hr color matte: $36
-KVD liquid lip: $20
-ELF liquid liner: $3
-Mascara: $3
-Kryolan setting spray: $16

TOTAL: $504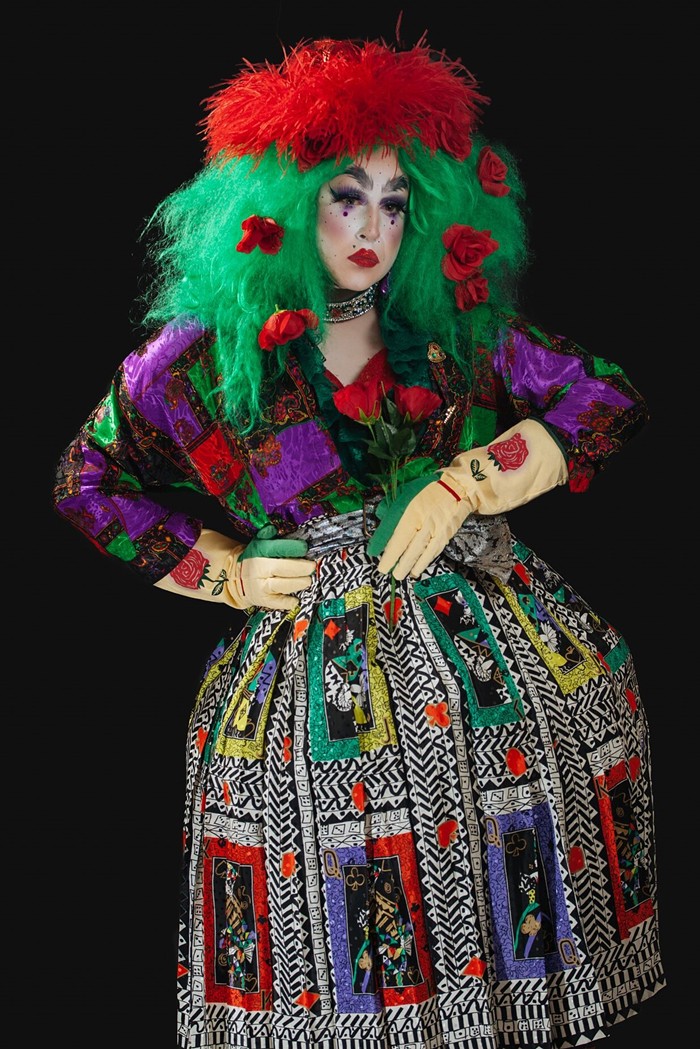 -Blouse: $6, Dearborne Goodwill
-Vintage button covers: $8, Ebay
-Velvet choker: $4, Dearborne Goodwill
-Feathered hat: $10, Ebay
-Metallic belt: $20, Lucky Vintage U-District
-Vintage gardening gloves: $18, Etsy
-Vintage playing card skirt: $36, Etsy
-Petticoat: $1, Olympia Goodwill Outlet
-Bra: $1, Olympia Goodwill Outlet
-Roses: Free Pile
-Atomic Cosmetics Clown White: $40
-Sephora Red Lipstick: $20
-Urban Decay Electric Palette (eyeshadow): $40
-Ben Nye Translucent Powder Bulk Jar: $50
-Green Marble Setting Spray: $45
-Nyx black eyeliner: $8
-Misc. Drug Store Cosmetics: $25
-Last-Minute lashes: $5, Trendy Wendy
-Silicone Padding: $275
-Black Heel Boots [not pictured]: $45 Used, Poshmark
-Tights: $15 Used, Mercari

Photoshoot: $250 [not pictured]

TOTAL: $927
To reiterate what Dolly has been telling us: it takes a lot of money to look this cheap.