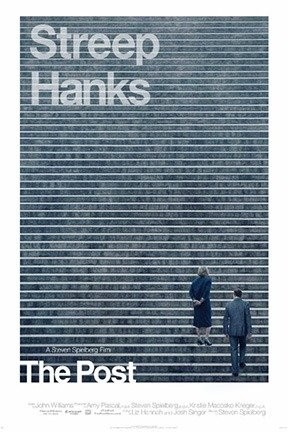 The Post
is Spielberg's clear and passionate ode to the adversarial press, and not only is it a refreshing departure from his past work, it also turns out to be a good fit for his slick storytelling style. Spielberg is, at his core, a populist—a guy who wants to make crowd-pleasers so badly that his name has become synonymous with them. With
The Post
, Spielberg's skills are put to a purpose. Tom Hanks plays Ben Bradlee, the chain-smoking, gray-suited editor of the
Washington Post
. Hanks is the perfect choice for a character who's juuust enough of a salty old sumbitch to keep things from turning into mushy hagiography. In one of the first scenes, Bradlee tells Katharine "Kay" Graham—the owner of the newspaper, played by grand dame of cinema Meryl Streep—to "keep your finger out of my eye." It's 1971, and the drama of the day concerns the Pentagon Papers, a top-secret history of the United States' disastrous involvement in Vietnam and the lies the government told the American people along the way. Daniel Ellsberg (
The Americans'
Matthew Rhys, who has a great cloak-and-dagger face) has started leaking the report to the
New York Times
, which gets slapped with an injunction. With the
New York Times
silenced,
The Post
follows the Washington Post's journey to (1) acquire the Pentagon Papers and (2) decide whether to publish, risking lawsuits and jail time. The story has obvious contemporary parallels, with the press risking it all to check the president's power—and Spielberg, surprisingly, rises to the challenge. In a lot of ways,
The Post
is the movie Oliver Stone wanted
Snowden
to be.
Click here for Admiral Theatre tickets.
No Showtimes Found