Saturday night at the Crocodile was Seattle's last chance to see ESG—NYC's most fun and stripped-down funk group over the last 40-plus years—perform live, and, according to an informal survey conducted by my ears and eyes, everyone left the club elated. For a lot of folks in the 83% full venue, this was a bucket-list show, and the sweat the dancers in the crowd generated could have filled a bucket.
Straight out of South Bronx, ESG began in 1978 with four Scroggins sisters and their percussionist amigo Tito Libran, and immediately established themselves as a unique force of rhythmic joy and songs of blunt female empowerment. Their most atypical song, the perilous instrumental "UFO," became their most sampled, lending Twilight Zone guitar pulsations to scores of hip-hop and electronic-music cuts. But it's their guitarist/percussionist Renee Scroggins's youthful sass on the mic that's endeared ESG to legions of feminist women and their allies.
Unfortunately, Renee looked unwell and needed a walker and assistance from ESG percussionist Nicholas Nicholas to take the stage. Once there, though, she sat down next to a box of percussion instruments and announced, "We're ESG and we're going to make you dance." Cue "Dance," one of the group's self-fulfilling-prophecy tracks—one so damned infectious and motivating, it turned Mr. Nicholas into a leaping, tambourine-slapping madman. However, Scroggins proved that she was healthy enough to keep excellent time on tambourine and chirp the elemental commands of "Dance."
ESG—who also include the excellent rhythm section of Nicole Nicholas (bass, and Scroggins's daughter) and Mike Giordano (drums)—spent the rest of the 14-track set reanimating many highlights from their catalog. They essentially did not deviate from the recorded versions, and why should they? These songs only need tensile, funky bass lines, tom-tom-heavy drumbeats with dramatic cymbal splashes, and various hand-percussion toys to get you moving. Ornamentation would be superfluous.
And with this being likely the first and last time we would enjoy ESG in the flesh, we didn't want or need surprises. Although we did get one: Giordano would conclude every song with a brief drum solo, which was invariably funky as hell. Besides being intensely enjoyable in themselves, the solos allowed Renee time to rest before the next classic joint had to be brought to life.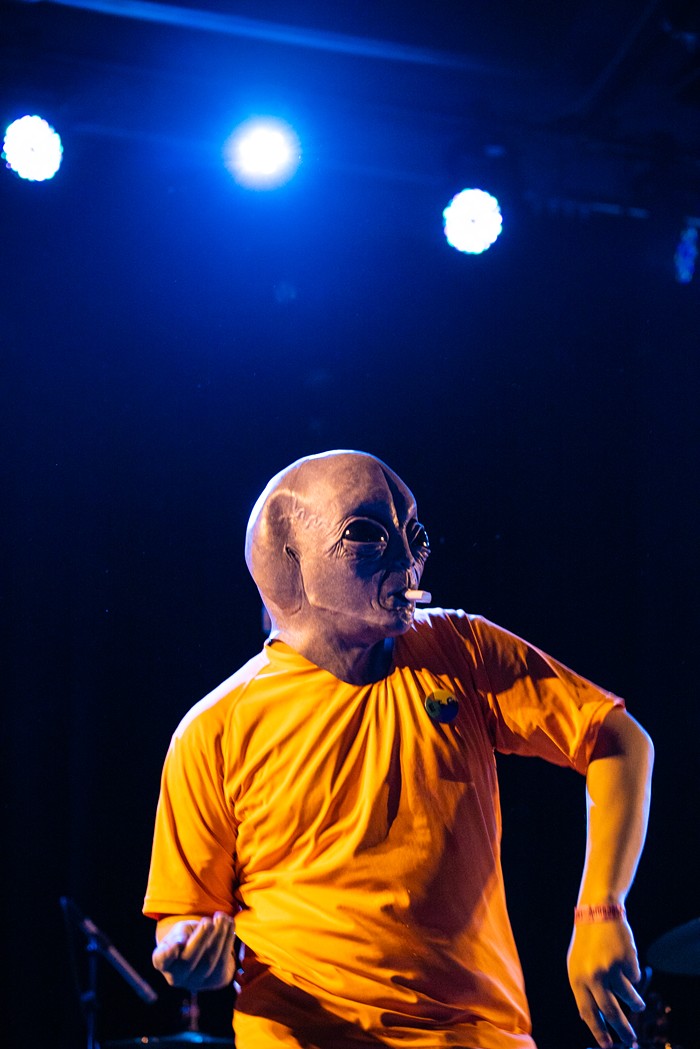 Throughout the night, Scroggins proved that her voice has not lost much of its youthful mischievousness and spunk. And her percussion skills shone, too. On major highlight "You Make No Sense," she pulled off a killer woodblock solo, and the fans went wild. With "My Love for You," she and Nicholas's double cowbell action was impressive and, as a bonus, the latter's gleeful kineticism was contagious. One of ESG's rare downtempo pieces, "You're No Good" still sounds like the sexiest "tumble down the stairs" song in creation. With its Dexedrine-twitch tempo, conga and shakers enhancements, and Scroggins's feral animal utterances, "Moody" was, for many, the show's peak.
One thing that people don't acknowledge about ESG: They're one of America's greatest minimalists. While that field's dominated by white men with academic connections, ESG have stood out as women of color repping a particularly groovy and hedonistic strain of minimalism that's nonetheless as rigorously honed to the bone as anything by Steve Reich or Terry Riley.
After the show, several audience members congregated outside the Crocodile to gush about ESG's amazing performance. Then, to our surprise, the group that had just blown us away walked through the assembly to a modest black sedan. We chanted "ESG!" and "We love you!" and bowed to them as they sat in the car and tried to find a route out of Belltown.
It's kind of crazy that a band of ESG's stature is reduced to driving themselves around the country in a small vehicle when they should be traveling in luxurious style. It's also nuts that ESG didn't have any merch for sale. If they did, they surely could've bought a spacious RV with the proceeds.
SETLIST
01 Dance
02 Earn It
03 I Feel Tonight
04 UFO
05 Watching
06 You Make No Sense
07 The Beat
08 My Love for You
09 Moody
10 My Street
11 About You
12 Step Off
13 You're No Good
14 Erase You