On Saturday night a line of eager concert-goers twisted around a Belltown block, shielding themselves from a torrential downpour while inching forward in line. Upon finally wandering through the Crocodile's thick leather-padded doors, the Mad Alchemy Liquid Light Show was in full force, projecting shifting shapes and colors from ceiling to floor. A true Freakout staple, I felt like I had fallen into a lava lamp. The 2023 Freakout Weekender had begun.
Unlike Ballard's annual Freakout Fest, the Freakout Weekender is a two-day Belltown invasion of psych-rock, surf-punk, alternative, and more. Freakout founders Guy Keltner and Skyler Locatelli curated a well-balanced lineup featuring international, local, and big-name acts. Viagra Boys and FIDLAR attracted a young, drunk, and animated crowd, making these headlining performances feel cinematic. The crowd surfing, the beer spewing, the stench of strangers drenched in sweat… it felt refreshing to see Seattle so invigorated. 
To kick off Saturday, I headed downstairs to Madame Lou's, where Singapore's rising pop group Sobs were performing. They surprised me in the best way possible. Think candy-pop meets indie meets punk. The international Paramore-esque ensemble drew a curious crowd. One must headbop before they headbang, and Sobs was an appropriate warmup for the weekend.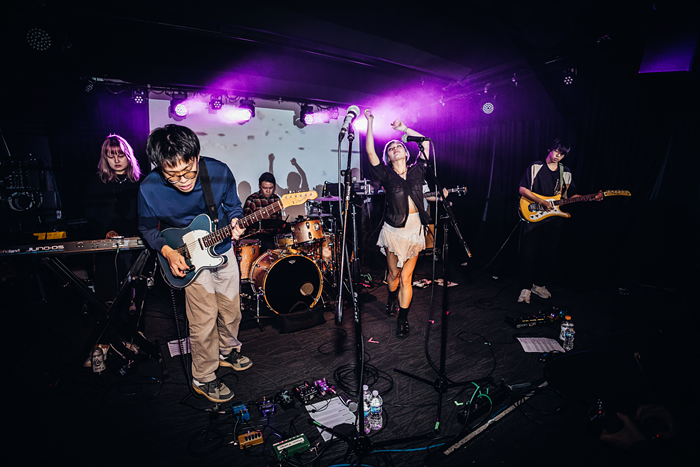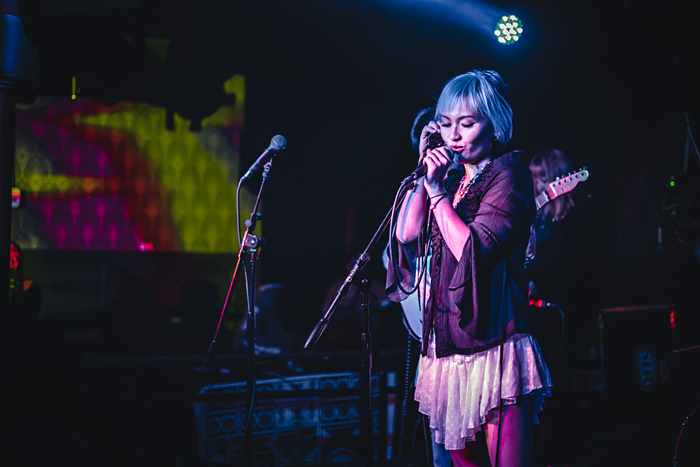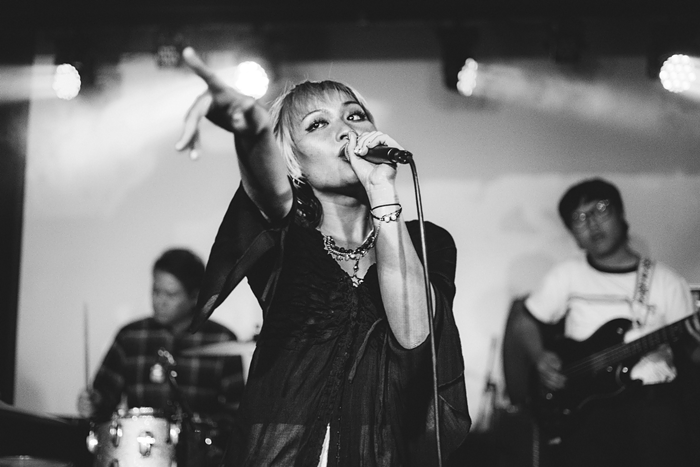 Bouncing between stages—the Croc's main stage, Here-After, and Madame Lou's—I stumbled upon Nicholas Gilmore's Cross-Faded Cinema set at the Here-After. For those who haven't been, the Here-After offers a movie theater setting with tiered seating. While the environment can be awkward for rowdier sets, it made sense for Cross-Faded. Gilmore—also known as DJ Nicfit—spun a vibey R&B soundtrack while displaying what he described as, "the most psychedelic videos I could find." Nicfit is a Here-After resident, so you can certainly catch him soon. May I recommend a healthy dose of marijuana before delving in? 
After Cross-Faded, I was ready to get my blood flowing and Monsterwatch provided. While the local punk group is known for rocking smaller Seattle stages like Belltown Yacht Club and Barboza, seeing them on the Crocodile's main stage felt right. Every time I catch a Monsterwatch show, I tell myself that was their best set yet, but I REALLY MEAN IT THIS TIME. The noticeably quiet frontman John Spinney turns primitive on stage, inciting a whirlwind of limbs and hair—so much so, it can be difficult to tell which way is up. While Monsterwatch had previously played the main stage as a supporting act, they certainly proved themselves worthy of a headlining spot.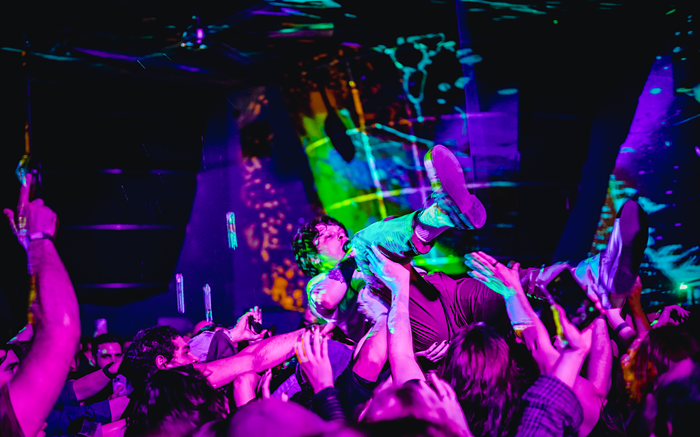 Around 11 pm, the main stage crowd began to thicken. The air was dense with heat and the crowd's anticipation palpable. Swedish punk band Viagra Boys were ready to rage. Lead singer Sebastian Murphy is reminiscent of a cartoon character as he stumbles around the stage dribbling Modelo down his bare chest. (It's the sunglasses and unabashedly exposed beer belly for me). While some may not quite understand the group's nonsensical lyrics and "fuck the world" persona, I think that's the point. It was actually, dare I say… inspiring?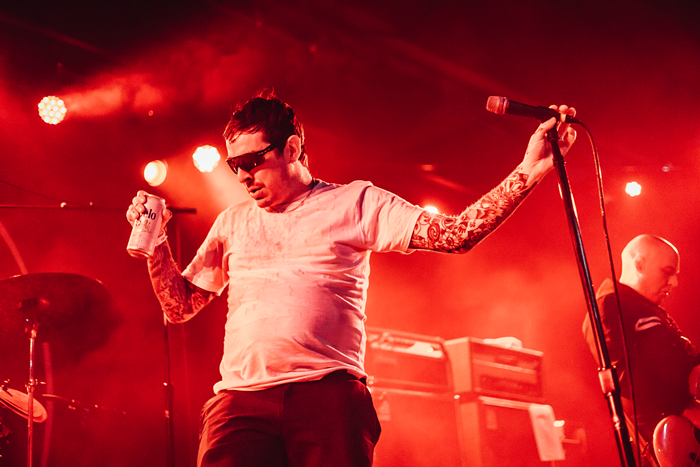 The second day of the Weekender brought a noticeably smaller crowd. Perhaps it was the weather, the price, the end of the weekend, or all of the above. This was disappointing as Sunday undoubtedly brought some of the most impressive sets I had seen in a while. Mary Robins of Biblioteka arrived on the main stage. While I have seen Biblioteka perform many times, I had never seen Robins's stage presence at this level. From her facial expressions to her movement across the stage, it was like a lightning bolt ran through her. Robins's vocals had a new hard-hitting bite, reminiscent of Kathleen Hanna, and the band sounded polished despite recent member changes. A serious round of applause for Biblioteka.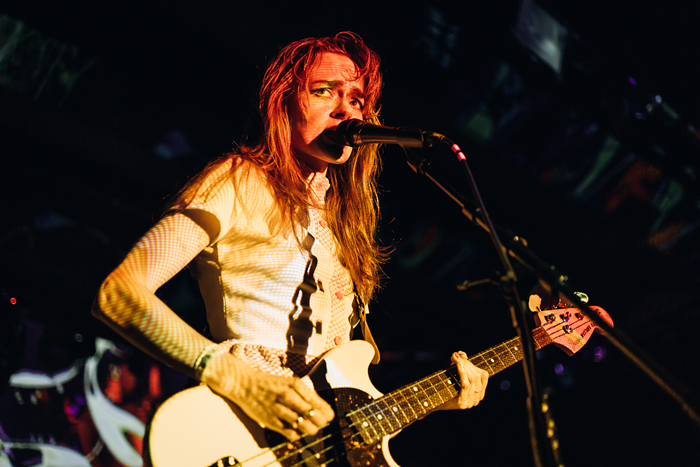 San Francisco-based psychedelic garage rock group Fauxes (pronounced foes) performed a lively set at the Here-After. While Fauxes is more than deserving of Madame Lou's or the main stage, the Here-After provided an intensely intimate and sensual environment for Fauxes' frontwoman to command the room. Reminiscent of Death Valley Girls and Spirit Mother, Fauxes deserves all of the attention they can get… which isn't tough to do when you've got a bombshell lead singer like Scarlett Levinson.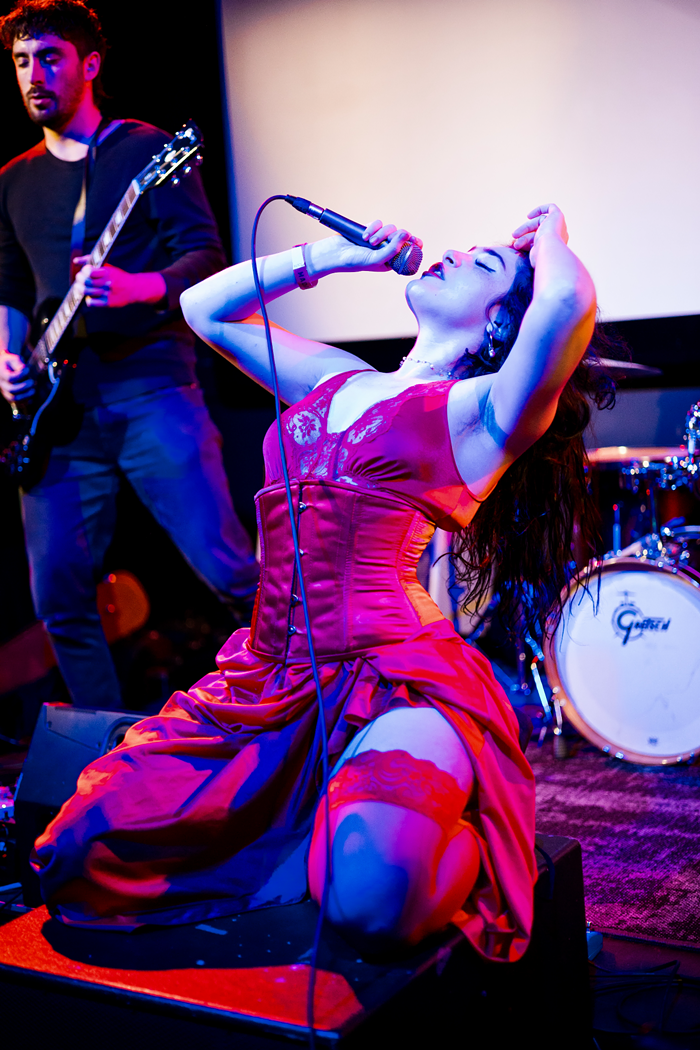 Headliners FIDLAR hit the main stage at 10 pm. The LA band's set was front-heavy with new material, which left me feeling nostalgic for the FIDLAR I grew up with. Nonetheless, this group was a crowd favorite.
While impressed by FIDLAR, I couldn't help but feel the headliner had been upstaged by Carrion Kids. I had heard of the Mexico City rock band, but I never had the opportunity to catch one of their shows. Let me tell you… I could never have anticipated the ways in which my socks were about to be rocked. Try to keep your eyes off frontman Miki Navajas. It's just not possible. The Mexico City native adorned fishnets, tighty-whities, donut crumbs, and vomit. Yes, vomit. Carrion Kids has quite the local following, as evidenced by the sea of fans rushing to touch Navajas and scream into his microphone. I was actually impressed by how many people knew Spanish? Madame Lou's was perfect for this set. Carrion Kids are a band you get up close and personal with, and that just isn't possible at the Here-After or Crocodile's main stage. Carrion Kids won the weekend.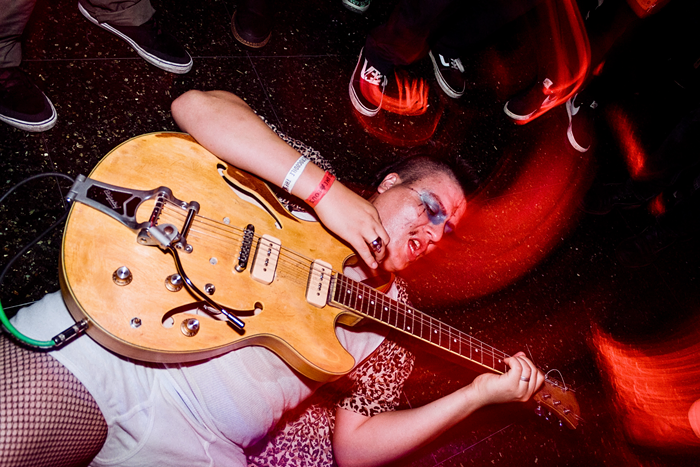 The second Freakout Weekender proved much more popular and polished than the first. While there are still organizational kinks to be sorted between Freakout and the Crocodile, the three-stage venue proved to be a fitting host. The Mad Alchemy Liquid Light Show was a topic of debate amongst concertgoers, with some describing the lighting as "digital goo" preventing them from clearly viewing the performers they paid to see. I would recommend Freakout utilizes only one stage for the liquid light show to keep the people happy.
I'm eager to see if Freakout Fest will continue to take over Ballard, or if Belltown is the new spot. The Crocodile seems to be the more accessible option. Overall, the Weekender was a tasty little snack to tide me over until fall. If the Weekender was any indication of what to expect in a few months, get ready to be served. A well-deserved "bravo" to all involved. Stay freaky.