Despite not having released any new music since 2016's The Catastrophist, Tortoise nearly packed Neumos on a Monday night. That's how strong their fans' loyalty is.
The mostly middle-aged crowd, who surely had to rise early Tuesday for important jobs, watched with reverence as the Chicago quintet swapped instruments with professional efficiency and stoically kicked ass, as if they had something to prove after more than 30 years as a band. (This show was rescheduled from an October date intended to promote the reissue of Tortoise's totemic 1995 remix LP, Rhythms, Resolutions & Clusters, but that gig was canceled due to a member getting COVID.)
With a lineup that's remained unchanged for 25 years, Tortoise have developed a telepathy onstage that allows members to switch instruments after every song (even mid-song) and for everyone in the group to play damn near everything, and with utmost skill.
Despite their proficiency on multiple instruments, Tortoise display no ego or flamboyance. In fact, up until Monday night, I'd never heard anyone in the band utter a word to the audience in the five times I've seen them. They are usually all business. But Dan Bitney asked how the crowd was doing, thanked us for being there, and engaged in other banter. I kind of wished they'd maintained their mystique, but oh well...
What sets Tortoise apart from other rock bands is their use of vibraphone—both acoustic and digital—which all five members played. These instruments lend Tortoise's rock, jazz, dub, and Steve Reichian minimalism a cool glow and a percolating vibrancy that accents the guitar, bass, synths, and drums to wondrous effect.
Tortoise burst out of the gate like gangbusters with "Gigantes," a highlight from their excellent 2009 album, Beacons of Ancestorship. If you ever wondered what Tago Mago-era Can doing gamelan—with two drummers—would sound like, here's your answer. On the '70s-ECM Records-flavored "In Sara, Mencken, Christ, and Beethoven There Were Men and Women," Jeff Parker proved himself one of America's foremost guitar heroes with radiant shrapnel of exquisite precision and angularity.
Other highlights included "Prepare Your Coffin," which rambled complexly like Third-era Soft Machine at full tilt, and "Along the Banks of Rivers," which far surpassed its recorded version on Millions Now Living Will Never Die, churning maniacally like a long-lost outtake from Miles Davis's On the Corner.
The three-song encore spoiled us with its abundant pleasures. "High Class Slim Came Floatin' In" started like Ethiopian jazz in dub before it accelerated from a morose synth figure to the mesmerizing, metronomic beats à la Can's "Mother Sky." "Seneca" closed the show by erupting in prog-metal bombast, as John McEntire and John Herndon went Buddy-Rich-hard on the drums and Doug McCombs and Bitney added two-bass pressure before a surprising, heavy funk jam broke out, complete with a peppy, Herndon-led audience clap-along. This new, audience-friendly Tortoise is going to take getting used to.
If you were upstairs at Neumos watching the action on the TV screens, you'd notice the picture blurring and vibrating in time with the bass frequencies. That's how potent Tortoise's sound was. And it was all achieved with a nonchalance that spoke of decades of rigorous work in the lab, of doing whatever the hell they want, when they want, with no concessions made to typical music-biz demands. That must feel really good.
One of the most satisfying things in a live-music connoisseur's life is to witness an unknown opener exceed expectations—or to simply impress the hell out of you, a person who had zero expectations going in. Such was the case with Reunion Island, two synthesizer players who look like they spend an inordinate amount of time in their bedroom studios.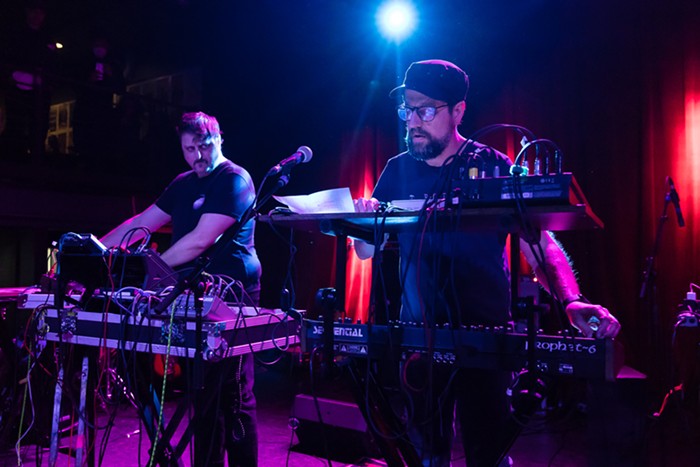 Reunion Island are so obscure (or lazy), they don't even have a Discogs page. Yet what the Dallas unit do have is the imprimatur of John McEntire, who mixed and played percussion on their 2019 album, Collapse.
They began their set in chill, sonorous-drone mode, gradually slipping into some understated, downtempo IDM, before shifting into muted quasi-techno for introverts. Later, they evoked the Germanic grandeur and cosmic cruise control rhythmagic of Harmonia and doled out a genuine psychedelic-techno banger that made me wish I'd dosed. Despite a couple of awkward pauses for technical issues, Reunion Island proved themselves worthy of opening for the shape-shifting legends from Chicago.
Tortoise setlist [deciphered from a thin strip of paper full of three-letter abbreviations]
01 Gigantes
02 Monica
03 In Sara, Mencken, Christ, and Beethoven There Were Men and Women
04 Prepare Your Coffin
05 Dot/Eyes
06 I Set My Face to the Hillside
07 Gesceap
08 Along the Banks of Rivers
09 Eros
10 Ten-Day Interval
11 Swung from the Gutters
12 The Suspension Bridge at Iguazú Falls
13 Crest
ENCORE
14 Tin Cans & Twine
15 High Class Slim Came Floatin' In
16 Seneca