"This next song is called 'Firebreather'—it's about pussy!"
Thunderpussy vocalist Molly Sides knew how to get Belltown Bloom's Friday night crowd at the Crocodile riled up. The two-day music festival brought together an impressive lineup of bands—and a diverse one, featuring women, nonbinary artists, and people of color. For weeks leading up to the event, fans couldn't help but refer to Belltown Bloom as Pussy Fest, what with Thunderpussy, Pussy Riot, and Mannequin Pussy all topping the bill. Pussy or no, the entire weekend was a heart-warming and energizing display of community and activism. And some fucking fire guitar shredding, too. 
This was Thunderpussy's first show in Seattle since returning from a seven-week national tour with Jerry Cantrell. The '70s-inspired rock band made it clear they were very thankful to be home.
"This place is extremely extraordinary," Sides said to the crowd. "It's subtle, you know. We subtly move the plate tectonics in these wild, weird ways, but when we come together it's fucking phenomenal. You never know what will happen when you just show up."
I had only been at Belltown Bloom for about an hour at that point, but Sides was right—surprising delights were everywhere. Just minutes before Thunderpussy I saw Skating Polly mesmerize the crowd with angsty, harmony-heavy rock songs and impressive acrobatics, including a moment when Kelli Mayo continued to play guitar while bent over so far backward that her head would've touched the ground if not for her bright red platform boots.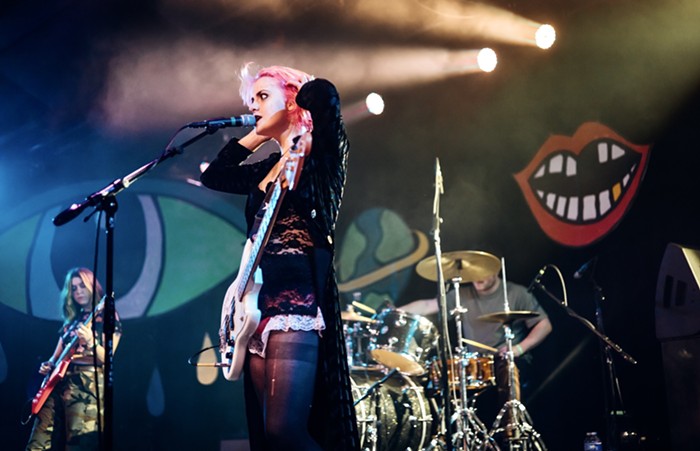 Downstairs at Madame Lou's, I was lucky enough to witness Prom Queen cover an iconic local tune that I'd never seen any other band attempt before. "This is a Seattle classic," said vocalist Leeni Ramadan. I immediately expected to hear Heart or maybe a Soundgarden or Sir Mix-a-Lot tune. Prom Queen has several covers in their discography, ranging from a whole EP of Britney Spears songs to a version of "November Rain" and a mash-up of Stranger Things and Twin Peaks music. Ramadan would do a killer "Crazy on You," tbh.
I wasn't expecting to hear a full-length take of "Joe Lies" from Cameron Crowe's 1989 set-in-Seattle high school rom-com Say Anything. Had I been more familiar with the band, I'd have known about this little trick up their sleeve—they released it 10 years ago as part of a collection of covers that also includes "True Colors," "Never Tear Us Apart" (which they also performed at Belltown Bloom), and Sophie B. Hawkins's oft-forgotten '90s hit "Damn I Wish I Was Your Lover." Damn I'm so glad I now know this exists!
After Thunderpussy, the feeling of community (and pussy-named performers) reached a fever pitch when feminist Russian art collective Pussy Riot prepared to hit the stage. The lights dimmed and a short film, Putin's Ashes, began to play on a screen hanging over the stage.
In the film, members of Pussy Riot are carrying a large sign decorated with a big red button above a small white placard that reads, "THIS BUTTON NEUTRALIZES VLADIMIR PUTIN." The crowd roared when the words came into focus. A large painting of Putin burned in slow motion with members of Pussy Riot standing in formation around it. It was menacing, it was empowering.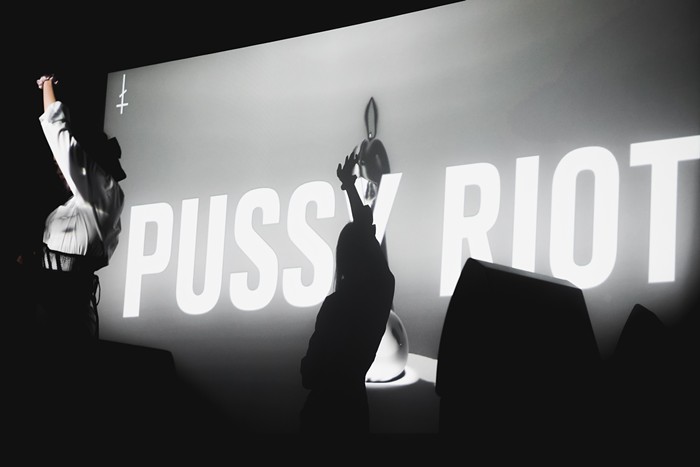 The crowd at the Crocodile got louder at the sight of Putin's ashes being spooned into glass vials, and the cheers reached ear-drum-bursting levels as Pussy Riot co-founder Nadya Tolokonnikova stepped out to centerstage. She was dressed like a sexy librarian, wearing an oversized white button-up shirt, black corset, black mini skirt, black thigh-high stockings, glasses, and her hair loosely pulled back into a clip. Some of those clothes would come off later, but first she had some news to share: "I recently was added to one more list. I'm added to Russia's most wanted list." More cheers.
Tolokonnikova gave a rundown of some of the (more recent) reasons "Putin and his cronies" are pissed—she helped raise $7 million dollars to support Ukraine during the war and, obviously, the Russian leader wasn't too keen on the Putin's Ashes film and a corresponding art show that premiered in LA earlier this year.
Tolokonnikova and Pussy Riot did all this even after she was sent to prison in 2012 for her anti-Putin performance art, where she went on a hunger strike to protest prison conditions. She's either fearless or absolutely terrified and doing what she can to change the world anyway, and it's an incredible thing to witness. 
Every successful activist movement benefits from a good dose of cathartic release, so Tolokonnikova closed out Belltown Bloom's mainstage with over an hour of art, dancing, video, and music. Dancers in balaclavas and neon pink and yellow clubwear danced, posed, and teased the crowd while Tolokonnikova sang along to recorded tracks of Pussy Riot's dance-pop tracks, including "Panic Attack," "Police State," "Organs," "Track About Good Cop," and "Dance With the Devil."
Videos for the songs played on the screen behind them, showing melting dick-shaped candles, Tolokonnikova in a bathtub full of blood, and Pussy Riot walking into the Texas State Capitol building to protest for reproductive rights. For other songs, words and messages flashed along with a strobe light, reading "SLUT," "VASECTOMY PREVENTS ABORTION," and "STAY OUT OF MY UTERUS OR I'LL CUT YOUR BALLS OFF." Putin would've hated it! Seattle fucking loved it.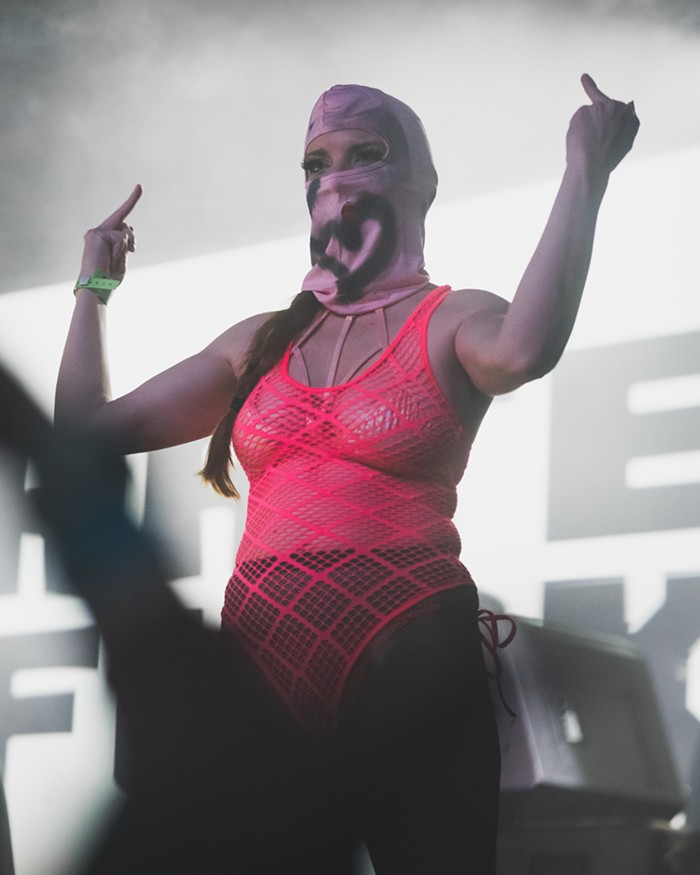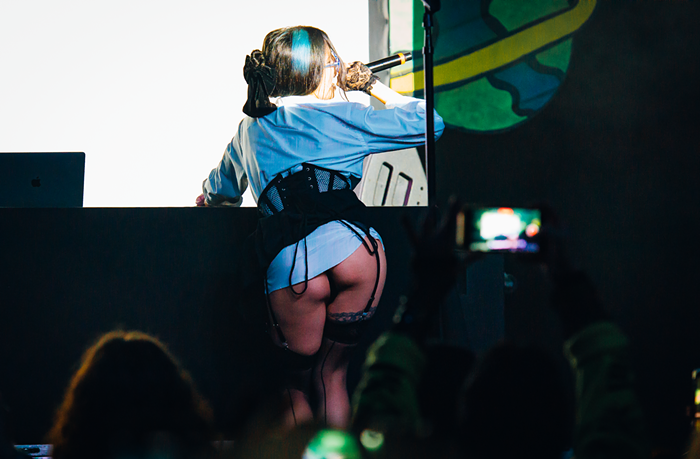 Bellingham's Cat Valley kept the pro-body autonomy vibes rolling with their midnight set at Madame Lou's. They played surf-kissed riot grrrl rock songs from their 2021 Feral EP and energized the crowd with a lively "My body/my choice" call and response. They were fun as fuck, and if you're smart you'll see them when they play Conor Byrne Pub Friday, May 26 with Rat Queen and J.Graves.
AND ALL THIS WAS ONLY FRIDAY. 
The next night brought performances from Spoon Benders, SUSU, Mt Fog, Coral Grief, Medejin, and La Fonda, among others. My personal highlight was finally getting to see Philadelphia's Mannequin Pussy—I've loved them since the release of their full-length Romantic in 2016, but their tour dates always evaded me. 
Between blasts of their ethereal, guitar-driven hardcore music, singer Marisa Dabice announced the band recently finished recording a new record (FUCKING HOORAY!), but it wouldn't be out until March 2024 (FUCKING UGH!). They treated us to a few of the new songs anyway, and it sounds like the band has embraced the fact that while they're a really good melodic rock band, they're a fucking great hardcore band.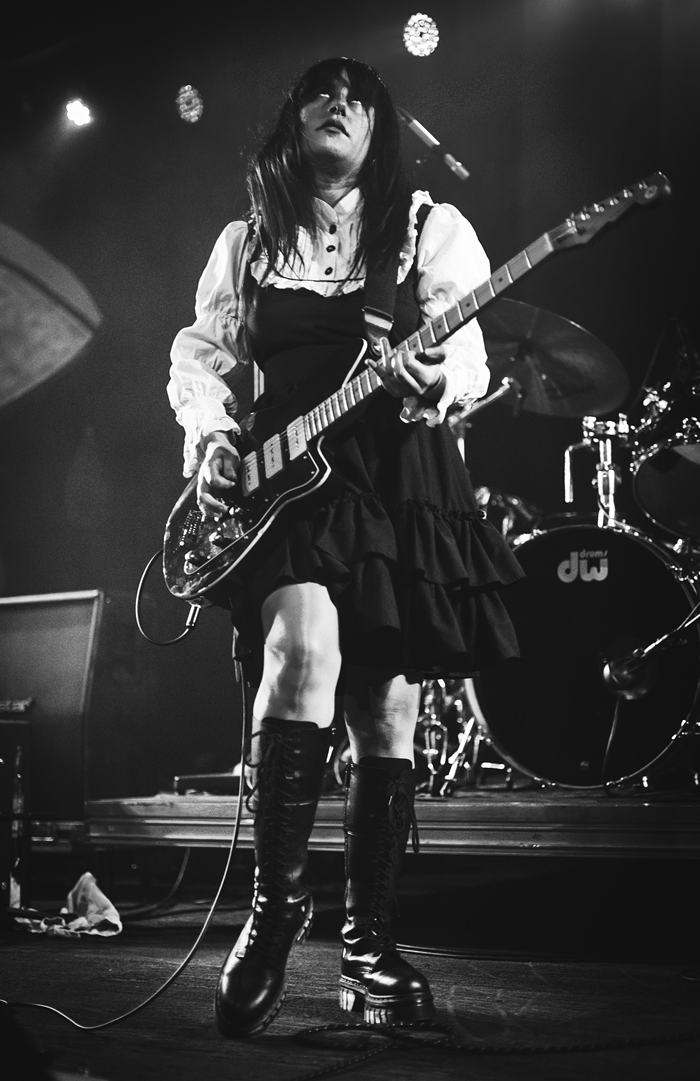 Before the last few songs, Dabice calmed things down for a moment and began to whisper in the mic. "You're here because you, like us, have this pit of rage that just lives inside of you. And there are so many things, every single day of our lives and every day in this world that we live in when we see what happens to people that we love and complete strangers and all we feel like we want to do is just fucking scream."
"If you've never participated in a group primal scream exercise, you're about to."
She quieted the crowd, and continued to whisper: "When I countdown from three, scream with me from the top of your lungs in a register you didn't know you were capable of."
 

 

View this post on Instagram

 
The crowd obeyed, and Mannequin Pussy rode their wave of anger to launch into "Clams," the 38-second blast of hardcore from 2019's Patience. Goosebumps! I got goosebumps.
By the time L7 hit the mainstage, some of the crowd had surprisingly thinned out, but only for a minute—as soon as the iconic feminist rock icons started to play, people filed back in from Madame Lou's and Here-After just in time to see them open with their heavy 1992 hit "Wargasm." They dedicated "Shove" to Seattle, noting that they recorded the song here and released it on Seattle-based label Sub Pop, and they credit the tune for helping put them on the map. L7 is from Los Angeles, but c'mon. We all know they're a little bit from Seattle, too. 
All weekend, on every stage, during every set, I saw women taking the lead. Some of them had been doing it for years, decades even. For others, this was probably their first festival performance. It all felt so organic. These artists weren't booked to fill slots, they were booked because they are doing phenomenal, fascinating things. It was an amazing two nights of non-stop stage-hopping and undeniable empowerment. 
BRB gonna go burn down the patriarchy.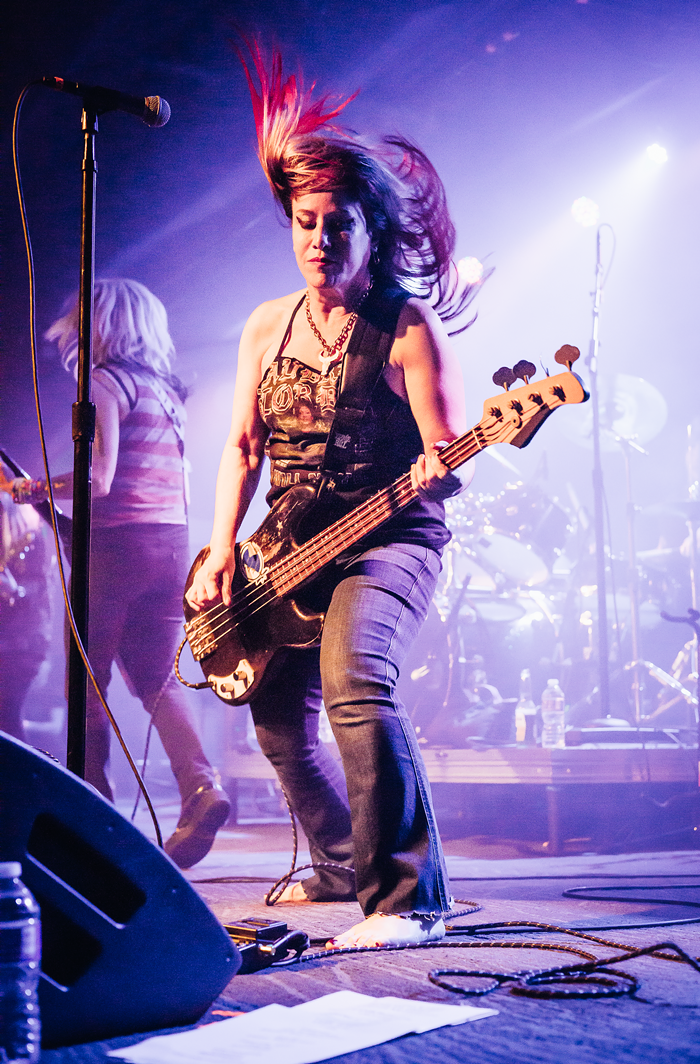 Keep scrolling to see so many more photos and some video!