I'll admit, I was skeptical that the nine-piece opening act Cool Cool Cool could properly help realize those peak Talking Heads songs from their first five albums, including, of course, their Afrobeat-inflected 1980 classic Remain in Light. First, Cool Cool Cool's name doesn't inspire confidence. Second, they're not even on Discogs, even though members formerly played in Brooklyn funk band Turkuaz. Third, most of the group at Tuesday night's Jerry Harrison/Adrian Belew show at the Moore Theatre dressed as if they were on spring break from college, making me think they lacked the gravitas to imbue, say, "Houses in Motion" with the unnerving spirit it deserves.
Well, Cool Cool Cool (henceforth CCC) shot down my skepticism during the first seconds of "Psycho Killer," the somehow obvious and surprising opening number of Harrison and Belew's Remain in Light venture. See, I assumed that Harrison, Belew, and co. would perform Remain in Light in its entirety and then afterward throw in some faves from the Heads discography and maybe sprinkle in a couple of tunes from their own solo careers. But no. Instead, they cherrypicked choice tracks from the TH back catalog and focused on Remain in Light's most danceable cuts. Which means they omitted "Listening Wind," "Seen and Not Seen," and "The Overload," to my dismay... and maybe yours, too.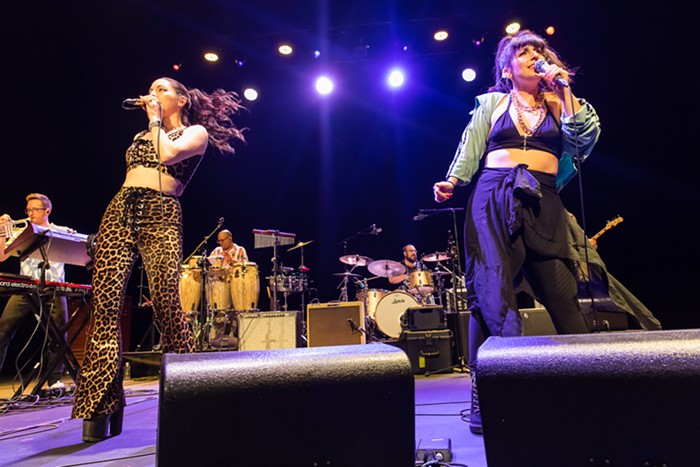 However, that's a mere quibble. Harrison and Belew may both be getting up there in years (74 and 73, respectively), but master guitarist Belew especially exuded pure joy onstage. These industry vets seemed like they were not just bestowing this magnanimous gift to their fans for the money. That being said, H&B loaded the set with the safest crowd-pleasers. As vibrant and aggressive as their version of "Psycho Killer" was, it now sounds like a benign sing-along tune, especially without David Byrne's live-wire vocals. But Harrison and Belew shook up expectations by tacking on a surprisingly torrid rave-up coda that made me think they were veering into "The Great Curve."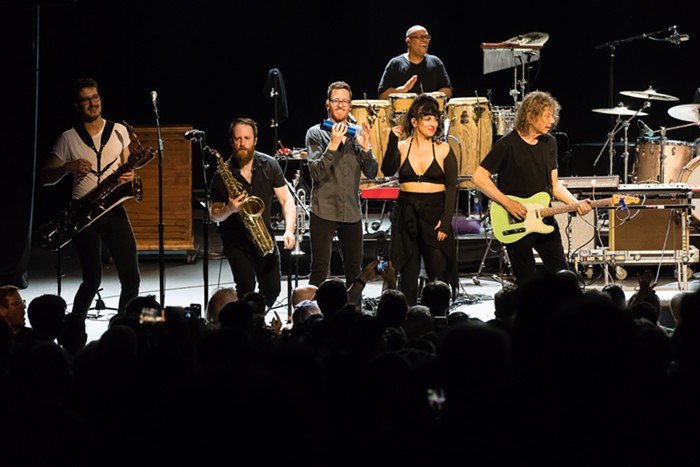 Then came "Crosseyed and Painless"—sung by CCC baritone saxophonist Josh Schwartz—which was aptly tensile and febrile, with a bonus percussion solo by Yahuba Garcia-Torres. For "Houses in Motion," Harrison recited the paranoiac lyrics sans the haunted tenor of Byrne, but CCC helped to reveal the latent cosmic-disco DNA in the song's rhythm. The twisted highlife of "I Zimbra" was beyond euphoric, replete with a Garcia-Torres timbale solo; it writhed around the room like a huge serpent.
The set sort of sagged when Harrison's journeyman funk-rocker "Rev It Up" (from his 1988 solo album Casual Gods) and "Thela Hun Ginjeet" (a track from King Crimson's 1981 LP Discipline that Belew co-wrote) appeared, although the latter allowed Belew to go wild on the whammy bar. And, if we're being honest, "Life During Wartime" felt slightly leaden compared to the Fear of Music rendition we've known and loved for 44 years. Somehow, though, "Cities" was done in a slower tempo, but sounded better and funkier than its recorded counterpart. "Once in a Lifetime" suffered the same fate as "Psycho Killer"; at this point, oversaturation has dimmed its alien allure.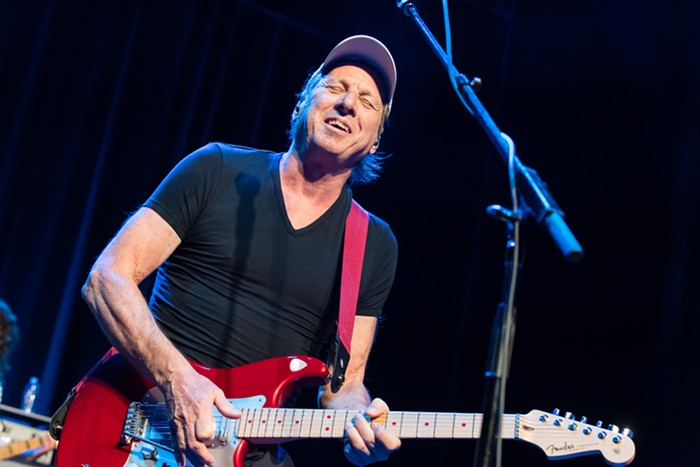 Speaking of Fear of Music, the show's most shocking development—and highlight—was the enigmatic mindfuck of "Drugs," which Belew jocularly introduced as "a song of which we know nothing about." The band nailed that song's fractured, frazzled funk as Harrison added majestic, Gary Numan-on-'shrooms keyboard vibes and Belew peeled off an anguished, Fripp-tastic guitar solo. The show closed in the best way possible with "The Great Curve," the speediest and most relentless song on Remain in Light. It was a breathtaking torrent of Afrobeat-gospel-rock, the apotheosis of a climax.
The opening set by CCC (featuring Seattle bassist Julie Slick) abounded with festive and bubbly funk that split the difference between Prince's Paisley Park stable and mutant-disco jams ZE Records' artists such as Was (Not Was) and Material.
Remain in Light Tour setlist [all songs by Talking Heads unless otherwise noted]
01 Psycho Killer
02 Crosseyed and Painless
03 Houses in Motion
04 I Zimbra
05 Drugs
06 Born Under Punches (The Heat Goes On)
07 Cities
08 Rev It Up [from Jerry Harrison's Casual Gods]
09 Slippery People
10 Thela Hun Ginjeet [from King Crimson's Discipline]
11 Life During Wartime
12 Once in a Lifetime
13 Take Me to the River
14 The Great Curve