Nearly 500 people flocked to Seattle First Baptist Church on a Saturday night to experience ambient music made on Buchla synthesizers, a rarefied instrument seldom spotted on stages. Does this city know how to party, or what? 
But seriously, the opportunity to witness American synth-music legend Suzanne Ciani perform is exceptionally rare, and her current US tour—affiliated with the Reflections crew—is a best-case scenario for her fans. Seattle is one of three cities that has the honor of hosting Ciani in a non-traditional venue for music, with the bonus of a ravishing light show. (If you missed the Seattle gig, you can try to catch her in Denver on May 27 with Colloboh. Good luck.)
Now 76, Ciani has been releasing electronic music for over five decades in avant-garde and New Age circles as well as in the advertising world (Atari, Coca-Cola, Almay, etc.). She's composed music for films and television, for Belgian art galleries, for Charles Baudelaire's poetry, and for the Xenon pinball machine. Ciani has become the preeminent performer on the Buchla synthesizer (she's currently using the Buchla 200e model), a temperamental machine that requires a deeply intuitive creativity to master.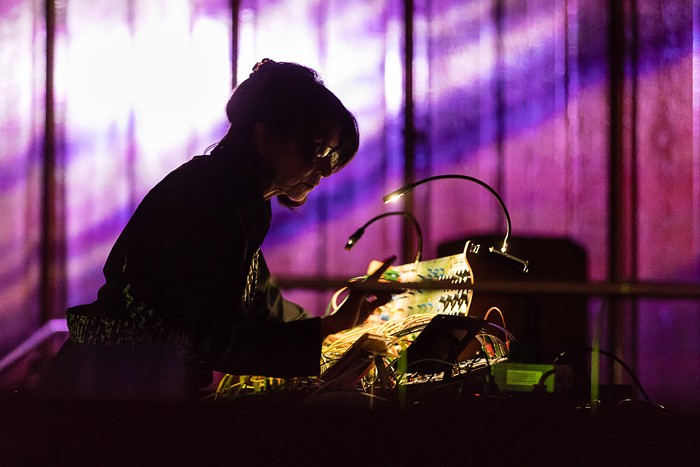 Ciani's 55-minute set in this gorgeous, spacious house of worship flaunted an array of her styles and moods in a bravura chiaroscuro of high and low frequencies. It began with a primordial, oceanic drone and sonic sea spray, trepidatiously moved into an ominous mood that segued naturally into suspenseful pulsations that echoed mid-'70s Tangerine Dream. Soon after, what sounded like an ornate siren arose and then a fierce simulacrum of the Roland TB-303's acidic bass riff emerged.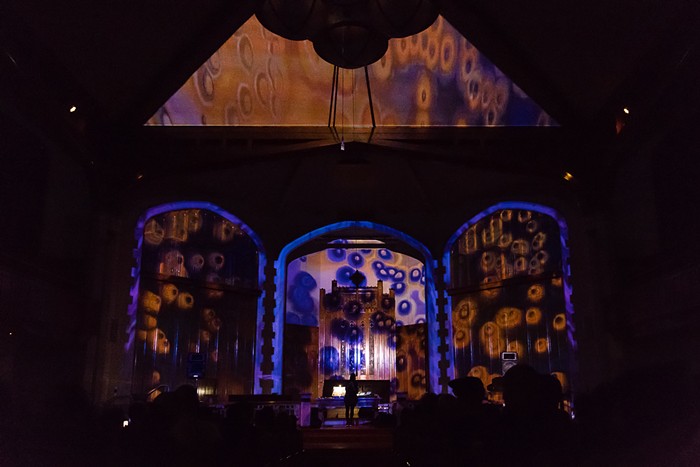 She also evoked the eerie mysteriousness of the most famous sections of Mike Oldfield's Tubular Bells, finessed passages of microscopic beauty and intrigue that could please fans of the 12k and Raster labels, conducted cantankerous techno episodes with shockingly intense beats, tapped out bubbly blips of bliss, and conjured a panoply of vividly tactile, slapstick sounds and noises that literally made someone behind me LOL. (There was more, but you get the gist.) At her most aggressive, Ciani proved that the Quadraphonic system that Reflections set up had the capacity to make a church seem like a war zone. She made the Buchla speak in bizarre tongues, with a sorcerer's incomparable instincts.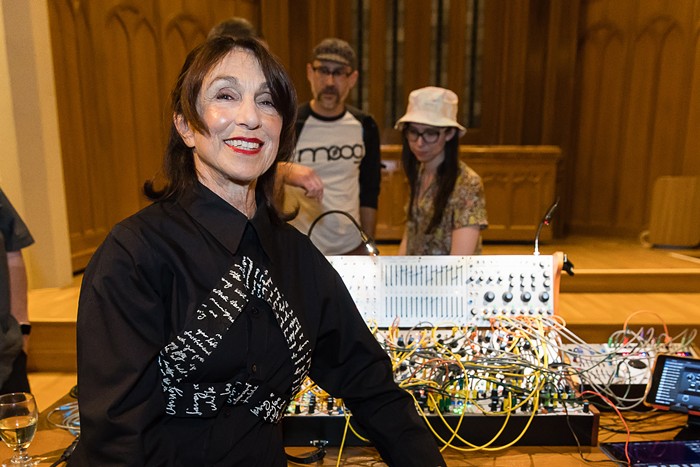 And then after the show, Ciani invited the crowd to examine her gear and ask questions about it. This seemed like an almost unprecedented gesture for an artist of her legendary stature, and it spoke to her extraordinary generosity and zeal to educate. What a special human she is. 
NYC-based Indian composer/synthesist/vocalist Arushi Jain performed a 45-minute opening set that instantly signaled you were in the presence of a conduit to sublime sonic tranquility and unfamiliar-sounding beauty. She launched an ascending oscillation parade that alluded to the blissful, prime-time work of Terry Riley and Ariel Kalma. But Jain has the advantage of a mellifluous, devotional vocal style that augments her translations of Hindustani classical music to the specs of a 21st-century modular-synthesizer wizard. (Jain recently left her tech-industry job to focus full-time on music.)
Rather than draw on her 2021 album for LA's excellent Leaving label, Under the Lilac Sky, Jain performed unreleased music that ranged from radiant ambient to a methodical strain of techno undergirded with cosmic drones. Despite not being able to understand the lyrics, I welled up with tears whenever Jain sang. This was like eavesdropping on a sacred yet incomprehensible ritual that nonetheless pierces the heart. Her set was so transcendent, I almost forgot about the debt ceiling.