On paper, the conjunction of Animal Collective member Panda Bear and former Spacemen 3 guitarist Sonic Boom doesn't seem like a natural recipe for commercial success. Sure, Panda Bear (aka American multi-instrumentalist/vocalist Noah Lennox) has shown a winning way with modernizing the Beach Boys' harmonies and sun-dazed melodies into psychedelic chamber pop over solo albums such as Person Pitch and Tomboy (the latter produced by Sonic Boom).
But following the demise of British psych-rock titans Spacemen 3, Sonic Boom (aka Peter Kember) ventured into non-commercial waters with his Sonic Boom, Spectrum, and E.A.R projects: Suicide worship, analog-synth-based drone rock, BBC Radiophonic Workshop-style experimentation, and minimal techno. His were strictly underground releases lapped up by a relatively small cult following. But 2020's solo LP All Things Being Equal revealed a return to burbling, synth-based songcraft that harked back to 1989's Spectrum.
During the times I've seen him perform, Kember's onstage demeanor has been as stoic and dour as a scientist who's spent too much time in the lab. Linking with Lennox, though, has loosened up Kember, and at Neptune Theatre last night, the duo recreated the loopy joy of their 2022 album Reset in its entirety, while adhering to its running order. Seated at his desk of inscrutable electronic gear and small percussion instruments and clapping rhythmically on a few songs, Kember told the rapturous crowd more than once, "You're awesome. Love the vibes." If you know Mr. Boom (I've been following his career for nearly 40 years), these words were as shocking as a Spacemen 3 reunion. He didn't touch a guitar all night.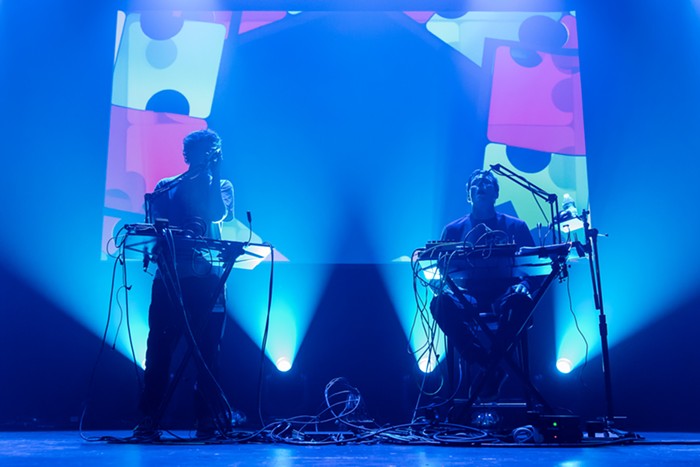 Basically, if you dig Reset, you'll love the live presentation of it by these buddies who now live in Portugal. The visuals—by Pedro Rompante, if I heard correctly—complemented the music spectacularly well. Anyone on hallucinogens last night surely had their minds blown. Throughout the set, Panda Bear's voice soared and somersaulted with angelic elasticity, contrasting with Sonic Boom's grounded monotone, lending their songs pleasurable air/earth synergy.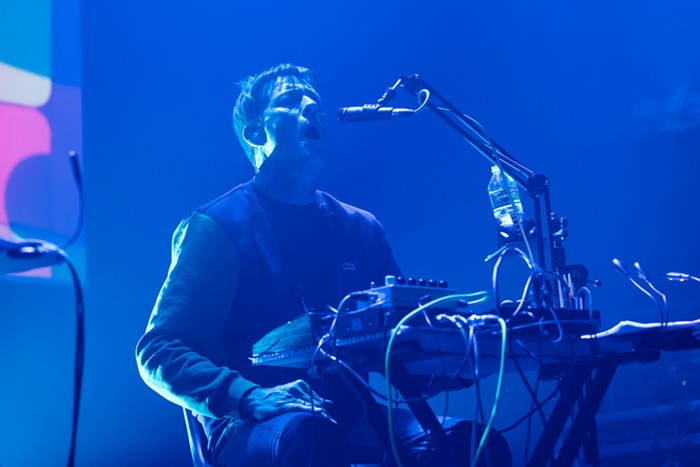 As Reset's tracks are mostly built on samples from pre-psychedelic '60s rock & roll (e.g., Everly Brothers, Randy & the Rainbows, Eddie Cochran), which are then manipulated and embroidered with electronics and buttressed by mantric rhythms, they hit with a retro-futurist zing. "Gettin' to the Point" does just that, with the guitar from Cochran's "Three Steps to Heaven" jangling with hypnotic euphoria as Lennox and Kember gleefully clap to the brisk rhythm. Beneath the festive hullabaloo, Kember snuck in his patented, disorienting electronic tomfoolery.
This sort of tension between surface jolliness and subliminal sonic weirdness permeates most of the album. The methodology came to vivid life at Neptune during "Edge of the Edge," an absurdly cheerful tune undergirded by a chilling, keening drone. Nevertheless, this is one of the decade's most irresistible pop songs, making Paul Simon's "Cecilia" sound like a dirge.
The uptempo techno-pop of "Everything's Been Leading to This" was a profusion of effusiveness—such an apt climax to Reset and to this performance, its accelerating tempo embellished by frenetic strobe-light pulsations, culminating in an explosive finale. But there was more.
The five-song encore allowed for Panda Bear and Sonic Boom to explore pieces from their respective solo careers. The peak of this segment was the former's "Comfy in Nautica," which is the greatest song not to appear on Pet Sounds. Lennox's mantra of "good time" formed an overwhelming vocal cascade while a percussion pile-up pummeled with increasing velocity, the whole thing speeding to a heart-attack crescendo. Lennox and Kember should've ended the night there, but instead they finished with Panda Bear's sentimental ballad "Tropic of Cancer." Gentlemen...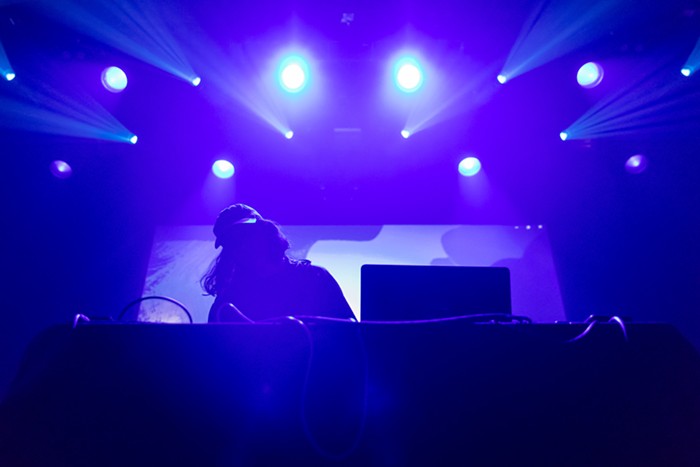 As much of a tumultuous roller-coaster ride as Panda Bear and Sonic Boom's set was, opening act Maral low-key stole the show. This little-known LA producer who's worked with Lee "Scratch" Perry, Crass' Penny Rimbaud, and Panda Bear himself sucker-punched the crowd with a bass-intensive attack that was sinister, eerie, and head-nodding. Wearing a ball cap à la Grouper and shrouded in darkness, Maral came on with no greeting and just plunged into the music, an approach I respect. Her opening track's oneiric trip-hop emitted deep bass pressure and chilled with spooky choir vibes—a serious treat for fans of '90s Scorn and Techno Animal.
I'm not familiar enough with Maral's discography to pinpoint individual tracks, but I loved her killer drum sounds throughout the 30-minute set: heavy as John Bonham's circa "When the Levee Breaks," as funky as your favorite boom-bap producers', as brutal as Muslimgauze at his most militant, as apocalyptically dubby as Brotherhood of the Bomb-era Techno Animal. The audience applauded her with an enthusiasm rarely seen for obscure openers. Keep close tabs on Maral.
Panda Bear & Sonic Boom setlist
01 Gettin' to the Point
02 Go On
03 Everyday
04 Edge of the Edge
05 In My Body
06 Whirlpool
07 Danger
08 Livin' in the After
09 Everything's Been Leading to This
Encore
10 Just a Little Piece of Me [Sonic Boom]
11 The Preakness [Panda Bear]
12 Things Like This (A Little Bit Deeper) [Sonic Boom]
13 Comfy in Nautica [Panda Bear]
14 Tropic of Cancer [Panda Bear]