English trio The Clientele rarely have deviated from their dominant style in 25 years as a group. And their fans couldn't be happier about it. When an artist does something as well as The Clientele do—chamber pop indebted to luminaries such as Galaxie 500, early Felt, and the West Coast Pop Art Experimental Band—change is the last thing a die-hard follower wants.
That being said, The Clientele's excellent new album, I Am Not There Anymore, is, in the context of their long career, a startling departure. It features handclaps, female backing vocals, quasi-funky beats, and beaucoup strings and piano. However, most of those lovely extras couldn't make the trip for the band's North American tour, which stopped at the Tractor Tavern last night. No matter. The near-capacity crowd remained rapt and reverent for all 70 minutes of that familiar, hushed Clientele splendor.
One can't help noticing that singer/guitarist Alasdair MacLean, bassist James Hornsey, and drummer Mark Keen look like liberal arts professors moonlighting as rockers. Utterly undemonstrative and dressed in unflashy street clothes, they simply deliver their sublime, gently moving songs with zero showbiz flourishes. So it was no surprise that MacLean used only two FX pedals and Hornsey one. The Clientele succeed sheerly on the strength of their material—how novel. Even the Tractor's fog machine spewed moderately.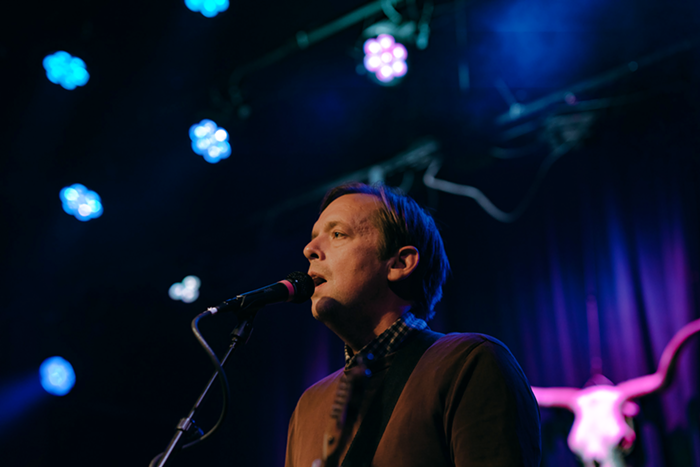 Alasdair MacLean is the perfect name for a man who sings sensitive poetry with the intimacy of a confidante, manifesting his tender compositions with the ease of a lit prof correcting grammatical errors in a student's short story. There's a methodical quality to the band's gravely beautiful songs, apparent from the first song, "Garden Eye Mantra." This was the opposite of busting out of the gate in a blatant attempt to grab the audience's attention. No, we got sparse slowcore, and we lapped it up. For the first time in 20 years of listening, I realized that The Clientele's music shares similarities with the great Australian improv trio The Necks—at once loose and disciplined, cool-browed and deceptively emotive.
Another facet that came to mind last night that had eluded me in all previous listens: MacLean's vocal inflections resemble Bob Dylan's—if he were an introverted Brit. This struck me especially on "Chalk Flowers," perhaps the epitome of The Clientele's finely wrought, interiorized songcraft that sneakily moves you to throatlumps. MacLean's singing is the vocal equivalent of a drummer using brushes. He makes Chris Isaak sound like Lemmy.
While softness of touch and variations on a subdued, autumnal theme reigned, The Clientele did show a flash or three of poised raucousness. Normally an economical minimalist on guitar, MacLean peeled off a rare solo of serious crispiness on "Lady Grey." Alasdair stretched out even farther on "Lamplight," from 2003's The Violet Hour. The song began as a Nick Drake-ish ballad, all rimshots and falsetto singing. Eventually, though, the band intensified and MacLean entered psychedelic territory on a long solo while Keen replicated the hypnotic funky beats of The Beatles' "Tomorrow Never Knows." This display of shock and awe was the night's highlight. More of this, please.
San Francisco's Papercuts, led by singer-songwriter-guitarist Jason Quever, were the ideal openers for the Clientele, if you like smooth transitions in your shows. Papercuts' brand of steady-state folk rock with easygoing tunefulness and hints of shoegaze haze will always be with us, as long as white people exist. Blessed with Slumberland Records' stamp of approval, Papercuts purvey plangent, pleasant indie rock that telegraphs that their favorite Velvet Underground tracks are the third album's weepies. Linger on, pale blue songs.
The Clientele setlist
01 Garden Eye Mantra
02 We Could Walk Together
03 Claire's Not Real
04 Chalk Flowers
05 Lady Grey
06 Everyone You Meet
07 Bonfires on the Heath
08 Since K Got Over Me
09 Lamplight
10 The Age of Miracles
11 Reflections After Jane
ENCORE
Three songs I couldn't ID because I'm bad with Clientele song titles, but I think "Fables of the Silverlink" and "Blue Over Blue" from I Am Not There Anymore got aired.