Tacoma's Skating Polly wrote their new record, Chaos County Line, during a month-long stay at a wooded cabin just outside of Port Angeles.
The band—siblings Kelli Mayo and Kurtis Mayo and their stepsister Peyton Bighorse—would've written one a lot sooner, if not for COVID-19 and the chaos the pandemic brought to their lives. The five years since they released their last record, 2018's The Make It All Show, have been strange and unexpected, they explained over a Zoom call. Not even this interview happened like it was supposed to, at a coffee shop in Tacoma.
Kelli lives in Los Angeles and tropical storm Hillary grounded her flight. She was at her boyfriend's house ahead of her drive up the coast Tuesday morning to ensure she'd be in town in time for the band's slot at Olympia's South Sound Block Party on Saturday.
The half-decade gap between Chaos County Line and The Make It All Show is the longest in the band's 15-year career, which sounds weird given that they're all still in their 20s. But Skating Polly has been a serious band since a 9-year-old Kelli and a 14-year-old Bighorse picked up instruments at their parents' home outside Oklahoma City. A year later, the step-sisters were recording Skating Polly's debut Taking Over the World. (Kelli's brother Kurtis joined on drums in 2017.)
COVID-19 forced the band to take time for its sixth full-length, and it shows. Chaos County Line is Skating Polly's first double album–18 songs of what they call "ugly pop," a sound recalling the smartest, most scathing rock records from the early '90s grunge explosion. This new collection of jagged pop songs may feel familiar on first listen, but producer Brad Wood said the band is a cut above, lyrically speaking, than most of the groups who pioneered that sound. 
"They're better than all their peers and one of my all-time favorite rock bands," he said on a call from his home in Los Angeles. "If this were 1996 they'd be probably the biggest band in America right now."
Wood produced some of the best alternative rock albums of the early 90s, including Liz Phair's Exile in Guyville ("There's the 'Before I met Liz,' and the 'After'"), Veruca Salt's American Thighs, and Sunny Day Real Estate's Diary. The list goes on and on.
Wood didn't want to name names (and I didn't ask), but he said grunge was about the intensity from a face full of guitar and excitement of "20 versions of Blue Cheer" touring the country in 1992. Words came as an impressionistic afterthought for many of the bands, who at their best simulated the beat rhythms of William S. Burroughs and Allen Ginsberg without, you know, the substance. He said sometimes the lyrics were so self-referential to the scene, that nobody would understand what they meant even a few years later.
Skating Polly is different. Wood first worked with that band in 2017, on their collaborative New Trick EP with Nina Gordon and Louise Post from Veruca Salt. In that time, he said, Kelli and Bighorse grew as musicians, leaning into a mature songwriting style. They've always been "quirky," but they've never been classic "before," Wood said.
"Nothing they've done on this record is by the numbers," he said. "I feel bad that guitar music has lost cultural and economic power, long before they ever started making music. They may not even have been born by the time, you know, peak, guitar rock had come and gone."
As kids, finishing the songs Kelli and Bighorse each started alone in their respective bedrooms was as easy as walking to the next room. But since Kelli moved to LA in 2019, they've spent less time together than ever. In October 2021, the band rented the isolated cabin in the woods of Joyce, Washington, and worked out three years' worth of song fragments, poems, and jams into an album. The process brought all three bandmates out of deep depression, they said. But it wasn't all hard work, either.
Season 3 of Succession was airing, and the band would stop cold the minute a new episode dropped. They spent the laziest days watching Curb Your Enthusiasm. At nighttime, the darkness in the woods outside the cabin was absolute. Kurtis insisted they watch horror movies—it was October, after all.
"We slept in the living room several nights, staying up watching scary TV shows and movies," Bighorse said.
They had to shut off Sinister, which stars Ethan Hawke as a true-crime writer who discovers a pile of Super 8 snuff films in the basement of his family's new home.
"That one's really scary," Kurtis said. "I thought it seemed pretty silly, but it's a good jump-scare movie. There's a little face in the shadows everywhere—it's like … 'oh man."'
When they were writing, the sisters discovered that although they'd been living very different lives more than 1,000 miles away from one another, they'd had strikingly similar emotional experiences during the pandemic. They could take a specific experience one of them had and finish the lyrics together.
"That was kind of cool," Kelli said. "I feel like there's this kind of theme throughout the record, just like, 'We'll be okay because we have each other.' When I hear the record, it's so much like a hug between Peyton and Kurtis and me." 
No song captures that more than "Tiger at the Drugstore," the album's uplifting, piano-driven single. Bighorse said she wrote the song in an attempt to extract herself from vices and bad habits leaned on during lockdown, like drinking. "It was tough for me to get out of that, specifically," she said.
Bighorse came to Kelli with the music and a theme. Together, they searched Kelli's journals and crafted the song from a poem she'd written. The song continued to change. Kurtis suggested piano, and the sisters later reworked the melody because it sounded too similar to Semisonic's "Closing Time."
"We got to de-'Closing Time' this," Kelli said with a laugh.
"Tiger at the Drugstore" is not wholly optimistic, it's about allowing yourself to feel anything at all, and how that's better than numbing out. Kelli said the idea of living outside that gray to experience life's messy, emotional highs and lows is all over the record. 
The band sent demos to Wood as they were recorded, who shot back excited comments about preserving the rawness in the demos. The best example is in "I'm Sorry for Always Apologizing," where the band interspersed clips from the demo into the final track. At the start, you can hear Kelli buzz her lips in a vocal warm-up, part of the special care she gives her voice now, after two surgeries to remove non-cancerous cysts from each of her vocal folds in late 2020 and early 2021. 
The surgeries left her unable even to talk for weeks at a time, which equated to "not existing" every day for the singer. Kelli discovered the cysts after a "really hard" tour at the end of 2019 when she woke up one morning and couldn't make any noise at all. ("I was like wheezy from Toy Story.") 
The first doctor said it was allergies and recommended she drink more water. A second physician misdiagnosed the cysts as nodules and prescribed vocal rest. Still hoarse, Kelli visited a third "fancy pants" doctor on the advice of Garbage frontwoman Shirley Manson, after running into the singer on the street in Los Angeles. Manson perceived something was wrong just from hearing Kelli's speaking voice.
"She's like, 'Kelli, your voice is terrible, I think you've ruined your voice,''' Kelli said.
Manson's doctor identified the cysts but dropped a bomb. He predicted Kelli would be out of commission for a full year, and said the band's February 2020 performance at Sundance would be her last before surgery. Then the pandemic hit and made the decision about performing for her, and the strict COVID-19 prohibitions on elective surgical procedures pushed back her surgery to the end of the year.
"It was a mess, it was crazy," Kelli said, but she's grateful for her doctors. She now conceptualizes her voice as a bank account with a withdrawal limit. 
"I'm a big fan of personal steamers," she said, cupping a hand over her nose and mouth. "[Humidification] and tea only help so much. Really getting sleep—huge, you know? Not drinking too much caffeine, not just talking, talking, talking, talking; not screaming; not doing like a taxing vocal take over and over and over again and just trusting that you'll do it right whenever it's time to do it, you know?"
For Kelli, sessions at the cabin, and later at Brad Wood's Seagrass Studio in the San Fernando Valley, began with vocal warm-ups, followed by 30 minutes of steaming. 
"I think all the discipline paid off, and I think I know my voice better than ever," she said.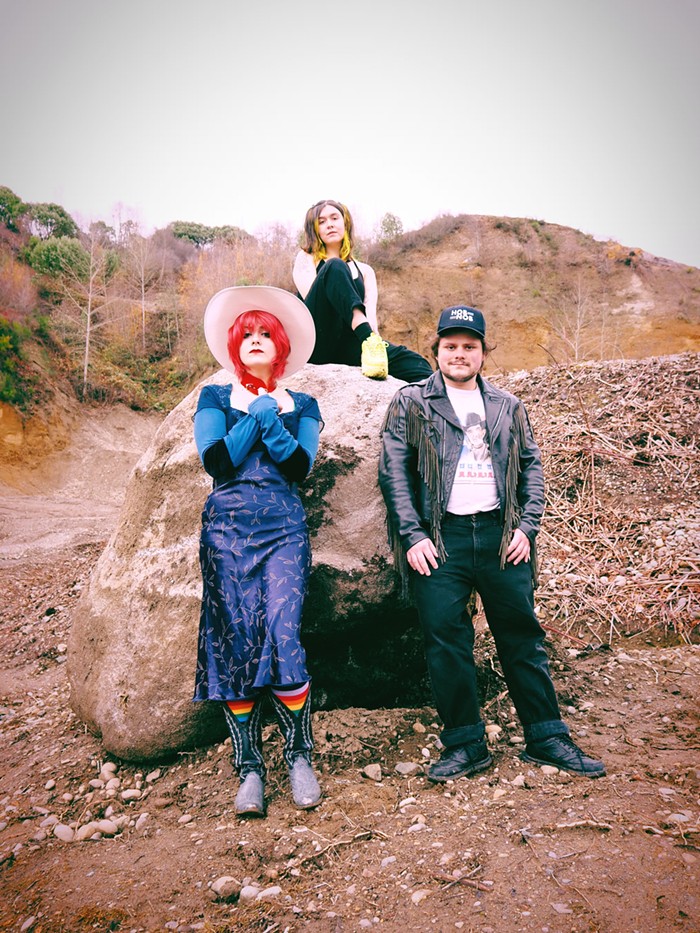 Seagrass is one of Bighorse's happy places. The studio is behind Wood's actual home, with wood-paneled walls in the control room, a comfy couch, and a snack station. (Wood doesn't really snack, she said, but he's excited about the snacks.) His studio is an escape from the frustrations and anxieties of the outside world. Her favorite part is the between times, sitting on the grass with a book, a guitar, and coffee.
Kurtis, Kelli, and Bighorse smile when they talk about Chaos County Line; they're proud of the album without reservation, and discuss their work with an egoless, charming confidence. The siblings couldn't agree on a favorite song from the record. Their favorites are always changing, anyway.
"With every listen, pretty much it's just constant rotation," Bighorse said. "I think my favorite might be 'Someone Like a Friend.' I don't know. 'Tiger at the Drugstore' might be my favorite."
"Those two and 'Masquerade' I think are my three," said Kurtis.
"We all picked pretty ones!" Kelli said.
Wood said the record harkens back to the brilliance of the band's earliest recordings, which were "kind of adorable," but written by adults who've had adult experiences. When he heard the demos, he thought it'd be their most ambitious record, brought on by the enforced break of COVID and Kelli's surgeries. They're not cute kids anymore, and they don't sound like it.
"That kind of fascination or that kind of, you know, interest from a fan base can't be there anymore," he said. "It shouldn't be, it's inappropriate."
---
Skating Polly play the South Sound Block Party in Olympia Sat Aug 26.