Man, it's heart-warming to see young people flock to a club to cheer for a young buzz band on Sub Pop, just like regularly used to happen in the good ol' pre-pandemic days. Such was the case last night at Madame Lou's, where Chicago quartet Deeper provoked an intense crowd response with an equally intense display of melodic post-punk. Forty-plus years on from its inception, post-punk looks as if it will never die, but rather endlessly mutate, and that's mostly good news. Deeper do the venerable genre justice.
Drawing heavily on their Sub Pop debut, Careful!, and 2020's Auto-Pain, Deeper were all business, tearing through many of their best songs as if trying to prove to their label's employees that they won the indie-rock lottery by signing them. Vocalist/guitarist Nic Gohl—whether by design or sheer coincidence—has mastered the Robert Smith-ian yelp that's made hundreds of thousands of sensitive folks commiserate. This is not my favorite throat sound, but whatever qualms I have about it get subsumed by Gohl and Drew McBride's galvanizing guitar interplay and a rhythm section—drummer Shiraz Bhatti and bassist Kevin Fairbairn—that knows how to optimize the dynamics of excitement.
"This Heat" got the set started right with anticipatory guitar feedback that eventually gave way to a motorik groove and chunky, clangular guitar sparks. Angst churning ever inward is a crowd-pleasing move, and more bands need to recognize this. For the Cure-goes-glam jam "Build a Bridge," a woman positioned front and center in the audience began jumping like a cheerleader. Let us reiterate: post-punk will never die. "Everynight" featured more glottal, Smith-like emo singing over a twining guitar duel à la Television. Impressive guitar textures piled up in this exquisite tension-builder. After a thrilling guitar/bass squall, "Willing" shifted into a chunky chug akin to the Velvet Underground's "Guess I'm Falling in Love." And speaking of the Velvets, "Helena's Flowers" bore the locomotive momentum and controlled guitar heroics of VU's "Foggy Notion."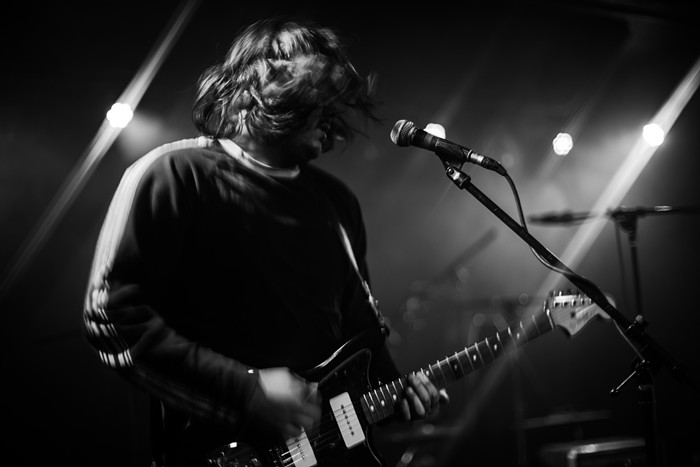 The highlight was "Spray Paint," which Deeper played at a faster tempo than they did on the Auto-Pain version. The guitars chimed like they've never chimed before and the rhythm escalated to speed-freak anthem status and, simple as that, rock seemed exhilarating and dangerous for a change.
By contrast, the show's second act, Mia Joy, dealt in confessional, hushed, singer-songwriter business. Like a Midwestern Mazzy Star, Mia Joy craft songs as dreamy sighs meant to be swayed and swooned to. Frontperson Mia wore a Deftones T-shirt and dropped endearingly awkward between-song banter such as "This song's called 'Haha.' Feel free to laugh along" and "We're going to do a Spiritualized cover, because I'm a sad bitch." They closed the set with a solid cover of Spiritualized's, "Shine a Light," the British psych-rockers' most sublime ballad, and bless them for that.
Opening the night, Seattle fourpiece Laminate came on all gung-ho, as if this show were their chance for a Big Break™. And maybe it was. Their overall vibe was aggressive, '90s underground rock in the Unwound and Sonic Youth veins—although one song boasted a bass line that emulated the main riff to Boston's "More Than a Feeling."
Laminate particularly mastered Sonic Youth's aptitude for turning guitars into facsimiles of tolling bells. Competing with shouted vocals, distorted guitar peals weirded up Laminate's straight-ahead rock attack. Thankfully, they're funkier than most rock groups of their cranky ilk. If I may offer some advice, the strange interludes Laminate conjured between songs should be converted into full-blown pieces and they should heed Lou Reed's dictum that "cymbals eat guitars."
DEEPER SETLIST
01 This Heat
02 Build a Bridge
03 Everynight
04 Willing
05 Pavement
06 Spray Paint
07 Airplane Air/devil-loc
08 Sub
09 V.M.C.
10 Helena's Flowers
11 Bite
12 Pressure
ENCORE
13 The Knife