Robert Fripp is the royal pain in the ass around which Toby Amies's compelling documentary, In the Court of the Crimson King: King Crimson at 50, revolves. (Crimson's 50th anniversary occurred in 2019, but the pandemic delayed the doc's debut until 2022; it finally reaches Seattle theaters this week.)
Now in his 70s and dressed like a bank executive, guitarist/composer Fripp speaks with perfect elocution in well-constructed paragraphs, and still practices his instrument four to five hours a day. The sole constant member of British prog-rock legends King Crimson, he might be the least stereotypical rock star ever. Note how he always sits in the back corner during KC concerts, as far from the spotlight as possible.
Chronically annoyed by Amies's queries and intrusive camera, Fripp begrudgingly answers the director's questions, his posture ramrod straight and his diction impeccable, even as he wishes for this ordeal to end already, so he can pick up his suit at the tailor's or count royalties from the "21st Century Schizoid Man" sample that Kanye West used in "Power." There are many, many lingering shots of Fripp walking away from Amies after the curmudgeon delivers a withering riposte.
Perhaps to many Crimson fans' surprise, ITCOTCK is not a film made for music nerds, per se. You won't hear discussion of King Crimson's 1969 debut LP being the Big Bang of prog rock, nor an explanation of the obnoxious line that mars "The Great Deceiver" ("health-food faggot"), nor chat about how "Red" has been perhaps the definitive influence on Chicago and Louisville's underground-rock scenes of the '80s and '90s, nor insights about why Fripp let bassist Boz Burrell sing like a ludicrous R&B belter during KC's 1972 US tour. Ad nerdeum. You won't get an album-by-album dissection, either, like what Edgar Wright did with The Sparks Brothers. No, what Amies delivers here is a merciless personality study of Sir Bob, as detailed by many current and former KC members—a procession of weathered white guys who've all seen and felt some shit during their time in the Crimson grinder.
What emerges from all of these interviews is a complex portrait of Robert Fripp as a charming, dapper tyrant, an aloof genius, and control freak who is/was respected and feared in equal measure. Some of these elite musicians may not have liked or loved Fripp (although many do, despite the frustrations they endured), but they all learned a lot and came out of the experience better players. You sense that the power of the music they were creating more than compensated for any interpersonal rancor they felt... until it didn't anymore. At the time of filming, Amies captured the group in a rare moment of relative contentment. "This is the first [lineup of] King Crimson where there's not at least one member who doesn't actively resent my presence," Fripp declares, mildly shocked.
The thing is, nobody is a harsher critic of Robert Fripp than Robert Fripp. "There's a lot of joy in what we do," Fripp says. But, he adds, "What is possible for this band has not been achieved and that's an acute suffering." When asked how long he has to go till KC fulfill their potential, Fripp sighs hard. He confesses that from 1969 to 2013, he was unhappy with Crimson—in fact, he felt "wretched" about his precious band, which has been elevated to godhood status by people with very high IQs. The curse of perfectionism...
Supplementary interviews with managers, roadies, and fans (including a middle-aged nun who's obsessed with bassist Tony Levin) offer keen observations and comic relief. For the latter, the nun says that sometimes King Crimson's music is "painful, like the dentist." She makes a drill sound and laughs, "Deeper, deeper." And, of course, Amies offers plenty of concert footage, plus pre- and post-gig rituals and shit talk and revealing rehearsal scenarios.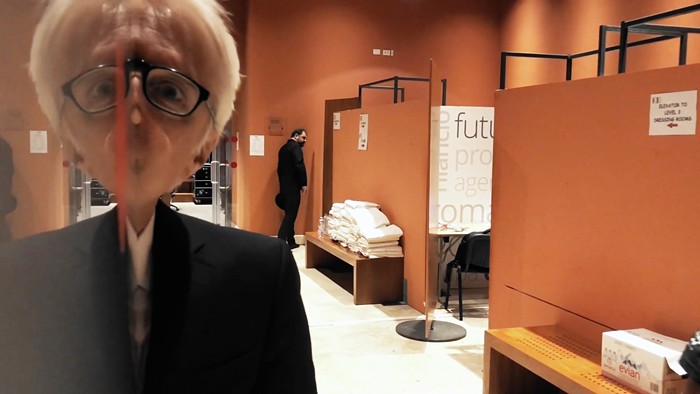 The documentary's key subplot centers on former Seattle multi-instrumentalist Bill Rieflin, who drummed and played keyboards in KC from 2013 to 2019. In several candid, heartbreaking scenes, the musician (who died in 2020) reveals how he's in constant pain while struggling with stage 4 colon cancer. Despite this, he chose to spend his few remaining years performing with King Crimson. "This is what I was made to do," Rieflin says with more pride than resignation. "Music can restore grace, if only for a moment, in a person's life. And that makes all the difference in the world. I've made an effort to be a better person and do better things." The ensuing scene of Rieflin playing the poignant keyboard solo in "In the Court of the Crimson King" is incredibly moving. "This one moment when time expands," Rieflin reflects. He also speaks about the inevitability of one's demise increasing a sense of urgency, and that urgency is one of the foremost elements of KC's music.
On a more bitter note, guitarist/vocalist Adrian Belew (in KC from 1981-2013) found being under Fripp's microscope so stressful that his hair began to fall out. "Some people think Robert is God," Belew says. "It's hard to be around that." But on the upside, "Robert fostered situations in which music would be created that you couldn't ever imagine." Years after Fripp canned him, Belew still seems salty about it and opines that he thinks Fripp needs his services. Many fans do not disagree.
Bill Bruford, who drummed in some of KC's most interesting eras—including the mid '70s and early '80s—compares Fripp's recording approach to Miles Davis's. "Choose the most interesting musicians, put them in a studio, throw away the key, and they'll come up with something interesting... if they don't kill each other."
And that conflict-rich dynamic is what also makes In the Court of the Crimson King so fascinating. Music as beautiful, thorny, and enduring as King Crimson's could only happen under these maddening circumstances. Are you willing to pay such a severe psychic price for artistic immortality?
---
In the Court of the Crimson King screens at Grand Illusion Cinema on November 8 and 9 and at Regal Thornton Place on November 8.