In 1964, Denny Laine's soul-wrought vocals blasted out of Birmingham, England, on the Moody Blues version of "Go Now." It was a number-one hit, selling millions of copies, and whether you were a mod or a rocker, you dug it. Laine was at the epicenter of a very happening London scene. His guitar playing had what it took to make him a member of Ginger Baker's Air Force in 1970. Then, when the Beatles' Paul McCartney formed his own band called Wings in 1971, he asked Laine to join. For Wings, Laine provided guitar, bass, woodwind, keyboards, and vocals. Over the course of a decade, Wings notched 24 Top 40 hits, with six going number one. By 1999, Laine had also released 15 solo albums. He was constantly pushing for new sonic ground. At 70 years old, the man knows a thing or two, or three, about music.
The British Invasion Tour commemorates the 51st anniversary of the Beatles' first visit to the United States. Along with Denny Laine, other 2015 Invaders include Peter Asher of Peter & Gordon, Chad & Jeremy, Billy J. Kramer, Mike Pender's Searchers, and Terry Sylvester of the Swinging Blue Jeans and the Hollies. It's quite the cast, so hit Benaroya Hall if you'd like a rock-and-roll history lesson from the Brits. Laine had just checked into his hotel room in Tarrytown, New York, when we spoke. He had a show later that night.
Sponsored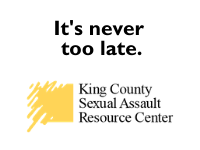 Free, confidential, inclusive support and information about sexual assault is available 24/7
How are you feeling? Are you jacked for your show? Do you need some sleep?
Oh, you're always tired on tour. You never seem to get quite enough sleep. But it doesn't really matter [pronounced mattah]. You get used to it after a while. You get yourself up to do the show, and that's all there is to it. We've had great shows so far.
Were you all aware of the term "British Invasion" when it was happening? Or is that something the press and promoters hung on it? Like grunge. Most of the musicians from Seattle labeled as grunge artists hated the term.
I don't know if it was called that in the old days. I don't consider myself in any genre, really. What the public or the press calls you or doesn't call you has never bothered me. The fact that I did music in the 1960s and had the Moody Blues experience was incredible as a young person. It was my first successful period as far as the charts and meeting everybody. We didn't do much in America when I was in the Moody Blues. I only came to America once, for a residency in New York. I didn't do the thing most of the bands did later in America.
Your Denny Laine Electric String Band opened for Jimi Hendrix in London in 1967. What do you remember about Hendrix?
The first time I saw Hendrix was with Paul McCartney. We went to see him when he first came to England at a club called Bag O'Nails. I was friendly with Mitch Mitchell and Noel Redding anyway. I knew those guys, and we'd all go to clubs together. When we opened that show for Hendrix in 1967, there were a lot of celebrities there. It was pretty high-end. Hendrix opened his set with a version of the Beatles' "Sgt. Pepper's Lonely Hearts Club Band," which had just been released. Hendrix came up to me after the show and told me how much he enjoyed my guitar playing. And I told him how much I enjoyed his playing, and then we proceeded to get drunk [laughs]. He was a good guy. I was very upset when he died.
I saw a documentary not too long ago reporting this whole theory that Hendrix was murdered by the US government, because they were afraid of his funding the Black Panthers. Did you ever hear about any of that?
I'd rather not talk about that. I don't want to comment on it. That's just hearsay.
Did Ginger Baker ever get ornery with you during your time in the Air Force?
He never got ornery with me. I've seen him like that around a lot of other people, losing his patience. But he was always all right with me.
So he never socked you in the face?
No. I wouldn't be putting up with any of that. We're friends. We've known each other for years, from the Moody Blues days. The very first tour the Moodies did was with Chuck Berry. Ginger Baker and Jack Bruce were on it as well. Ginger was putting together the Air Force, and he was going through some pretty bad times. And it was a lot of responsibility on his shoulders. There were tense times, but he never had a problem with me. We always got along great. You just had to get used to the cuss words [laughs].
How would you describe his drumming?
He was so solid, and calculated. He does his thing, but he's not too complicated. He's aware of the arrangement. He's a great drummer from that point of view. Forget that he can play amazing solos, I'm talking about working inside the songs. He's one of the few drummers who can make a trio work. He's confident, so it makes you confident, he keeps such steady meter (meet-ah). He works with what you're doing. A lot of drummers, you can't hold 'em back. [Laine has left his hotel room and gotten into a van to go to lunch before sound check.]
When I was growing up, my parents played Wings at the Speed of Sound all the time. Now when I hear "Let 'Em In," I hear my childhood. I see my dad working in his chair. I remember the smell of the room and the smell of autumn—the cold wet leaves on pavement. I had a stuffed elephant named Dewey. The song connects me to these memories so vividly. Why do you think that is?
That's a good question. Music can be like that. Paul wrote "Let 'Em In," so it was more about his situation and his thing—his family, not mine. I just played on it. It was personal to them. A lot of people pick up on it and associate with it because it's about family life as you're growing up.
For the songs you wrote for Wings, what was your dynamic with Paul?
I tend to write alone and then have others join in to finalize. Mostly that music would come from one person. Like "No Words" from Band on the Run. I wrote 90 percent of it, and then Paul came in and helped me finish it. It was actually two songs that I put together into one. We wouldn't ever really sit down and write songs together.
I have to ask about the bagpipes on "Mull of Kintyre," how did you all record that? How many mics did it take? The bagpipes on the beach in the video are so great.
The bagpipes were recorded outdoors at the farm Paul had in Scotland. There were mountains all around. It was natural acoustics. I don't remember how many microphones [laughs], that was the engineer's department.
Do you and Paul stay in touch?
Once in a while, yeah. We're both doing our own thing, so not that much. I like his band. I know all his guys. Nice people. He does a good job; he's got a great show.
Bear with me for a second. Did you know your name works perfectly with the Beatles' "Penny Lane"? ("Denny Laine is in my ears and in my eyes. There beneath the blue suburban skies.") Sorry, had to do that.
Don't be sorry. Nice tune. I can tell you're really feeling that. Not sure Paul and John had me in mind, though. I appreciate the thought.
After you played with Wings, you did like 10 solo albums. What made you walk away from Wings?
I wanted to do something more as an individual artist. I'd been in Paul's band for 10 years and I wanted to do my own thing. It wasn't a falling-out or anything like that. I wanted to do all the writing on some of my own albums. It was just something I needed to do.
What's the best way for a band to have longevity? It's a marriage, and a business. With all the egos and issues, musicians need to be psychologists as well. I mean, look at Metallica.
If you work hard enough to begin with, I think that's where you start. You make the band a 24-hour job, and you create some success. That's what keeps the band going, because at that point there's a demand for your product. Until there's too much pressure on you and people start leaving. Maybe it's only supposed to last for a certain amount of time.
Like with Wings, what would you do if Paul and Linda were fighting? Or maybe there were times you thought Paul wasn't listening to your input. You know, when egos collide and life spills over. How do you dissolve the tension?
You don't. You have to let it be. There's not a way to do it or a formula. You just do it. Whatever happens on a daily basis, you deal with. At the end of the day, it's what you're doing as a band musically that matters, not what's going on in your private lives. Some things you just have to put aside, because if you can't concentrate on the music, you have no chance. So you don't get too involved in all the personal stuff. I think the main ingredient to longevity hinges on whether or not you respect your bandmates as musicians. If they're good at what they do, and you work well together, it's probably best to stay with them. It's all about the music, I think. It's got nothing to do with anything else.
If Miles Davis didn't like the way someone was playing, he'd fire them after the show.
Miles is a good example of that. James Brown was the same way. If someone was hard to work with, or had too much fear, or didn't have enough work ethic. You gotta move on from that. It can ruin everything.