...is happening today on Twitter: Follow me (@ansel) and photographer Alex Garland (@AGarlandPhoto) for the latest.
The El Comite march for worker and immigrant rights gets started at 1 p.m. at Judkins Park. It ends at the downtown federal courthouse.
The anarchists are holding a Solidarity Music Festival at Westlake Park. Their anticapitalist march, which does not have a disclosed pre-planned route, gets started at the park at 6 p.m.
***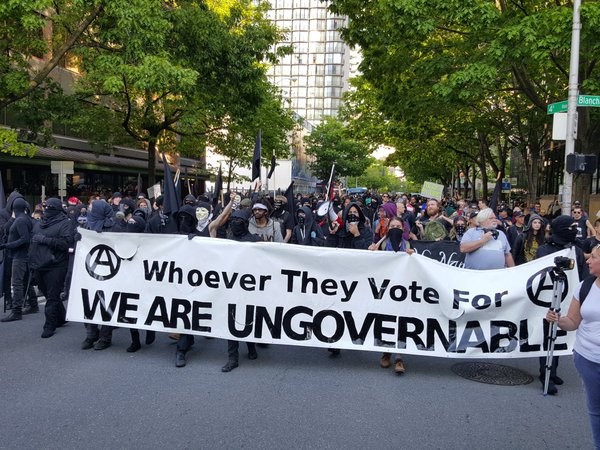 UPDATE: The peaceful El Comite march wrapped up and the anticapitalist march began around 6:30. Confrontation between cops and protesters broke out pretty much immediately with marchers lighting fireworks and cops using pepper spray.
Journalists at the scene are reporting that protesters have thrown objects and broken some windows and police have used blast balls and begun making some arrests. Seattle Police say one officer has "sustained a head/facial laceration." Unlike previous years, when police have directed protesters toward Capitol Hill, the group is now headed through Sodo. Ansel is down there. KIRO's live feed is here and KOMO's is here. -HEIDI GROOVER
Police held their line at 5th and Pine. But it got a bit heated. #MayDaySea pic.twitter.com/qtA6W85yeV
— Evan Bush (@evanbush) May 2, 2016
Big confrontation at Westlake, when black bloc started moving. Police formed a line blocking the way east. pic.twitter.com/t5TtIV6WX3
— Ansel Herz (@Ansel) May 2, 2016
Police are now blocking the way north, pointing west. No explanation. This only escalates tensions. pic.twitter.com/i96n0w7n4U
— Ansel Herz (@Ansel) May 2, 2016
Anarchists: What is the point of this. We have now marched in a circle.
— Ansel Herz (@Ansel) May 2, 2016
Rocks and bottles thrown but pepper spray used indiscriminately on journalists and protestors. pic.twitter.com/MyTysFTCRg
— Alex Garland (@AGarlandPhoto) May 2, 2016
Injured officer has sustained a head/facial laceration and is now receiving treatment. #MayDaySea
— Seattle Police Dept. (@SeattlePD) May 2, 2016
I got sprayed! And now I can see again. Just in time to see officers hit with a thrown bottle.
— Ansel Herz (@Ansel) May 2, 2016
Marchers throwing fireworks, bottles at police. Police throwing blast balls. 2nd and James pic.twitter.com/ySN9cQYoFC
— Ansel Herz (@Ansel) May 2, 2016
UPDATE: Citizen medics are on the ground assisting people who have been peppersprayed. According to KOMO, SPD officers said the march has escalated past a peaceful protest. - ANA SOFIA KNAUF
A woman tried to get outside police containment on 4th Ave / Blanchard. She got pepper sprayed. #MayDaySea #video pic.twitter.com/9hjE5eX1Ct
— Evan Bush (@evanbush) May 2, 2016
NOW: @SeattlePD reporting SEVERAL assaults to officers - "This is no longer a peaceful march." #KOMONews #MayDaySea https://t.co/VIwea3tMvw
— KOMO News (@komonews) May 2, 2016
Nothing to do w/ the peaceful immigrants' /workers' rights #MayDaySea march that ended ~2 hrs ago. @KIRO7Seattle pic.twitter.com/hodJIcZoWi
— Carolina Antipolo ⚽ (@Carito_003) May 2, 2016
Commanders issuing dispersal order at 2nd/Pine. Anyone remaining at scene is in violation of law. #MayDaySea
— Seattle Police Dept. (@SeattlePD) May 2, 2016
SPD releases order to disperse "...leave this area. If you do not do so, you may be arrested or subject to other police action." #MayDaySea
— Brian Price (@BJPrice22) May 2, 2016
#MayDaySea Mayor acknowledges injured police. Anarchists say fighting income inequity & support #BlackLivesMatter https://t.co/23cjYkmJNk
— Elisa Jaffe (@ElisaJaffe) May 2, 2016
Officers report molotov cocktails being thrown at them on 4th Ave #MayDaySea
— Seattle Police Dept. (@SeattlePD) May 2, 2016
UPDATE 8:40 PM: The march appears to be fizzling out in a Costco parking lot. At least seven Nine people were arrested, according to the Seattle Police Department. SPD officers have surrounded the remaining protesters in the parking lot, told them they're no longer allowed to march in the street, and are allowing them to leave in small groups. Ansel reports that protesters "look exhausted, bored" and he is very hungry. -HEIDI GROOVER
Group now assailing shopping carts in @Costco parking lot. #MayDaySea
— Seattle Police Dept. (@SeattlePD) May 2, 2016
I am hungry. Are we going to White Center for bomb Mexican food or what. Police seem happy to let the march head south.
— Ansel Herz (@Ansel) May 2, 2016
Costco is closed otherwise I would be getting pizza right now
— Ansel Herz (@Ansel) May 2, 2016
This is where it ends, I think? Tired people in an empty Costco parking lot. "It's gonna be a long walk back dude." pic.twitter.com/XxhLYZF4cH
— Ansel Herz (@Ansel) May 2, 2016
Straggler group trudging back north. Global capitalism, the 1%, and multinational corps really took a hit today. pic.twitter.com/ik0H41w8A7
— Ansel Herz (@Ansel) May 2, 2016