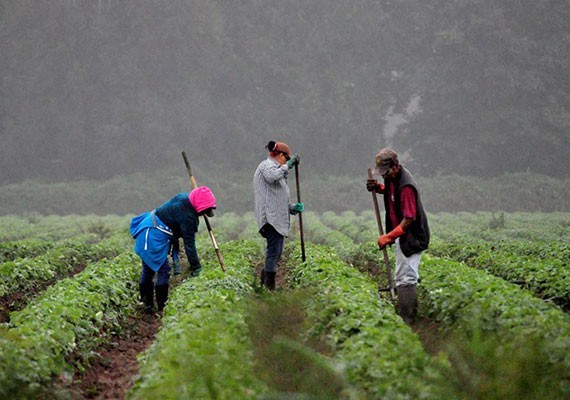 After a long stalemate between labor rights campaigners and management, Sakuma Brothers Farms has offered a pathway toward unionization for its berry pickers. The farm, an hour north of Seattle in Mount Vernon, is one of the largest in Washington State. The Skagit Valley Herald reports:
The workers will vote on whether they want to be represented by Familias Unidas por la Justicia (FUJ), a labor group that has long been calling on Sakuma Bros. for better wages and the opportunity to negotiate a union contract.
The move comes one month after Familias Unidas organized a work stoppage that led to increased pay rates for workers in the fields.
Familias Unidas has been urging consumers to boycott Sakuma Brothers Farms since 2013, when workers began striking over what they said were unfair wages, substandard housing, and intimidation by supervisors. The group has called for a boycott of Sakuma and its major buyer, Driscoll's, touring the West Coast and passing out flyers at grocery stores.
After balking at unionization for so long, why allow a vote now? Sakuma spokesperson Roger Van Oosten said the company's new CEO, Dan Weeden, was brought in to "keep the farm sustainable... He's been looking for a long time to find a way to do it. He thinks this is the way to go... They're willing to have an open vote and go with the will of employees."
Van Oosten said if the farm and Familias Unidas agree to terms on Thursday for the unionization process, around 300 farmworkers would be voting.
Farmworkers are exempt from the National Labor Relations Act, which would normally govern a union ratification vote.
FUJ said in a statement that Sakuma farms had "relented to the pressure of the #BoycottDriscolls campaign," and called for a union election to be held "without intimidation or coercion."