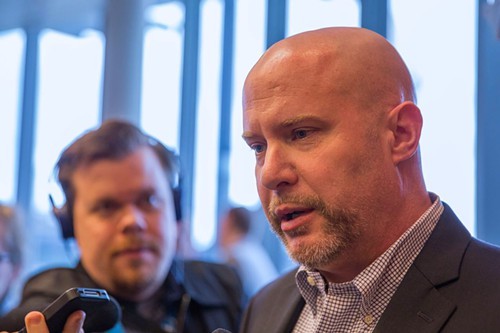 In the wake of another offensive Facebook post, SPOG President Ron Smith is resigning. His e-mail to members is below the jump. "I regret that this post offended any one, as that was not the intent in any way," Smith writes. "We don't need any further distractions in moving down the reform road."
The Facebook post tried to blame the shootings of Dallas police officers by a lone gunman last week on what Smith called the country's "minority movement," which many took as a thinly veiled reference to Black Lives Matter. He added the hashtag #WeShallOvercome. He deleted it after it was first reported by The Stranger and roundly condemned.
Smith has had a rocky tenure during a key time for the SPD, as it tries to complete a federally-mandated reform process. He succeeded Rich O'Neil, a complete asshole, in 2014. After his election, he broke with SPOG's practice of ignoring The Stranger, making overtures and promising a newly open posture toward accountability. Under his direction, the union didn't join an unhinged, failed lawsuit that sought to block reforms. He gave a "stunning" interview after one year on the job, telling Seattle cops to adapt to the city's liberal political climate or get out, but backtracked after a furor within the union and calls for his resignation, then doubled down last summer on delusional right-wing rhetoric.
SPOG members are voting by mail on a new contract this week.
Kevin Stuckey, an African-American police officer and SPOG's representative on the Community Police Commission, will replace him at the end of the month. Stuckey has won praise for his down-to-earth, collaborative attitude from other CPC members, though last year he threatened to quit the commission over an attempt to bypass mayoral delays on police reform legislation.
Hopefully Stuckey can steer things in a positive direction. Here's Smith's e-mail to members tonight:
SPOG Members,

Recently in the heat of the moment, as our brothers and sisters were under attack in Dallas I posted on the SPOG Facebook page something I intended to be supportive of our Dallas brothers and sisters as well as the outrage we all feel in the attacks on law enforcement across the country. What the post was meant to say is that it is disgusting that a small segment of society perpetuates violence toward law enforcement officers across this country. At no time was there any intent to apply blame to any organized group; only the small segment of society which has the propensity for violence toward law enforcement. We shall overcome meant just that; law enforcement will persevere and work through this time in history just as law enforcement did after 9-11 and how local law enforcement did after we lost 6-local law enforcement officers in a 6-week period in 2009, including Seattle Police Officer Tim Brenton. I regret that this post offended any one, as that was not the intent in any way.

I have poured my heart and soul into this organization for the past 16-years, whether it was as Guardian Editor, 2-terms as Position #3 on the SPOG Board, Secretary-Treasurer and in the last 27-months as your President. I have been made aware that I have let the membership down, something that I deeply regret. I have never quit anything in my life except chewing tobacco, however this is not about me; it's about the membership. We are living in very difficult times in law enforcement history, and we don't need any further distractions in moving down the reform road and in full compliance with the consent decree. With these things in mind, I am notifying you now that I will resign my position as President effective July 31, 2016. This will allow an adequate transition for Vice President Kevin Stuckey who will assume the rest of my term, which expires March 1, 2017.

It has been my pleasure to serve you. God Bless you all and be safe.

Fraternally,

Ron
This post has been updated since its original publication.