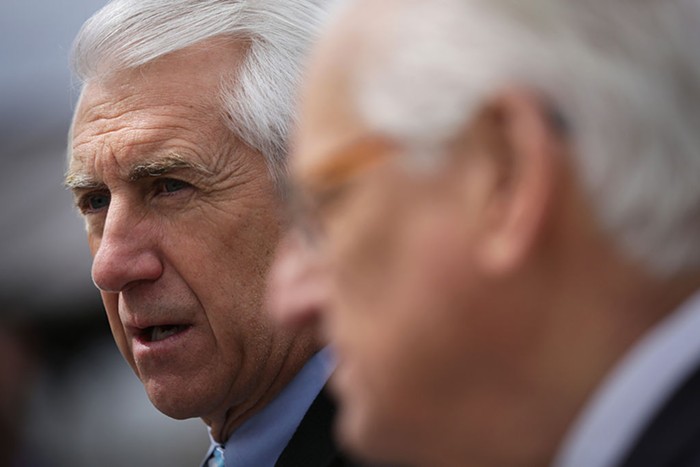 In a Facebook Live interview last month, Washington Congressman Dave Reichert defended his decision not to host a large public town hall meeting for his constituents. Not only are town hall meetings not productive, he argued, but they could endanger his staff—a staff that has already faced threats, Reichert said.
Reichert painted a picture of staff in his district office in Issaquah being bombarded with threats and angry phone calls. And while he acknowledged that angry town halls were commonplace during the Tea Party's rise, he said "there is a definite increase in intensity and I am very sensitive to that."
"We've had experiences already where people have shoved their way into our office, pushed our staff up against the wall," Reichert said later. "We've had to call the police. We've had people arrested. We've had people placed into a mental institution. I don't want to do that."
Reichert didn't specify anything more about the incident or incidents behind his claim, nor did he say exactly where or when the pushing and police calling may have occurred. But, taken together with his argument against hosting town hall meetings, Reichert's statements implied that his office is facing newly intense threats under the left's backlash against Trump.
There's just one problem with the idea that threats against Reichert's office are on the rise: it's not true.
Records from the Issaquah Police Department show that, while Reichert's main district office in Issaquah has had a few public safety issues over the past three years, it has never faced widespread threats of violence from constituents who are angry about Reichert's political positions. And, as of the date of that Facebook Live interview, the office had reported zero trouble to police since January 20, when Trump took office and the resistance to Trump's brand of Republican politics exploded.
Before we get started, a note: We've repeatedly asked Reichert's office to specify exactly what incidents he was referring to in the Facebook Live interview. We've received no response, but we'll update this post if we do. Along with his Issaquah office, Reichert has a satellite office in Wenatchee. We asked the Wenatchee Police Department for any records associated with calls to service at that office since it opened in 2013. They turned up one 2015 case, in which a man called Reichert's office angry about receiving too many mailings and said he "was thinking about killing a Republican and he only knew Congressman Reichert and [a staffer in Reichert's office]." The man was later charged with felony harassment but the case was dismissed. Wenatchee had no reports associated with Reichert's office between Trump's inauguration and Reichert's Facebook Live interview.
Now, about those records from Issaquah. A public disclosure officer for the city's police department pulled all the records she could find associated with incidents at Reichert's office. She turned up a handful of incidents going back to 2014, including:
• Several threatening phone calls, including one on June 16, 2014 in which a man who was angry about court issues, medication, and the fact that Reichert did not have a voicemail threatened to shoot an intern's "fucking head off."
• An incident on May 27, 2015 in which an erratic man showed up at the office looking for help getting Social Security and Veterans Affairs money. (Staff "don't feel threatened" by him, the police report reads, but called because he made "vague threats to do something he didn't want to do.")
• One report about a man wearing a dark hoody and sunglasses whom the Congressman had "a run in with" at a soccer game over the weekend. A man matching the description from that incident showed up at the office on February 9, 2015, so police set up extra patrols of the office. The police report offers no details about whether the man came inside the office.
• Two reports in May 2016 about one suspicious vehicle outside the office.
• Two vague reports from December 2016 about people near the office who were no longer there when police arrived.
• Several reports in January and February 2017 about protests outside Reichert's office, including questions from a citizen about how to set up a protest and a complaint about where vehicles were parked during the protest.
There are also several reports involving someone Reichert may have been referring to. Over four reports ranging from 2014 to 2016, staff in Reichert's office describe to police a 60-year-old former volunteer who worked on Reichert's 2004 and 2012 campaigns and in 2014 showed up at the office and called repeatedly. The woman claimed she and Reichert were friends, complained that Reichert was corrupt, mentioned work visas for foreign nationals, and claimed her husband would soon be president. In February 2014, after a staffer told police the woman had "been disruptive while on the above referenced property" and that "she bangs on the doors of neighboring businesses," police served her with a three-year trespass order. (That expired late last month.) The woman was later institutionalized, according to police reports.
The woman called Reichert's office several times over the three-year period, but there is little indication she was physically threatening. When police served her with the trespass order, they reported that she told them her family owned many firearms, which were kept in three safes in her home, but that she "preferred Judo and Karate as a weapon."
"She was cooperative and verbally expressed her love for us," the police statement reads.
In another report about an angry voicemail the woman left at Reichert's office, the officer writes, "No direct threat of personal harm or property damage was made."
Threats against Congresspeople are not unusual. In early 2010, when President Barack Obama signed the Affordable Care Act, threats against members of Congress tripled. Washington Senator Patty Murray was among those who received death threats that year. During last year's Democratic presidential primary, a man threatened to cut out then-Congressman Jim McDermott's tongue over McDermott's support of Hillary Clinton.
Still, Reichert's statements appear to be misleading. According to the records we've seen, his office has not had multiple people arrested or "placed into a mental institution." The police reports from Issaquah do not include an incident during which anyone "shoved their way into our office, pushed our staff up against the wall." And, contrary to Reichert's implication that holding a town hall is risky because his office is under siege from angry constituents, the threatening encounters don't appear to have much to do with his politics. They also don't appear to have increased since the protest movement against President Donald Trump began.
Reichert Watch: Every time Reichert takes a party line vote that hurts his constituents or introduces needless legislation or does anything at all, we'll add it to the list. On March 9, Reichert voted for the GOP plan to repeal and replace Obamacare. Recently, he voted for the SCRUB act, which creates a regulatory committee to identify and eliminate regulations that don't directly increase the GDP. The committee's goals align with White House chief strategist Stephen Bannon's plan to "deconstruct the administrative state," but the irony of commissioning a regulatory agency to cut back on regulations is lost on no one, especially not tax payers who are being charged $30 million for the favor. Reichert twice voted against forcing Trump to show congress his tax returns (once in committee and once in a roll call vote), which may illuminate conflicts of interest and business ties with Russia. Reichert was the only Washington Republican who voted to gut the Office of Congressional Ethics. In 2014, he proposed a bill that would ban welfare recipients from using benefits to buy weed, despite the fact that such purchases were already illegal. In 2010, he voted to maintain "Don't Ask Don't Tell." That same year, Reichert suffered significant brain trauma when a tree branch fell on his head. The resulting hand-sized blood clot that formed in his brain went untreated for two months. In their 2006 endorsement, The Seattle Times editorial board applauded Reichert for his "conscience-driven independent streak," but, that same year, during a speech before the Mainstream Republicans of Washington, Reichert expressed his readiness to vote along party lines, saying: "when the leadership comes to me and says, 'Dave, we need you to take a vote over here because we want to protect you and keep this majority,' I... I do it." Though he has voted for some land conservation efforts, Reichert describes his pro-environment votes as "chess pieces, strategies" to hold his seat in a swing district. (RICH SMITH)