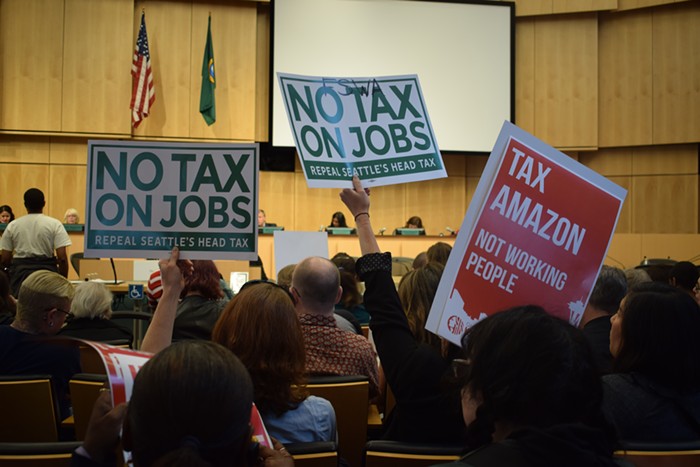 In a humiliating reversal, the Seattle City Council voted to repeal an employee hours tax passed unanimously less than a month ago, pleasing large businesses and leaving service providers wondering where the local government will get the money it desperately needs to solve the growing housing crisis.
The repeal passed 7 to 2 during a raucous special meeting that often erupted into pandemonium. With their vote today, council members stripped away a new ordinance that would have collected $275 per employee from businesses grossing more than $20 million annually, about three percent of businesses in Seattle.
Council members who voted for the repeal included Sally Bagshaw, Lorena González, Bruce Harrell, Lisa Herbold, Rob Johnson and Mike O'Brien. Mayor Jenny Durkan, who signed the tax on May 16, is also expected to put her signature on the repeal ordinance.
Teresa Mosqueda and Kshama Sawant voted against the proposal.
Reporters struggled to hear the actual vote, as supporters of the head tax erupted into chants of "Shame!" and "Vote them out!" that drowned out the roll call.
Amazon, who last month protested the council's discussion of a head tax by halting downtown construction, released a statement calling the repeal "the right decision for the region's economic prosperity."
The tax would have raised an average of $47.5 million per year. It would have gone into effect in 2019, giving the council the option for renewal after five years.
City council members say they voted to repeal the tax because they've been backed into a corner. Just days after Durkan signed the head tax on May 16, businesses launched a campaign to repeal the ordinance through a ballot referendum. Under the name No Tax on Jobs, they quickly raised more than $375,000 to mount an aggressive signature gathering campaign, most of the cash going to a conservative consulting firm called Morning in America, which worked with Donald Trump's presidential campaign.
Amazon, Starbucks and Paul Allen's Vulcan chipped in $25,000 each. The Northwest Grocery Association and Washington Food Industry Association donated $50,000 and $30,000, respectively.
On the day of the special meeting, the group had gathered more than 45,000 signatures, far surpassing the threshold of nearly 17,000 required to put the ordinance on the November ballot.
Three council members sponsored the head tax, but voted Tuesday to repeal it. Council members Herbold, González and O'Brien said they supported repealing the tax to avoid a months-long political fight against business groups replete with money.
Herbold, citing conversations with No Tax on Jobs and "lots of polling data," said she believed the "vast majority" of Seattleites opposed the head tax.
"I and other people out on the streets have reached the conclusion that this is not a winnable battle at this time. The opposition has unlimited resources," Herbold said before casting her vote. "I say this with a heavy heart. I don't want the repeal of the EHT to be a loss. It's a temporary setback and I am dedicated to find progressive revenue sources."
Herbold said head tax opponents have convinced the public that Seattle has not efficiently spent existing funds intended for homelessness services, despite thousands of people experiencing homelessness getting placed in permanent housing. The problem, she says, is the city needs to spend much more.
"What this has proven is various components of our community have the power to stop things," O'Brien said.
González made the same political point, while stressing the work that went into the head tax. "It gives me no please to have to repeal this vote because I think this law was well done. We pursued a process for nine months to do outreach ... to make concessions we did not want to make."
Council members originally proposed a larger head tax of $500 per employee, but cut it nearly in half a compromise with Mayor Durkan.
Sawant characterized the repeal as a "cowardly betrayal" of working class Seattleites and a "capitulation" to business interests.
"I have a newsflash for council members who say they have no choice," Sawant said during in a press conference before the meeting. "If you thought this was going to be easy, if you thought big business was not going to mount a serious campaign of opposition, spread lies and misinformation, then you have been living under a rock."
Council member Mosqueda, the other no vote, stressed the desperate need for additional revenue to address the housing crisis. "I cannot in good conscience vote to repeal this proposal without a replacement," said Mosqueda. "Without progressive revenue options at hand, we are asking families to pay more in property and sales taxes."
In a long speech that emphasized the importance of consensus-building, Mosqueda implored businesses to work with the city on solutions. "I don't care if you're with business or labor," she said. "A hollow handshake and a broken promise is not good practice. So I want to make sure that have a conversation about the importance of coming to the table. I will sit at any tax force. I will work with anybody to find solutions to make sure that not one more person or one more family goes onto the streets and is living outside and dies out there."
The Seattle Metropolitan Chamber of Commerce, a vocal opponent of the head tax, declined to participate in a task force convened earlier this year to come up with new progressive revenue options, which eventually led to the head tax proposed by council members in April.
Advocates for the homeless decried the repeal. "Show me a progressive tax and I'll show you a tax the business community is going to hate and fight tooth and nail. Where will that money come from if we don't have the courage to take it?" said Tim Harris. His group, Real Change, invited supporters of the head tax to ring a gong outside City Hall 6,320 times in honor of the number of people sleeping outside in King County.
Megan ringing the gong at City Hall. We'll hit it 6,320 times today which represents the number of folks sleeping outside in King County. For the first time in the history of the annual one-night count, the unsheltered homeless outnumbered those in shelter & transitional housing. pic.twitter.com/n1MzJ3PAns
— Real Change (@RealChangeNews) June 12, 2018
A one-night count released last month showed that more than 12,000 people experience homelessness in King County.
An analysis by the consulting firm McKinsey and Company, written in partnership with the Seattle Metropolitan Chamber of Commerce, found that King County needs an additional 14,000 units, at a cost of an additional $200 million, to meet the affordable housing needs in the region.
This is a developing story and will be updated with new information.