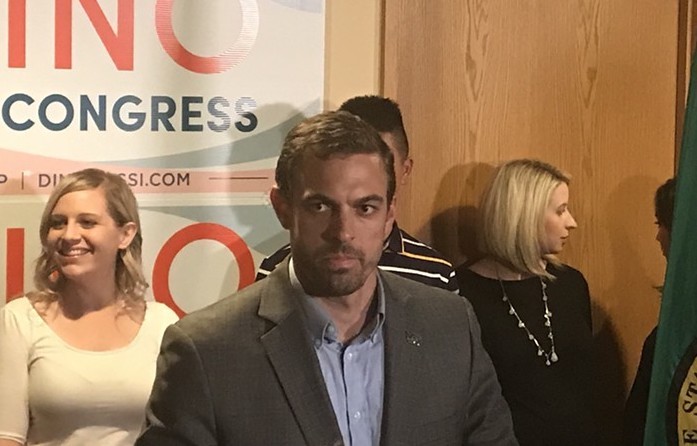 Last night the Washington State GOP kicked me out of the election party they were hosting for Dino Rossi and Susan Hutchison. As my closest friends will tell you, my modesty is legendary and the very essence of my being shrinks from the spotlight. I would never dream of directing the reader's attention away from the story at hand and toward me, a mere vessel through which language passes, a floating eye with a tape recorder, a roving cloud in trouser shorts. This is especially true for a story as important as the results of the Washington State primaries, which saw signs of a blue wave sweeping across the state's legislative and congressional districts. I mean, really, when was the last time I ever made any story about me and my own views, my own work, my own life? When was the last time ANY writer at The Stranger did anything even remotely like that?
And yet in Crosscut, Seattle's own mascot Knute Burger said that the GOP booting me from their party was "the biggest news of election night from Dino-land." Plus, The Seattle Times saw fit to include a high res photo of me in their digital live coverage of the primaries.
lol @richsssmith@seattletimes: "A reporter for The Stranger enters the State Republican Party headquarters after initially being asked to leave."https://t.co/DI3bBOkJ8U pic.twitter.com/jANMexDxgY
— Chase Burns (@chaseburnsy) August 8, 2018
And so—in this case and only in this case—I feel the need to step out from the shadows and tell my story, to make my voice heard, if only as a way to publicly invoice Republican Dino Rossi for quoting me in his acceptance speech only two hours after kicking me out of his fucking party. Dino Rossi: You owe me an Italian dinner.
Last week some Republican flack told The Stranger that the GOP's election party was going to start at 8:00 p.m. in an office building in Bellevue. Having covered millions of these parties before, we were not exactly fooled by this intern's ruse. Later on, we learned the party actually started at 7:00 p.m.
Anyhow, I walked into the building along with two Crosscut reporters, who also happened to arrive a few minutes early. Stranger writers are tasked to write two posts at the site of the event—one post before the election results drop and one post after the election results drop—so we like to get to venues as early as we can. The paper has a long history of writing 1,000 words about the surprisingly good/bad/patriotic food, 1,000 words about what people are wearing, and then 500 words about the election results. All of this is done, of course, in the spirit of Democracy, freedom, and conservation—we hate letting a plate of lemon bars go to waste.
In the lobby, a young communications flack named Kyle Fischer greeted us at a little welcoming podium. All smiles. But when we introduced ourselves and our respective outlets, Fischer told me the party was a "closed event" and that The Stranger hadn't filled out an RSVP. I asked why The Stranger was being barred from entry when other outlets were not. He gave me the RSVP line again. I talked in circles for a little while. The Crosscut reporters stood up for me, saying they didn't think it was fair that I was being denied entry and directing Fischer to answer my questions when I asked them.
When Fischer left briefly to attend to another matter, I saw a woman walk in, confess she hadn't signed an RSVP, and then ask if she could come in anyway. Another Republican volunteer told her she could just write her name on one of the empty name tags piled next to a stack of pens.
Every other news outlet—The Seattle Times, Crosscut, King 5, KOMO, etc.—was welcomed and given mostly unnamed press tags. Tags for Natalie Brand (KING 5), Amy Radil (KUOW), and Jim Brunner (Seattle Times) were pre-printed, but anonymous "press" lanyards lay piled on the welcoming table. This was not about a fucking RSVP.
When Fischer returned we had some more strenuously polite conversation, during which he told me he was "just doing his job" by escorting me outside. He banished me to the steps outside the "private property" and said I could stay there unless someone came out to push me farther back. With the door open I repeatedly asked why The Stranger wasn't being let in when every other outlet was, and Fischer specifically pointed to our negative coverage of Republicans and of the candidates they planned to celebrate tonight.
Reporters from local outlets overheard all of this go down and immediately took to Twitter. One of the reporters said he hadn't seen anything happen like this in his 25 years of reporting. In the middle of a busy and consequential election night they all had to cover, in the middle of arranging meetings and conducting interviews, reporters from newspapers and TV and digital mags all found the time to show solidarity for one of their colleagues. In a political moment when the President of the United States is referring to the press as "the enemy of the people," this show of support moved me deeply.
After pressure from other members of the press, Kyle walked outside with a press lanyard for me. He said I could come in so long as I played nice, which only reinforces the idea that the whole reason they were barring The Stranger from entry wasn't just because of some RSVP bullshit, but because we've been critical of their party and its policies.
Does the chair of the Washington State's Republican Party agree with the President that the press is the enemy of the people? He says he doesn't. "I think The Stranger has demonstrated that it is the enemy of the Republican party, the enemy of our candidates... I don't think they report the facts... I don't think The Stranger has been fair in their treatment of Republicans," Heimlich said. HAVE YOU READ WHAT WE'VE WRITTEN ABOUT DEMOCRATS, CALEB? ALSO, IF WE WE DON'T "REPORT THE FACTS," THEN WHY DID YOUR BOY ROSSI UNIRONICALLY QUOTE FROM MY REPORTING TO SUPPORT HIS POINT?
Anyhow, as you can see from my reporting last night, I got in and reported the facts as I always try to do. I have and will always add commentary—so long as I work at The Stranger, and so long as I have time—in the service of informing our readers without boring them to tears. I was let in at the mercy of the Republicans, it's true, but only under pressure from other journalists. So, thank you Seattle journalists. Your support meant a lot.
As for you, Washington Republicans? PLEASE CONSIDER THIS POST MY RSVP TO ALL FUTURE ELECTION NIGHT EVENTS.