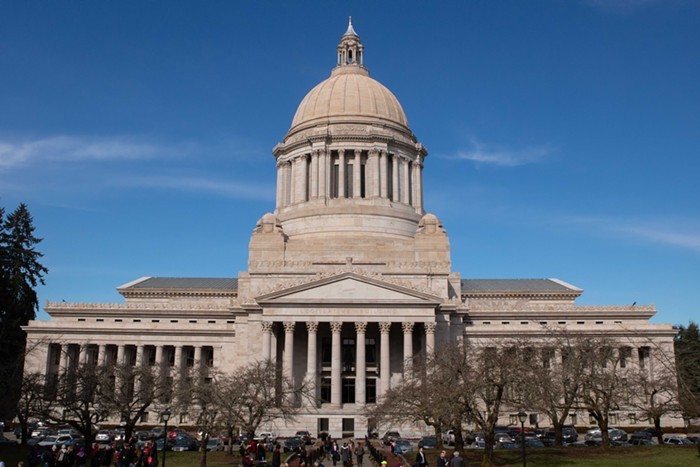 Late Sunday night the Legislature passed Initiative 1000, which effectively repealed Washington's 20-year ban on affirmative action in public employment, college admissions, and public contracting.
State universities and contractors still cannot use quotas for hiring or admissions, nor can they consider "race, sex, color, ethnicity, national origin, age, sexual orientation, the presence of any sensory, mental, or physical disability, and honorably discharged veteran or military status" as the "sole" reason for hiring someone, but, all else being equal, they can take all that stuff into account.
In 1998, voters passed I-200, which banned affirmative action statewide. Since then, according to the Washington State Office of Minority and Women's Business Enterprises, businesses run by women and minorities have only represented between 1 and 3% of state contracting dollars, "which is far below current and historical established goals." In the five years before the initiative passed, the state was spending 10 percent of its contracting dollars with those businesses.
"I-200 was sold 20 years ago as something that would be fair to everyone, and that's clearly not the case," said Rep. Javier Valdez (D-Seattle) over the phone after the vote. "With the passage of I-1000, hopefully we can remedy the harm that I-200 has done to our women and minority-owned business community over the last two decades."
Sen. Joe Nguyen (D-White Center) agreed. "I think people will look back on this moment as history being made," he said. "Passing legislation like this will move the needle in making sure that everyone believes that they're part of this system. This will have effects for generations to come."
The bill passed the Senate with two "Democrats"—Sen. Mark Mullet (D-Issaquah) and Sen. Tim Sheldon (D-Mason County) voting against it, and with Sen. Guy Palumbo (D-Maltby) excused. As you might expect, Republicans were in rare form.
Mullet said he'd probably personally vote for I-1000 if it were an initiative on the ballot, but ultimately, he said, he was going to vote against it on the floor in order to keep "a verbal promise" he made to opponents of the measure.
Earlier in the day, Rep. Brandon Vick (R-Vancouver), who, like the majority of the Republican caucus in both chambers, is a white man, claimed without data that a lot of "people who didn't look like him" opposed the bill. Indeed, at the close of day, some of those opponents sat in the Senate galley and shouted "let us vote," hoping lawmakers would drop the bill and let it go to the ballot.
Sen. Doug Eriksen (R-Whatcom County) claimed the bill wouldn't help rectify two decades of racist policy but rather stir up racial division. "The division in our state is being highlighted like I've never seen," he said. "We are divided, we're segregated, that is what legislation like this does."
Sen. Keith Wagoner (R-Sedro Woolley), who called adversity "a gift," asked his colleagues "not to make this about race," and then argued that the very presence of Sen. Joe Nguyen in Senate chambers was an argument against the bill. "He's proof that our system lets people move up," Wagoner said.
"I knew that was going to happen," said Sen. Nguyen over the phone after the vote. "I knew they were going to use me as an example for why we don't need this."
In response to these arguments from Republicans, Nguyen had to explain tokenism to grown men and women. "Just because one person gets through doesn't mean everyone has an equal opportunity to get through. We have barriers. They're systemic," he said. Initiative 200 clearly perpetuated that systemic racism, as statewide college enrollment numbers and government contracting data show.
Sen. Patty Kuderer said I-1000 will allow for greater recruitment and outreach in public contracting, and it will help universities recruit faculty who more accurately reflect the student population they serve.
There's been some loose talk of a legal challenge to the initiative, with some saying it effectively sets up quotas and others implying that veterans are getting "preferential treatment" under the bill, but Kuderer said she "does not see that approach to a lawsuit being successful."
"This is just the beginning," Nguyen added. "This is just one step. We must continue to make sure we have representation in all aspects of our society; in government, in business, and wherever else. We're not done, and the work is not done."
Update: Welp, looks like there probably will be more work to do on I-1000. Monday morning, a group called the Washington Asians for Equality filed a referendum to repeal the initiative with the Secretary of State. They'll have to get 129,811 signatures from registered voters by July 27 in order for the question to go to a vote in November. Their warm feelings for former Sen. Mark Miloscia and Dino Rossi , two known losers, do not inspire confidence.