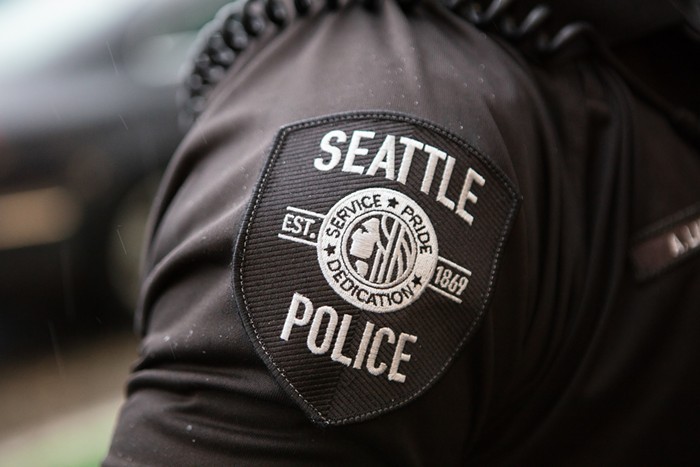 Because state and local legislators lack the political will to raise enough money for housing and mental health services, people in Seattle see and experience some rough stuff on city streets. I've seen people screaming death threats, people walking into the middle of oncoming traffic, and people wandering around with pants around their ankles swinging around a stick of rebar.
If you're a hack from KOMO news, you train your camera on these people and then produce a schlocky, fear-mongering feature that frames all people in crisis as voluntarily homeless drug addicts who deserve to be forcibly incarcerated on an island. But what do you do if you'd rather try to help them, instead?
We're trained to call the cops in emergency situations, or in situations that might become emergencies. If you see something, say something, etc. But police departments don't extensively train their entire force to handle people who appear to be suffering a mental health crisis in public. (Though the Seattle Police Department dedicates "8 hours of crisis intervention training annually" to all its officers, cops have to volunteer for extra training to become certified as members of the Crisis Intervention Team, according to SPD's manual.) As a result, calling the cops to handle a crisis situation can feel like calling a bully or an executioner. That's not exactly hyperbole. According to a recent study, almost one-quarter of the people who cops have killed "displayed evidence of mental illness."
Moreover, some communities with historically complex relationships with the police might not want to call them up regardless of the situation.
In response to these concerns, I asked service providers and mental health organizations what to do in two common situations. (1): Who do I call (if not the cops) if I see someone having a mental health crisis in public? (2): Who do I call if I'm worried about someone who I've seen on the street for days, and I just want to make sure someone's checking up on them, but not the cops? Here's the advice they gave.
Some Non-Cop Options
If you see someone in the street who appears to be in crisis, Katie Mahoney, a social worker and program manager with the Seattle branch of the National Alliance on Mental Illness, told me she suggests contacting Crisis Connections at 866-427-4747 as a first step. "Remember to describe what the person in crisis appears to be experiencing, rather than how the situation affects you," she says.
If you feel comfortable trying to intervene yourself, NAMI recommends attending their Mental Health First Aid training class. The classes give you a crash course on basic mental health, teach you de-escalation techniques, and show you how to connect the person in crisis to resources. The next Seattle training is June 15.
When asked if it would be better to just kinda walk on by rather than intervene or call the cops, Mahoney strongly disagreed. "While the ramifications of calling for police intervention absolutely differ from neighborhood to neighborhood, we at NAMI Seattle definitely do not believe that the only other alternative is to 'just kinda walk on by' someone who is in obvious pain, distress, or otherwise experiencing mental health symptoms."
Another outreach option for people living in Seattle, which is seldom if ever available on demand, includes placing a call with the Homeless Outreach Stabilization and Transition (HOST) program at the Downtown Emergency Service Center (DESC).
Though people suffering from mental crises in public aren't necessarily homeless, there are a number of people who live on the streets with untreated mental health issues. In the 2018 Count Us In survey, which surveys homeless people identified after the Point-In-Time Count, 44% of respondents said they suffer from psychiatric or emotional conditions, 37% said they suffer from PTSD, and 35% said they deal with drug and alcohol abuse. Those are the people HOST tries to seek out.
HOST is composed of "16 mental health, chemical dependency and medical professionals," according to DESC. They actively search for people living on the street with mental health problems and try to deliver services to them. Daniel Malone, executive director at DESC, says you can call their outreach supervisor at 206-464-1570 x 3055, or email them at HOSTreferrals@desc.org. Describe the person you're concerned about and their location, and they'll put it on their "list of people to look out for and make a proactive effort to find." Malone stresses the call "probably won't result in an outreach worker being dispatched right away" due to the small size of their operation.
The 9-1-1 Path
Some of the best options, according to Malone, require you to dial 9-1-1. For instance, DESC runs the Mobile Crisis Team, which is a group of 26 "mental health professionals and chemical dependency professionals" who respond to referrals from cops or medics 24/7.
If the situation you're concerned about demands immediate attention, there are a few things you can say to the dispatcher to get the most compassionate and/or useful response.
Malone says you should clearly distinguish for the 9-1-1 operator whether the situation appears to be a health problem or a safety issue. Health problems generate a response from fire departments (which tend to be faster), whereas safety problems will draw the cops.
If it's a mental health issue and safety issue, both Malone and Mahoney recommend telling the dispatcher you require a responder who is "trained as a Crisis Intervention Team member," aka a CIT officer. Saying "I think there may be a need for the mobile crisis team," will also help, Malone says.
Though there are real and understandable reasons not to call the cops if someone appears to be endangering themselves or others, if someone is committing a crime, sometimes calling the cops is the only option we have. Malone stressed that the vast majority of the time the officers are genuinely trying to be helpful and come to a resolution without exerting force, "and many of them are pretty damn good at it" he added. "The trick is when things start to get hairy, and the person appears threatening in some way—that's where it can become a lot less predictable."
What About People Who Aren't Necessarily in Crisis, but Who Appear to Be Homeless and in Need of Help?
"Sometimes I get these phone calls," says Alison Eisinger, executive director of Seattle/King County Coalition on Homelessness, "It's snowing, it's freezing cold, there's someone in a wheel chair next to my bus stop, and I don't know if they're asleep or passed out."
In those situations, Eisinger encourages people to just ask that person if they're okay, or ask them if they need any food, coffee, or bus fare.
If they're unresponsive, Eisinger says calling 9-1-1 and saying "I'm concerned about someone's well-being" is "totally fine," too. However, if you do call emergency services, Eisinger suggests you consider hanging around "to share whatever information you've gathered, to comfort someone who is in distress, and to observe how the first responders are able to respond."
Though Eisinger acknowledges that many medics, cops, and fire fighters are "well-trained and compassionate," she also thinks "we do not have a good general response for people experiencing bad things in public."
So, while you have your phone in your hand, you might take a minute to call your city, county, and state representatives and tell them how you feel, right there in that moment. Eisinger offers a brief script: "I'm not calling to complain about people being homeless. I'm calling to complain that we're allowing people to be homeless without basic dignity, shelter, or hope. I can't stand worrying about this person. This is not an isolated incident, and I want our budget to reflect a bigger response."
"I never find it acceptable to say what's needed is outreach," Eisinger added. "People need a response that is going to last more than five minutes."
Malone agreed. "The bigger question with all this stuff is, 'Why are so many people having crises like this? And what should we be doing to avert so much of that in the first place at a higher level?' That's a bigger policy conversation, of course. But we have to talk about bigger solutions here," he said.