It's raining hard in Lake City as Debora Juarez runs through the north Seattle neighborhood's farmers market, carrying a clear umbrella and ringing a bell to announce that the market is officially open for the first time this season.
This rain isn't Seattle's famously innocuous winter drizzle—it's a hard spring rain with fat, cold drops that soak your clothes. But despite the weather, an animated Juarez won't let me finish my question before telling me she feels more comfortable here, walking through the rain and ringing a bell she considers a bit hokey, than she feels sitting in the city council chambers ten miles away in downtown Seattle.

"Yes! This is where I want to be," Juarez says. "Out here working in [District 5] with these people. This is why I ran for council, to work in the district."

This has been Juarez's pitch ever since she was first elected four years ago: she fights for her district, she holds her own district above the rest of the city, and she brings projects and investments to the often-overlooked northern edge of Seattle. But in a year when anger at the council and its incumbents may be at a boiling point, and at a time when trust in government is low, can Juarez win on this "I take care of my own" pitch?
She has at least two sizeable projects to point to—a new professional hockey training facility in Northgate and a new light rail stop at 130th—but the training facility is years from being completed and the light rail stop won't be functional for decades.
Meanwhile, anger towards Juarez and the rest of the council is very much a present reality.
The business community is angry over the council's passage last year of the now infamous head tax, which Juarez voted for—and then quickly voted to repeal. Progressives are unsatisfied with the city's continued criminalization of homelessness, a critique that implicates the entire council. And virulent NIMBYs are looking for blood over the council's attempts to upzone parts of the city, a pro-density push that Juarez has supported.

Juarez isn't a Mike O'Brien liberal or a Tim Burgess conservative, which often puts her in the middle of the council's ideological battles, and that's fine with her. She's spent over 30 years living in North Seattle and walked a unique path to the council: attorney in high-stakes native rights litigation, single mother, Latina woman, enrolled member of the Blackfeet Nation.
She's a fighter. She's also hard to predict, and city insiders sometimes complain that she's too unpredictable. Juarez's self-admitted reluctance to do interviews doesn't make her any easier to pin down. She frequently shuns the media, only speaking to reporters when she feels it's a project she wants to comment on.

"I guess I'm always careful with my words," Juarez tells me a few minutes after her bell-ringing duties are satisfied. "I'm not an attention, media grabber. I'm not going to speak at every rally. I don't like to talk unless I have something to say."

But now that Juarez is facing six challengers—with two of them, Ann Davison Sattler and John Lombard, equaling her fundraising totals—she has a lot to say. My one hour interview with Juarez stretches well over two hours as she speaks about her fierce advocacy for that light rail station and the hockey training facility, why she supported the deeply unpopular North Precinct Station dubbed "the bunker" by activists who wanted the project blocked, how she responds to homelessness, how it feels to get signed death threats sent to her, what it felt like to get attacked after a video of her tersely responding to a public commenter went viral, how she deals with her multiple sclerosis diagnosis in office, and why this might be her last election ever.


AWOL or Always There?
Almost as soon as Juarez and I walk out of the rain and sit down at a table inside the newly remodeled Lake City library, she surprises me. I start our conversation by asking what's on the list of accomplishments she brings to doors and community events along the campaign trail. It's the type of open-ended question reporters use to get a politician comfortable before bringing up things they'd probably rather not discuss. But Juarez doesn't bite.
"I don't just show up and say, 'Hey I don't know if you know this, but I'm your council member and I did this,'" Juarez says between bites of hard-shelled tacos, purchased at the farmer's market and brought into the library because in Juarez's estimation she's allowed to eat in the library.
"[Constituents] are really well informed. On a lot of issues—they know what I've done. It's kind of like, 'When is NHL coming? When is light rail coming? When is our community center coming?' Because I'm in the community so much, everyone knows what I've done and not done."

John Lombard feels differently. An environmentalist and a north end community organizer, Lombard is the best resourced of the eight people running against Juarez, raising $44,285 as of June 17, more than $4,000 higher than Juarez's fundraising on the same date. Lombard is a longtime community fixture, having organized a network of local groups specific to the district. He also wrote a book, published by the University of Washington, about saving Puget Sound.

"When I doorbell and talk to people who have tried to reach Juarez's office about anything," Lombard tells me by phone, "by far the most common experience is to have not received any response at all. She says she is fighting for the community, but she doesn't actually meet or talk with the community and then make that the base of her priority. I see that all the way across the district."

Lombard says Jaurez's biggest blind spot is the northern stretch of Aurora Avenue, a suburban-style highway on the Northwest side of town that has long been home to the seedier side of North Seattle. Lombard says the street is unsafe in many ways, including lacking sidewalks.

"Aurora is… certainly the most neglected place in District 5 and arguably the most neglected in the city," Lombard says. "If I was elected the transformation of Aurora would be one of my top priorities, and it is something that she has neglected."
Sattler, a local attorney that has been endorsed by the right-wing group Safe Seattle, declined to comment for this story.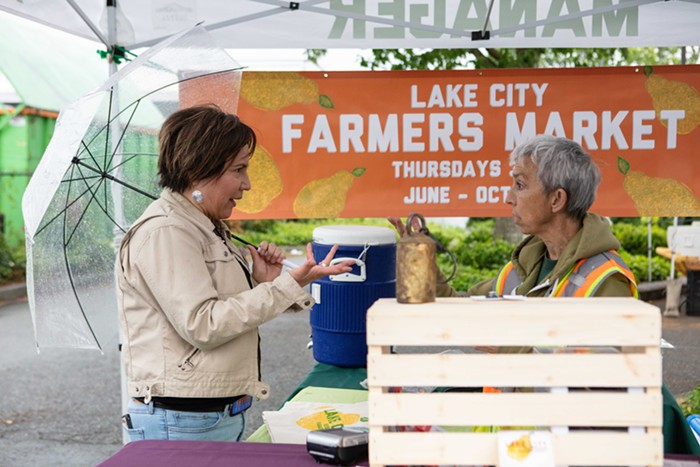 When I bring up Lombard's critique to Juarez at the Lake City Library, she doesn't hesitate to say Lombard is full of shit.
She points out that she is the only council member to have a district office (located in North Seattle College) that is open most Fridays. As for the Aurora Avenue claim, "That is just absolutely not true," she says. "That has not been overlooked."
Juarez tells me she's been fighting for more sidewalks and her advocacy has won her strong support in the nearby Bitter Lake and Licton Springs area. She also points to a foodbank in the area that she fought to get $20,000 for from the mayor's budget, as well as her work on low-income housing in that specific area of the city. For example, she says she fought for funding for Clement Place, a 100-unit project that was funded by $9 million from the city of Seattle and is expected to open in 2022.

The conversation soon turns to areas in which Juarez has more indisputably been a leader, the biggest being the plans for a new light rail train station at 130th street.
The station wasn't likely to become a reality until Juarez put all her political capital behind it—telling Sound Transit that unless they added it to the Sound Transit 3 ballot initiative she would fight against the measure. Sound Transit caved and gave her the station, winning her district an additional station in a region where any mass transit investment is coveted. The station is expected to open in 2031.

Juarez's other big key project is the redevelopment of the KeyArena, work she did after a bruising fight over a different arena in SoDo. Juarez was one of the five council members who voted not to sell a city street to billionaire Chris Hanson, effectively blocking him from building a basketball arena in SoDo. All five of those votes were cast by the council's female members, something the general public took notice of and turned into vicious attacks.

"I dealt with racism and sexism my whole life," Juarez tells me. "I just didn't know that as a politician, people would be so brazen about threatening to rape me and cut my head off. I did get caught off guard that so many men said the most vile things and would threaten me and then they would sign their name, like 'Bob so-and-so, Burien.'"

Juarez followed up that ugly episode by doing something that surprised some City Hall watchers: she took the lead on redeveloping Seattle Center's KeyArena. She tells me these two events aren't connected—she took on KeyArena because it was a good idea, not because she was trying to make up for anything that happened in SoDo.
Juarez chaired the committee that negotiated a deal with a private developer who is now spending close to a billion dollars remodeling the KeyArena and has already secured an NHL team. Like other local politicians, she definitely likes to repeat that the city is getting the building for free—which is not true. The city is handing over hundreds of millions in incentives to a private company as part of the deal. The developer has already secured a new professional hockey team but they have yet to bring an NBA team to Seattle. Juarez is confident enough to guarantee that the redeveloped arena will bring the Sonics back.

"Oh, we are going to get an NBA team," Juarez says. "Like any business, you have to nail down that anchor tenant, you have to show the market that we are a viable city."

I point out that this project is in Lower Queen Anne, miles away from her district's border. But before I can question how this squares with her image as a district fighter she jumps in and tells me that the NHL deal is also good for her district. She used her position to secure an NHL training facility at the Northgate Mall in the heart of District 5. She says that without her on the council, that training facility wouldn't be in Seattle.

"They tried to put it in Tukwila," Juarez tells me. "Tukwila gave them 10 acres for free. And I'll tell you exactly what I told them, 'I did not get my ass kicked for 18 months for you to put my training center, our NHL training center, our Seattle hockey team, in Tukwila.'"

The two companies announced the $75 million Northgate training center in 2018 and expect it to be completed by 2021. The huge project will be one of the biggest developments in District 5 in years, but it also will happen years after Juarez wins or loses this year's election. So this year, as she campaigns to hold onto her seat, issues like homelessness and constituent services seem more likely to surface.
The Video
Juarez recently became the poster child for an out-of-touch Seattle City Council when, in a March, a video went viral that showed her brusquely telling a frequent City Hall public commenter to stay within his two-minute time allotment. A brief frame of the video shows some of the councilmembers appearing to look at their phones before the edited video focuses on the man, who proceeds to lecture the council to not look at their phones.
The video was posted to Reddit and then went everywhere, getting picked up by both local and national conservative media outlets as an example of Seattle's liberal politicians being indifferent to constituent concerns. But Juarez says the man directly told her after the video went viral that she is not the problem. "I had a good talk with him," Juarez tells me. "And he just goes, 'Well, I know it came off bad, but it wasn't really you because you were listening.'"
When it comes to homelessness, Juarez is quick to argue that Seattle is ill-equipped to solve the housing crisis when it is, in fact, a regional problem that requires regional solutions. She says her biggest hope is to create a public development authority—a type of government-owned corporation—that could directly build housing. Juarez believes the city and county should have created one years ago, but when I ask her when she expects one to come to fruition she doesn't have an answer.
Juarez does say that she frequently visits encampments that are spread throughout her district, trying to find creative ways to house people and provide services. About halfway through our interview a Menonnite pastor with a church in the neighborhood walks up to our table. Juarez and the pastor chat about different encampments in the neighborhood and which encampments are accepting services and which weren't; Juarez appears deeply knowledgeable of the local encampments during their conversation. She also points to a handful of new planned affordable housing buildings she says she's helped develop inside her district, including new units on North Seattle Community College's campus and a new affordable housing apartment building opened in October of last year in downtown Lake City.


The Bunker
Juarez faced a bitter backlash, along with the rest of the council, when they were going through the final approval process for a new North Precinct police station in the summer of 2016. The station's $149 million budget became a flashpoint that Black Lives Matters activists rallied around, calling the precinct "the bunker" and vowing to block it. The activists won after they convinced a majority of the council, including Juarez, to put the station on hold. As we're sitting in the library I ask Juarez if she understands why the activists were alarmed at the city spending over $100 million on a police station, a question that seems to offend her.
"Of course I do!" Juarez says to me. "You think I don't know what the prison industrial complex is? I am a fucking woman of color. I grew up on the rez. I was a public defender. I worked at juvie."

Juarez adds that ultimately the station was planned and green-lit long before she was ever in office, and she couldn't see how further delaying a needed North Seattle police station would accomplish anything. She believes the council's time would have been better spent making decisions about how the city operates its police force.

"We have a choice about who goes in those buildings," Juarez says to me. "What those spaces are going to be used for. And dammit, if I'm your city councilwoman you're damn right I'm going to make sure it's done right. I was really offended by what some people were accusing me of."

"I got called a race traitor," Juarez added.
The Missing And Murdered

The information being read aloud during a recent hearing of Juarez's Civic Development, Public Assets, and Native Communities Committee was heartbreaking enough to upset anyone listening. An investigation by Seattle's Urban Indian Health Institute found 5,712 reports of missing native and indigenous women across the country in 2016, yet the Department of Justice, in a long-standing practice of our government ignoring tragedies in Native communities, had only tallied 116 of them. When the institute took a closer look at 506 cases they found that 56 percent of the cases were murders and that Seattle was home to the largest share of missing or murdered native women for any single city, with 45 cases.

But for Juarez, hearing about missing and murdered women is particularly painful. This is her community, and the brutalization of native women is something she has a deeply personal experience with.

"I wanted to cry," Juarez says to me later at the Lake City library, two days after the hearing. "I was literally holding it together. I knew from my own history of being sexually assaulted and abused that it was going to be—and I hate using that word, 'trigger'—but I guess that's the word now. I knew that was going to happen."

Juarez is the first native council member in the history of Seattle. That's both inspiring but also fairly depressing when you consider that it took nearly 150 years for a city that sits on stolen native land and is named after a native chief to have a native legislator.
But Juarez is using her lived experience to, in some ways, rewrite how the council does its business. It wouldn't be too surprising to see another council member listen intently to the Urban Indian Health Institute's presentation in council chambers, but Juarez didn't just give space to the presentation; she gave that presentation an entire committee hearing of its own. And back at the Lake City Library, she tells me she's expecting to introduce two or three different pieces of legislation aimed at solving the problem of missing and murdered native women in Seattle.

When I ask Juarez how her identity as a Latina and a Native woman factors into her political strategy, the question seems to annoy her. To her, she's the "sum total of all of those" experiences that have shaped her, from her legal career to raising two daughters as a single mother.

"I was a public defender for five years," Juarez tells me, "and when you're a public defender you learn to lose a lot. But you're ok with that. That's kind of the philosophy I take as a leader. I have good days, I have bad days. There's stuff that I feel like I've been successful on, there's stuff that I think maybe we compromised on too much. But I never felt like I lead with my race."
Juarez says she leads with her identity as a Latina or a native woman when she is with those communities, something I saw at the Civic Development, Public Assets, and Native Communities Committee meeting when she exchanged stones from her tribe's sacred river with the Native people giving the presentation. But her identity as a leader encompasses far more than those labels.
"I am Debora Juarez, mom, three-time cancer survivor, I have M.S., I work my ass off to get where I'm at," Juarez says. "Nobody gave me anything."

Juarez tells me she was diagnosed with multiple sclerosis, a neurological disease, in 1999. She says her symptoms are largely under control, but she still deals with a constant risk of falling ill from things like exhaustion. When I ask how she feels going into this election season she says she feels nothing but strength.

"We have delivered to the city and we have delivered to the district," Juarez tells me. "I think people are going to remember me as someone who worked really hard for this district as their very first district representative, and [as an example of] why it was good to go to district representation."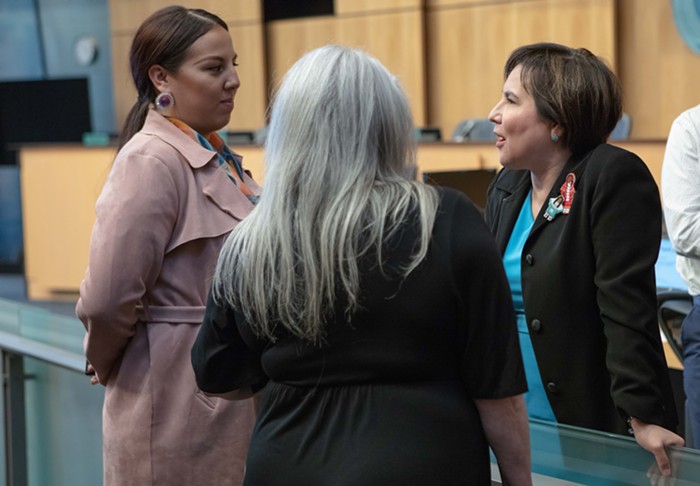 Before we walked into the Lake City Library, one of Juarez's aides tried to sit in our interview, but Juarez refused to allow her staff sit with us. She said wanted to speak one-on-one, and that she didn't want her staff talking over her or trying to reframe her answers. As the interview closed in on two hours, members of her staff kept popping their heads in, reminding Juarez that she had already given
The Stranger
the one hour she promised me.
After the third reminder, Juarez started to wrap up the interview—but not before she could slide in one more surprising detail.

"I think this will probably be my last election," Juarez says. "I think it's just right to lead to leave. I have some other stuff I want to work on. I want to run a non-profit. I still want to practice law. I want to dig more into Indian country on missing and murdered indigenous women. I want to raise money and keep working on the LGBTQ stuff we've been doing, and trans healthcare. There's just all these projects I want to do."

But first she has another election to win.