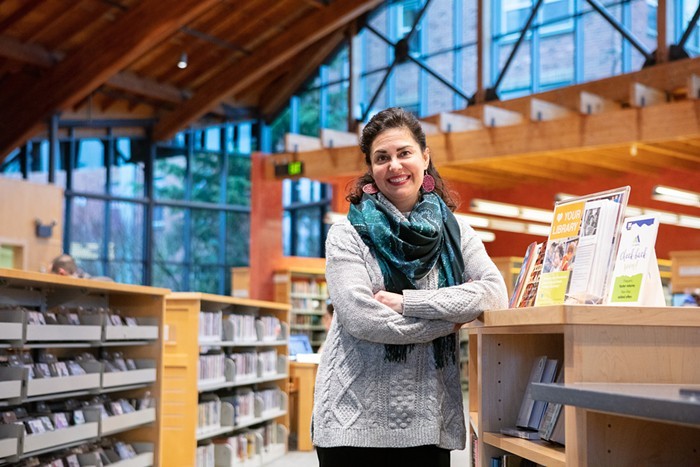 Tammy Morales is not a socialist. She doesn't describe herself as a socialist at campaign events. She has consistently told
The Stranger
, much to the annoyance of some staffers, that she is not a socialist. Yet Mayor Jenny Durkan still
took to her personal e-mail account Monday night
to call Morales a divisive socialist and urge people to vote for Morales's opponent, Mark Solomon.
Morales isn't having it.
"I don't claim to be a socialist, but I think it's ridiculous for someone to try to use it as a scare tactic," Morales told The Stranger today.
Morales told The Stranger in January that she had recently joined the Democratic Socialists of America, but she told us at the time, as she did today, that she did not consider herself a socialist.
In her endorsement of Solomon, a Seattle Police Department employee, Durkan compared Morales to Ari Hoffman, the conservative bouncy house tycoon candidate who endorses sending homeless people with substance abuse problems to jail.
"Adding another socialist like Tammy Morales, or a rigid conservative like Ari Hoffman to the City Council will cause more division in our city," Durkan said in an e-mail sent Monday night.
Morales pushed back on Durkan's divisive characterization, saying she is only calling for policies that will benefit south Seattle's District 2, the most racially diverse district in the city.
"I am running to represent my district, and in my district people want someone who is going to fight for workers, for racial equity," Morales said. "I think there are already many council members who… agree that the history of land use planning, education planning in this city has been racist. If it's divisive to call that out and we need to fix it then perhaps I am divisive."
In addition to Durkan's support, Solomon has the backing of the Chamber of Commerce and their stockpile of cash from Amazon ($250,000), Vulcan ($155,000) and Expedia ($50,000).
Morales, on the other hand, has the support of U.S. Rep. Pramila Jayapal, State Sen. Rebecca Saldaña, and the King County Democrats. That puts a clear distinction between the top candidates District 2's seven-person primary: Solomon has the support of corporations and millionaires like Durkan, Morales has the support of progressive politicians, and Hoffman has the support of a Facebook group called Safe Seattle and the family that owns Dick's Drive-In.
The chance of Morales winning a council seat this year (she nearly won in 2015, losing by only 424 votes) clearly has our Amazon-backed mayor shook. Morales said that might be because Council Member Bruce Harrell, who currently holds District 2's seat, has been a consistent supporter of Durkan.
"If I'm elected that means this seat really does change hands from a council member who has been fairly absent from the district and who has aligned himself with a more centrist, corporate approach to governing," Morales said. "So that was an important seat for her to rely on. If I'm sitting on that seat it will be a different perspective that I take and a different constituent [that I] represent."