Thousands of protesters flooded downtown streets on Saturday to call for an end to Israel's occupation of Palestine and what demonstrators called a "second Nakba" in the Gaza Strip, an area often referred to as an "open-air prison" because of the blockade established in 2007. The blockade penned 2.2 million residents in a narrow piece of land about twice the size of Seattle, leaving water and electricity access to the whims of the Israeli government.
The marchers joined countless other pro-Palestine marches across the world following the Israeli government's campaign to starve, displace, bomb, and otherwise kill Gazans in response to Hamas' attack last weekend.
Just a segmanent of the anti zionist march pic.twitter.com/IO3hBYm02D

— Hannah Krieg (@hannahkrieg) October 14, 2023
The Seattle protesters also called on elected leaders and media in the US to stand with Palestine. The US, Washington State, and Seattle government could use its leverage to pressure Israel to de-escalate, but so far those governments have only offered support for Israel.
A Long Occupation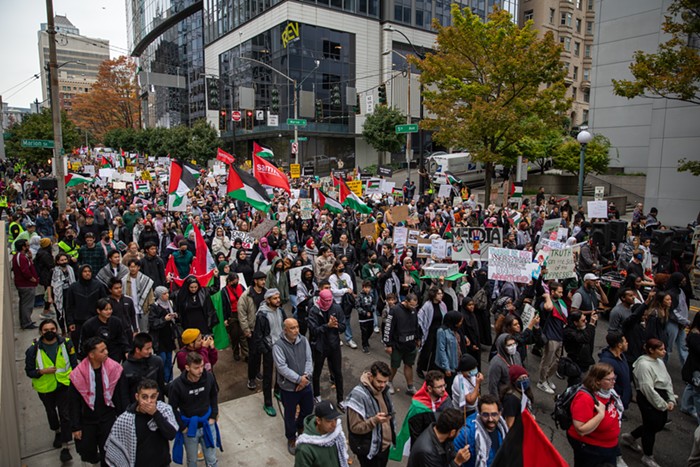 In the rally before the march, organizers briefed supporters on Israel's escalation of violence after Hamas militants killed 1,400 Israelis last week. As of Sunday, Israel had reportedly killed more than 1,500 Palestinians, leveled neighborhoods with bombs, deprived civilians of food, water, and electricity, and allegedly deployed white phosphorus, a chemical weapon capable of melting metal. The attacks rage on as Gazans scramble to escape south under an unrealistic deadline to avoid Israel's looming ground invasion, which could trigger intervention from Iran. 
The protesters made their demands clear in their rallying chants: "Free, free Palestine," "Gaza, Gaza, don't you cry, we will never let you die," "There is only one solution, intifada revolution," and, "We don't want two states, we want 1948," in reference to Palestine's borders before the violent expulsion of three-quarters of Palestinians, an event known as the Nakba. 
"Not Another Nickel, Not Another Dime"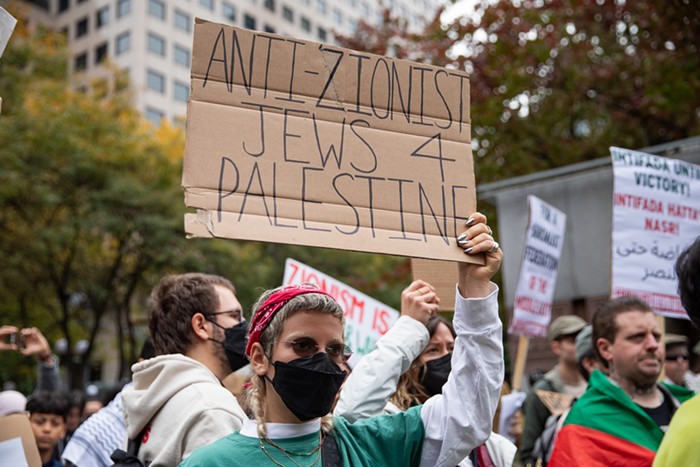 The US has given the Israeli government a total of $158 billion since its creation in 1948. In a 2019 memorandum, the US pledged $3.8 billion in security funds every year for a decade, which accounts for 16% of the country's military budget. 
As such, the protesters condemned President Joe Biden and the US government as a whole for underwriting their violence over the years and for continuing to do so. "Not another nickel, not another dime, no more money for Israel's crimes," protesters chanted. 
Though a threat to cut off or delay funding might cool Israel's jets, recent comments from US officials and members of Congress who help write the defense budget suggest they do not seem hungry to offer such proposals. 
If protestors wanted to apply pressure to federal leaders, Seattle-area US House Rep. Adam Smith, a ranking member and former chair of the House Armed Services Committee, would be a good place to start.
We need to engage with partners to prevent this violence from spreading, provide the support Israel needs to defend itself, and protect U.S. assets and people in the region.

Ultimately, there must be a path toward peace for Israelis and Palestinians. @Acosta @CNN pic.twitter.com/fzyhrW30Av

— Rep. Adam Smith (@RepAdamSmith) October 12, 2023
That said, the Republican-controlled House can't do much until it elects a Speaker, which seems like an increasingly remote prospect, and comments from US Senators range from meek calls for "restraint" to outright genocidal mania. And, ultimately, the President and his national security council hold the most sway in how the US handles the war. Following Hamas' attack, Biden immediately offered full-throated support for Israel, called the few Congressional demands for a ceasefire "repugnant," and sent a couple carrier groups to the region to dissuade further attacks. 
Joe Biden's words on Israel from 1986..... pic.twitter.com/STx1uFwywn

— Sprinter (@Sprinter99800) October 12, 2023
Tax Breaks for Partners in Violence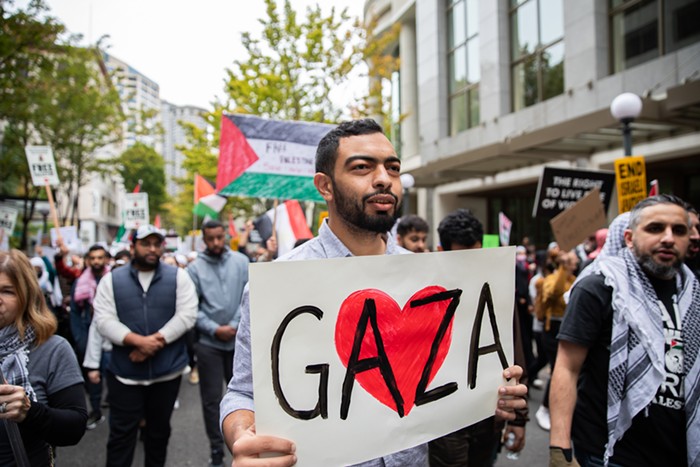 Washington State also supports Israel's military in many ways. As protesters noted, we're home to a number of defense contractors, including Boeing, which sells Israel smart bombs used to attack Palestine. Last week the company rushed Israel 1,000 of those weapons, which its defense forces will inevitably use to kill civilians and destroy homes in Gaza. Last year, Boeing signed a $927 million contract to supply Israel with aerial fuel tankers that help prolong air strikes. The company also pledged $2 million in aid to its business partner last week. 
Elected officials in Washington State could conceivably threaten to pull tax breaks to try to pressure the aviation giant and other local defense contractors not to aid in the deaths of civilians. In 2013, the State Legislature gave Boeing the biggest corporate hand-out in US history, which cost taxpayers $8.7 billion through 2040. The State repealed that tax break in 2020 to avoid tariffs, but the company still got a 30% discount on taxes in 2022 due to many tax breaks for which they are basically the sole beneficiary. 
But the political appetite for such a move seems nonexistent. Governor Jay Inslee, who gave Boeing the tax break in the first place, raised the Israeli flag above the Capitol Building "to honor the lives lost" in Hamas' attack. A letter from the top Democratic and Republican Senators praised the move, saying it shows "we stand with our friends on the front lines whose blood is being shed in the defense of freedom and the quest for peace."
Local Response
Even closer to home, Seattle's elected officials have tried to support Palestine in their limited capacity. Most recently, Council Member Kshama Sawant proposed a resolution in 2021 to bar the Seattle Police Department (SPD) from training with the Israeli Defense Forces (IDF). The resolution cited an op-ed in the Seattle Weekly from a co-founder of Seattle Jewish Voice for Peace that accused SPD of training with the IDF in 2013 and 2015. Sawant later modified the bill to bar SPD from training with any country found guilty of violating human rights conventions by an international court or the United Nations. 
The bill failed after a heated debate between council members and zionist and anti-zionist Jewish organizations, who disagreed over whether legislation targeting Israel amounted to antisemitism.
No Seattle elected official has proposed any ordinances or resolutions to support either side in the current conflict. Mayor Bruce Harrell stood up for Israeli victims of Hamas' attack as well as for Seattle's Jewish community, but he has said nothing publicly to recognize the pain of Palestinians as Israel pulverizes Gaza.
Today I met with leaders in Seattle's Jewish community to show our City's solidarity and support following Hamas' terrorist attacks. We remain committed to combating antisemitism and supporting the safety of our neighbors as they pray, process, and mourn the lives lost. pic.twitter.com/2UpK0GUvPr

— Mayor Bruce Harrell (@MayorofSeattle) October 12, 2023
"Seattle stands in solidarity with our Jewish neighbors during this difficult time and will not allow this attack to prompt acts of antisemitism in our own city," Harrell's office wrote in an Oct 10 statement. "Too often, after international incidents of hate, there are ripple effects where communities are targeted in our neighborhoods."
Harrell promised increased police presence around Jewish places of worship in an effort to ease fears of antisemitic attacks. At the same time, Seattleites also fear the proliferation of anti-Muslim hate crimes similar to the discrimination that followed 9/11. According to 2021 data, Muslims face the most hate crimes of any religious group in Washington, with Jews close behind. 
Protesters also shamed not only national media but local outlets for implicitly siding with Israel or failing to cover the substance of the issue. For example, ahead of pro-Palestine protests this weekend, KOMO framed the coming march as a threat to Seattle's safety. In a poll on the article, 20% of readers as of Sunday said they changed their weekend plans out of concern. A short brief from KIRO 7 framed the protests first and foremost as a disruption to traffic and reduced the context to a demonstration "amid the war in the Middle East," erasing the protesters calling for peace and freedom on the eve of forced expulsion and the a potential genocide of Palestine people. 
More Photos from the Demonstration