Hundreds of anti-zionist Jewish organizers and their allies filled the lobby of Sen. Patty Murray's office yesterday afternoon with a clear message: Never again, not for anyone. 
As Israel continues to bomb, starve, and otherwise kill Palestinians, Seattle Jewish Voice for Peace (JVP) demands that the Washington congressional delegation call for a ceasefire and join a handful of progressives in supporting a resolution introduced by Rep. Cori Bush (D-Mo.) on Monday. So far, only Seattle-area Rep. Pramila Jayapal has endorsed the ceasefire resolution out of all the Washington State congressional delegation.
JVP will continue to put pressure on Seattle's congresspeople. With at least 3,400 Palestinians killed and a potential ground invasion looming, congress must act quickly to stop a genocide, as the organizers called it, under the cynical guise of protecting Jewish people.
A Long Way of Saying No to Ceasefire
JVP, the largest Jewish anti-zionist advocacy organization in the world, has so far targeted Murray's office. Murray, as a senior member and senate pro tempore, wields much more power than other congresspeople—she was second in line for president twice this year. 
Though the senator is currently working in DC, JVP staged a sit-in in her Seattle office, and six Jewish organizers got arrested. On Tuesday, the group visited her office again to deliver their demands only to find it "temporarily closed." Allegedly, her staffers worked from home that afternoon. The organizers said they called an "emergency number" that staffers left behind—an appropriate time to use an emergency number —but the staffer who answered did not get Murray on the line. So, seeing as Murray could not come to the phone, JVP led protesters into the lobby of the Federal Building. The organizers said they wanted to make enough of a scene that Murray could not ignore it, even from the other side of the country.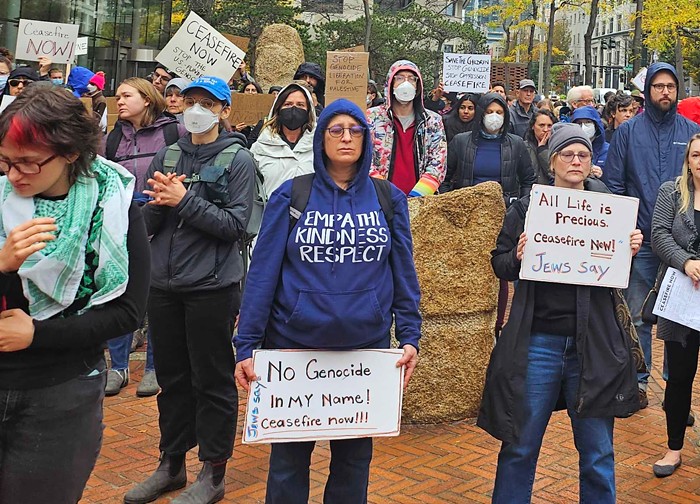 In an October 10 statement following Hamas' attack on Israel, in which they killed 1,400 civilians, Murray called the US commitment to Israel "unwavering" and promised to give Israel everything it "needs to defend itself." JVP organizers said the statement amounted to aiding in genocide.
Her tune has not changed. 
I asked Murray's office if she would support a ceasefire resolution, referencing the one backed by "The Squad." The Senator's spokesperson noted that the House, not the Senate, will deliberate Bush's resolution. While that's true, Murray could certainly propose a companion resolution. Or literally just say she supports a ceasefire to end the violence.
In an email to The Stranger, Murray instead called on Israel to limit casualties and the US to send humanitarian aid to Gaza, but maintained that "like any other sovereign nation, Israel has the right to defend itself in accordance with international law." 
A simple "no" would suffice! Not sure why these people gotta make their comms people work so hard. https://t.co/ppRYv2hsWN

— Rich Smith (@richsssmith) October 18, 2023
In response to the Senator's statement, JVP Seattle co-founder Wendy Elisheva Somerson called for "stronger leadership from Murray" as the Biden administration is "giving Israel a green light as they bomb civilians in hospitals, in schools, and even those whom they told to leave Gaza City." They will not stop protesting until she calls for a ceasefire.
JVP had some hope for Murray to join the progressives. After all she called for a ceasefire before in 2021 when Israel bombarded East Jerusalem for 11 days following backlash to its attempts to forcibly remove Palestinians from a neighborhood. At the same time, the American Israel Public Affairs Committee, bipartisan, pro-Israel PAC, ranks number three in Murray's top donors, according to Open Secrets.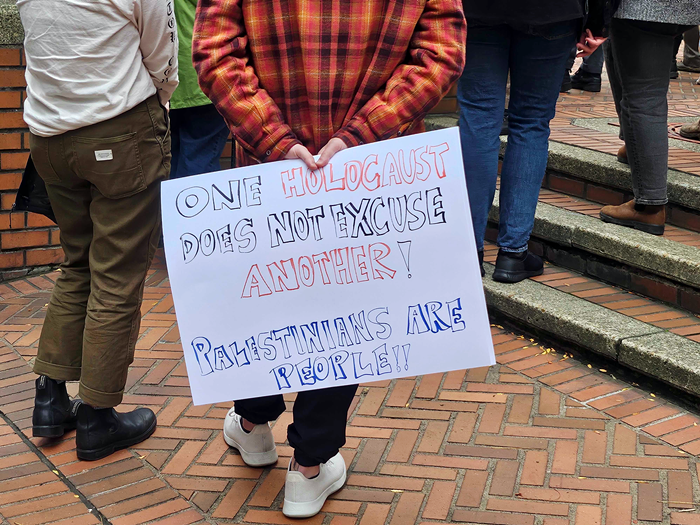 Nice Try, Jayapal
Rep. Pramila Jayapal (D-WA) joined Bush and others in supporting the ceasefire resolution Wednesday afternoon. The chair of the Congressional Progressive Caucus was notably missing when the Squad proposed it Monday.
On Tuesday Jayapal dipped her toe in the water and signed on to a separate call for a ceasefire with six other House Democrats.
This is a moment that calls for moral and strategic clarity. That is why my colleagues and I believe that the United States must help achieve an immediate ceasefire in Israel and Gaza, or at a minimum a temporary cessation of all hostilities. Read our full statement below. pic.twitter.com/04fft1SOTu

— Rep. Pramila Jayapal (@RepJayapal) October 18, 2023
Jayapal's statement fell flat for JVP since the signatories said they would settle for "a temporary cessation of all hostilities." The organizers said Jayapal disappointed them by not calling for an "immediate end to the genocidal war on Gaza."
While Jayapal came around to the ceasefire resolution Wednesday, her hesitance may stem from her relationship with the "pro-peace, pro-Israel" JStreetPAC. If she hopes to keep getting their donations, she may have been treading especially lightly after facing enormous backlash earlier this year when she called Israel a "racist state." She since apologized, redirected criticism to Prime Minister Benjamin Netanyahu, and supported a resolution reaffirming commitment to Israel proposed in response to her comments, much to the ire of advocates for Palestine's liberation. 
Crickets
Seattle's other congressional representative, Rep. Adam Smith (D-WA) did not respond to request for comment on the resolution for ceasefire, but he may have a statement later this week, his office said. The American Israel Public Affairs Committee gave Smith's 2022 campaign the fourth most money of any donor, according to Open Secrets.
As a ranking member and former chair of the House Armed Services Committee, Smith may have the most sway of any other Washington representative in blocking support for Israel's violence. But he's not hungry for it. 
Smith tweeted a call to "provide the support Israel needs to defend itself" on October 12, when Palestine's death toll surpassed the number of Israelis killed in the October 7 Hamas attack. Even more recently, on October 15, Smith tweeted, "The overwhelming majority of the lives lost due to Hamas' barbaric terrorist attacks are innocent Israeli and Palestinian civilians," neglecting to condemn Israel for bombing, starving, and displacing thousands itself. 
Sen. Maria Cantwell (D-WA) shared more or less the same sentiment about supporting Israel after the Hamas attack. 
October 7, 2023
More recently she urged "all parties" to "protect the lives of innocent civilians." Her office did not respond to my request for comment on a ceasefire resolution. 
No other congressional representatives in Washington have called for a ceasefire as of Wednesday morning.
---
This story has been updated since its original publication. On Wednesday afternoon, after publication, Rep. Pramila Jayapal did join Rep. Cori Bush's resolution calling for a ceasefire.