Employees at HoneyHole said the shop's new owner, Evan Bramer, disappeared and left employees unpaid and unable to run the restaurant.
On Monday afternoon, manager Alexandra Black called the Seattle Police Department to file a missing persons report. When police failed to arrive, a few walked to the East Precinct to speak with police. 
But before they left, The Stranger interviewed eight managers and employees inside the closed restaurant. Bramer could not be reached for comment.
The employees said that workers paid through direct deposit have received money, but the paper checks Bramer issued have bounced. Several employees told The Stranger they are scrambling to find new jobs and do not know how they will pay rent next month.
"I've got rent for this month," said cook MJ Torgerson in an interview at the Capitol Hill sandwich staple. "And then after that, I've got–that's all I've got."
Black chimed in. "I barely have enough for rent this month," she said. "I put in 15 applications this past week, and I have not heard back from one of them."
Manager Chris Hilling, who is on light duty and unable to lift heavy objects, said it will be difficult to find a job in her current condition. 
"I texted him that today," she said Tuesday. "I've texted him 10 times. I just wanted him to hear that there are real human consequences."
Ash Dame, the general manager of the Pike Street location, advised staff to file for unemployment and to submit labor claims. At least two workers submitted claims to the Washington Department of Labor & Industries about Bramer's disappearance, missing pay, and bounced checks.
"I'm paying for school out of my pocket," Dame said. "So I don't know what I'm gonna do. Personally, I'm really stressed out."
Dame said the restaurant's account with food vendor US Foods lapsed yesterday because of an overdue balance of nearly $3,000. She is unable to order new food. A representative for US Foods could not be reached for comment. 
The HoneyHole website publicly displays the message, "DO YOU OWN / MANAGE THIS BUSINESS? Payment is past due on your hosting account."
A spokesperson for Timberlane Partners, HoneyHole's property manager, said the company has been "trying to contact Evan for a couple weeks now and has gotten no communication or response."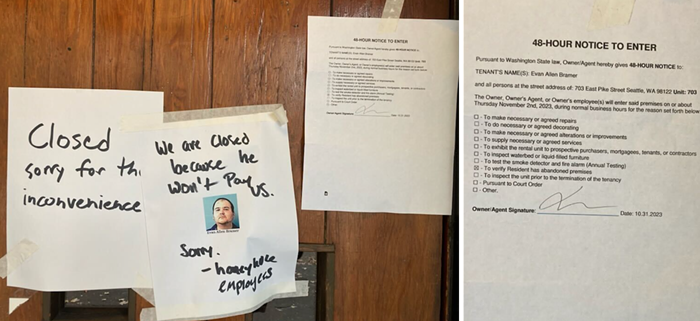 No employee has heard from Bramer since Thursday. His profile on Crew, the app HoneyHole uses for communication, last showed him as active this past Sunday afternoon.
Before Bramer apparently ghosted, it appears he hopped on a shared computer and logged out of his personal accounts and accounts that staff use for restaurant business, employees said. 
When Black called police and gave the address listed on the checks Bramer issued to employees, cops told her the place did not exist within the city of Seattle. Bramer told employees he lived in Columbia City.
Former manager Noelle Perera said employees have contacted four area hospitals, and none had any record of Bramer. When Dame spoke with former owner Kristin Rye, Rye was unaware that Bramer was missing.
Bramer has been in contact with police recently, but for an apparently unrelated matter. 
On October 21, he submitted an online report to police saying he'd walked into Beck's Bar & Grill on E. Jefferson Street, which was formerly a second HoneyHole location, only to find a busted back window and a missing MacBook computer worth $1,500. All cash remained in the safe, he wrote.
A week later, early on Friday, Oct 27, Bramer called police to report a burglary at the same location.
Bramer told police that when he'd opened the front door of the business, he heard shuffling and something drop to the floor. He said he then slammed the door and retreated to his car to wait for officers. Inside, police found a crowbar on the floor that Bramer said did not belong to him.
He told officers about $1,000 in Michter's Bourbon, $100 of Aperol, and five bottles of Southern Comfort had been stolen. Nothing else appeared to be stolen or disturbed. Police said they spotted no sign of forced entry anywhere in the building. 
Bramer told police he'd call with any evidence found on restaurant security footage from a camera outside the front door. He has not made contact since. 
This is not the first time Bramer has suddenly vanished.
In January 2015, he left a probation office in Arizona while waiting to speak to his officer's supervisor and then fled to Mexico for more than a year, court documents show. Border agents arrested Bramer on a probation violation when he attempted to cross back into the US.
Bramer took over the restaurant from Kristin and Patrick Rye this July after The Stranger, Capitol Hill Seattle Blog, and Eater Seattle reported on allegations that Kristen Rye mocked employees in front of staff, dodged employees who reported missing wages, and created a toxic work environment unwelcoming to LGBTQ staff. 
Employees said conditions did not improve when Bramer took over, and that the restaurant continued to hemorrhage workers. Employee Arianna Herrera said they were so short staffed that there was never anyone to cover their position for breaks.
The few who stayed on did so to help HoneyHole survive. 
"It's just sad," said Dame. "I don't want to leave this place."
This is a developing story. Check back later for updates.