When King County Elections spokesperson Halei Watkins asked me how my day was going, I said nobody had sent me white powder in the mail—yet. She said she couldn't say the same for herself. 
As election workers at KCE's Renton headquarters were busy processing ballots from last night's general elections, at approximately 10:30 am a staff member at the department opened a "plain, standard" envelope in the mailroom—not a ballot—that contained white powder. Per training, staff isolated the envelope with a hazmat bucket, pulled the fire alarm, and left the building for the parking lot.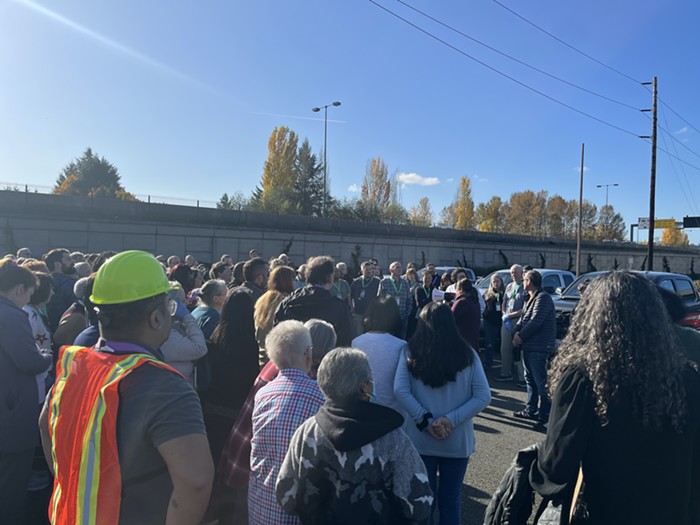 As of 1:45 pm, around 200 to 250 full-time staff, temporary staff, and political observers remained outside, awaiting an all-clear from authorities. Aside from the slight chill in the air, everybody's safe. Watkins said the staff member who handled the envelope was wearing gloves. 
A spokesperson for the Renton Police Department said a preliminary test identified the white powder as fentanyl. The FBI asked to pick up evidence from the scene, the spokesperson added. 
KCE normally releases a small, updated ballot count at around 4 pm on the Wednesday following Election Day. Watkins said she was unsure whether the department release an update today, but they will make a determination once they get inside the building. If they do release a ballot count update, it will likely be small, she said. Update, 3:20 pm: KCE will release a ballot update at 4 pm, adding about 20,000 ballots to the current total. That's smaller than normal, but still solid for being out of the building for three hours. 
Elections departments in Pierce County and Spokane County also evacuated offices after staff found white powder in the mail. According to KIRO 7, a preliminary test identified the white powder in Pierce County as baking soda. Workers there only briefly evacuated the building before returning to ballot processing. That office will release a ballot count update today as scheduled. 
This is a developing story.